'Valerian' Is Giving Us All The Gift of a Rihanna Press Circuit
So maybe the film isn't garnering rave reviews, but at least we get to look at Bad Gal RiRi wearing lots of jaw-dropping fashion.
Look, "Valerian and the City of a Thousand Planets" may not be the next "Godfather", or even the next "Dude, Where's My Car?" But despite the iffy reviews of the film itself, it has bestowed upon all of humanity a truly wonderful gift.
I'm referring, of course, to the gift of a Rihanna press circuit, which so far has made for red carpets rife with jaw-dropping Giambattista Valli gowns. First up was a pale pink princess look, complete with awesome lace-up shoes. And at the most recent premiere in London on Monday, Rihanna went all out again with a boob-tastic red gown from the same designer, which she matched exactly to her lipstick and earrings. Props to Rihanna for lending validity to a questionable movie simply by existing and showing up to its promotional events wearing clothes.
The film also happens to feature a full cast of fashionable model-turned-actors, most notably Cara Delevingne, who has also been working through somewhat of a fashion marathon herself. She most recently donned a custom Burberry pantsuit with a crystal capelet — "inspired by British vintage jewelry," according to a release from the brand — for the London event.
Click through the gallery below for another look at Rihanna (you're welcome), as well as some of the other fashionable attendees from the event.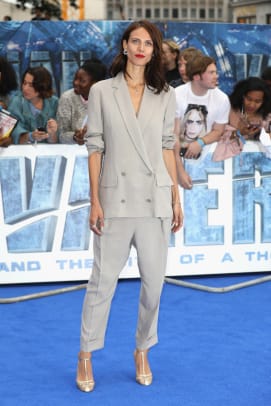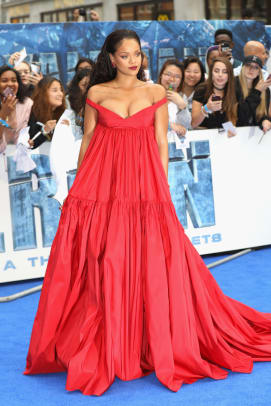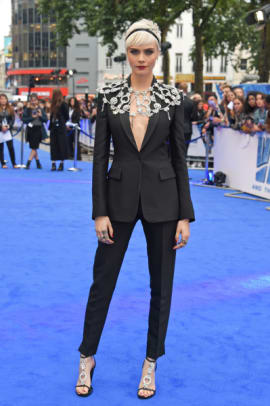 Sign up for our daily newsletter and get the latest industry news in your inbox every day.