Warby Parker and Virgil Abloh Made Some Very Cool Black Sunglasses Together
Also cool: there are three different sizes and they all cost under $100.
He may not have been scooped up to helm a French luxury fashion house yet, but 2017 is shaping up to be a big year for Off-White's Virgil Abloh, especially when it comes to collaborations. So far, he's partnered with Nike, Vans, Umbro, Kith, Moncler and even Ikea, and Abloh's next move marks his first foray into the eyewear category with none other than rapidly growing, digital-first company Warby Parker.
Per a press release, the two brands connected on shared fundamental ideals. "Both Off-White and Warby Parker were born from the idea that good products shouldn't be limited to a small community," says Neil Blumenthal, Warby Parker co-CEO and co-founder, in a statement. "It only feels natural to collaborate on a frame that's equal parts accessible and elevated."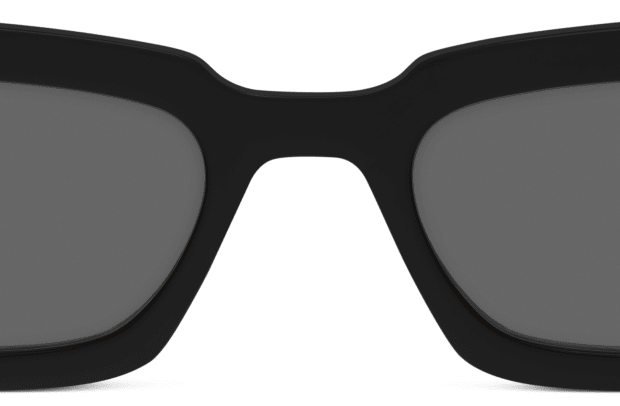 The resulting sunglasses — a relatively simple and versatile pair of black shades — are both classic and distinctive, understated yet bold. That they come in three sizes — titled, Off-White style, "Small Sunglasses," "Medium Sunglasses" and "Large Sunglasses" (quotation marks included) — feels especially genius because, somehow, each size makes a different statement despite having the same general shape. They also feel more luxe and "fashion-y" than anything Warby Parker has put out in the past.
"I welcomed the idea of bringing a unique concept to life, one shape extended and compressed to express a different emotion within eyewear," says Abloh in a statement. "I'm honored to work with such a progressive company like Warby Parker, who was able to help me fully realize my vision." That Abloh chose to partner with a company like Warby Parker and not, say, Linda Farrow, Mykita or some other high-end brand, despite otherwise positioning Off-White as luxury (he stages runway shows in Paris and his products do not come cheap) is interesting — and reflects his genuine interest in working with more democratic brands. And for Warby Parker, working with an undeniably cool brand with relevance in both the streetwear and luxury fashion markets certainly has its own benefits.
For us, it's an opportunity to snag some very chic sunglasses for under $100. The shades are available now for $95 online, at Warby Parker stores, and at Off-White Toronto™ and Off-White New York™.
Want the latest fashion industry news first? Sign up for our daily newsletter.