How Willy Chavarria Went From a Pack-and-Ship Job at Joe Boxer to Running His Own Menswear Label
We caught up with the longtime designer and business owner ahead of his New York Fashion Week: Men's show.
In our long-running series, "How I'm Making It," we talk to people making a living in the fashion and beauty industries about how they broke in and found success.
For a young Willy Chavarria, who grew up in a small California town called Huron made up mostly of Mexican immigrants, a creative career seemed intriguing but also out of reach. "I always looked to magazines, and that was my inspiration," remembers Chavarria, who eventually moved with his family to a slightly larger town in San Joaquin Valley called Visalia, though he remained largely removed from anything related to the arts or fashion. "I wanted to do something that would take people into another world that wasn't the conservative world that I was in."
The "fashion thing," as Chavarria calls it, didn't hit him until his early 20s when he was studying graphic design at the Academy of Art University in San Francisco and working part-time for Joe Boxer's shipping department. In between packing boxes and cleaning elevators, Chavarria would stay at the office late to work on sketches and spreadsheets. "Anything I could do to get the attention of the design team," he says. It paid off: After his shift, Chavarria would then intern for Nick Graham, which later turned into a designer role. "I have a lot to be thankful for with those people."
Wrapping up Chavarria's two-decades-strong fashion career in a brief introduction is no easy feat, and his trajectory to get there had plenty of fateful twists and turns, too. A brief period of hardcore clubbing lead him to a California beach town to "clean up," which was comprised of rigorous training and triathlons. "I totally changed my life," he says. "I got a job out there designing for a cycling apparel company called Voler." At the same time, Ralph Lauren was just starting its own athletic line called RLX, and partnered with Voler — and Chavarria, who was already dressed in head-to-toe Polo Sport — to work on the cycling collection. "We hit it off and they hired me," says Chavarria matter-of-factly. In 1999, he was off to New York City.
After Ralph Lauren came American Eagle Outfitters, where Chavarria was a design director. His jobs often involved collecting vintage, which later inspired him to open his own store in SoHo called Palmer Trading Company, filled with Americana furniture, accessories and apparel. Once he quit his American Eagle job to focus on his shop full-time, he started to bring brands into the store, as well as create his own small in-house line of shirts and accessories.
"It was selling quite well in Japan, so my showroom there actually asked if I'd be interested in doing another label that was more authentic to me," says Chavarria. "Oh man, that was a dream come true." His namesake label officially launched for Fall 2015, and last summer, he renamed his shop to "Willy Chavarria," which now strictly sells apparel and accessories.
We caught up with the longtime designer and business owner from his SoHo-based store, which served as a space for styling and model casting sessions ahead of his New York Fashion Week: Men's show on Wednesday night. Read on to find out what Chavarria has learned from his past jobs, his design philosophy and how hate mail inspired his soon-to-be-released Spring 2018 collection.
Did you always want to start your own label?
It had always been a little bit of a dream. Even as a child I would do fashion sketches and put my name on the clothes. But I think it was all about timing. I kind of strategized my life in advance back to when I was a little kid, fantasizing in those magazines and sketching. I had really planned things out to such a degree that it happened at the right time. I catch myself all throughout my life and think, "I saw myself doing this when I was a little kid." The town I lived in was so far removed. I remind myself of that when things get tough, like "Okay, this is just part of the trajectory." I will continually grow and success is only going to be measured by my development.
What did you learn from your past design jobs that you still practice today?
What was great about Ralph Lauren was there was a such a strong emphasis on quality of design and color. It was back in the days when the fashion business was [more lucrative], so there was a budget for that, and people could sit and figure out colors all day. I credit that dedication to perfection in design to Ralph Lauren. I'm thankful for the American Eagle Outfitters experience because it was very business-driven. It was very much about which shade of lavender sells better .... what do men buy, what don't they buy; what do they buy in this region versus that region, and assorting a line. Also, sourcing. My factory relations came from both of those businesses.
I tell everybody that approaches me that the best thing you can do is get a job working for someone and just learn as much as you can. Do all the grunt work. Work your ass off. Don't worry about not getting paid enough at the time. Think of the experience that you're getting because that's invaluable. I find in a lot of cases that's more beneficial than what is taught in schools, especially for me because when I was leaving college, the internet was just being invented. By the time I was ready to do stuff, I had a pair of scissors and everything was already being done on computers.
How would you describe your design philosophy?
I always want to have a voice for the less spoken for. I find that consistent in what I do. Especially with the way the world is right now, I find that it's more important. I like to look to subcultures and demographics that don't really have a strong voice and give them light and show them in a beautiful, strong perspective.
Tell us about the Spring 2018 collection.
Last season, there was an article published about me and I got some hate mail from my own Chicano community. "This is gay." "This guy's a faggot." "He's so gay doing this. Don't make us look gay." "Don't make our people look like faggots." I was very upset about it. Eventually I decided I'm going to do a gay Chicano thing. I had those two elements in mind as I was putting [Spring 2018] together, and so I started looking at pictures of lowrider scenes and Tom of Finland books.
Last season was a show of resistance. This show, six months later, is more about romance and beauty. It's a story about the converging of subcultures that are almost opposing — two worlds that normally don't get spoken for and are not friends. I want to show what happens when those two get together. In this instance, it's lowrider cholo culture and gay leather underground culture. It's showing them existing together.
How are you branching out design-wise with this collection?
As the line develops, I started with staples — knitwear that was all about the silhouette and the fabric quality — accented with a few high fashion pieces, like a giant oversize coat and wide pants. And as the sales of the high fashion items have increased, it's kind of started to even out. With this collection, there's a little bit more of an overlap of the luxury elements into the knitwear, like adding satin trim to some basics, keeping in line with "serious sportswear." 
I'm also doing something meaningful this season in addition to that. All of the silhouettes and the Chicano influences are from this town that I grew up in with the artist Brian Calvin. We grew up together in Visalia, and so we wanted to do a small capsule that's reflective of it. Usually color is a little easy for me because I stick with a tight color palette, but this season I asked Brian to paint me colors he was using for his next show in New York.
What else are you looking to do creatively in your career?
I like interacting with other forms of life that aren't necessarily fashion-related. For example, we recently went to Peru, and I was working with a prison there. Nobody goes into this prison; it's super-dangerous. I got to hang out with some of the inmates. I brought clothes and redid their uniforms with more functional knits. That was a great experience.
I definitely want to keep going with fashion, but the way that fashion is changing, I see [my line] going into a mass market, maybe some of the basics. The high-fashion pieces can be a small thing that I can control from afar so that I can do more film, video and shows. I just want explore and get into other creative fields before I croak.
See the Willy Chavarria Spring 2018 collection in the gallery below.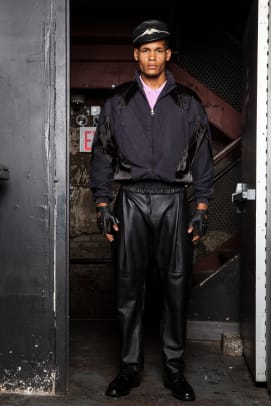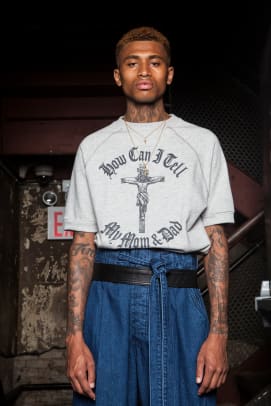 This interview has been edited and condensed.
Want more Fashionista? Sign up for our daily newsletter and get us directly in your inbox.