Arjé Is Creating Luxury Essentials for Zenned-Out Jet Setters
The brainchild of former head designers for Donna Karan's Urban Zen — who also happen to be husband and wife — Arjé is a minimalist label with a New Age conscience.
The afternoon I first visit Arjé's pop-up in New York City's Nolita neighborhood, it's one of those über-bright July days that swathes the entire island of Manhattan in a cartoonish yellow sunlight. It's warm, but not yet sticky, and the people I pass on the street are smiling. It's a good day to swing by Arjé, which is loaded with airy white linens centered around an earthy, picnic-style dining table. After 20 minutes with the team, I leave feeling weird and happy and calm and also desperate to get my hands on whatever candle they were burning in the store.
Arjé (pronounced "R-jhay" as in the "j" in Taj Mahal) is just that kind of place. Though the brand of luxury essentials for women and men launched this past February, its Mott Street pop-up marks the label's first venture into brick-and-mortar. Its founders, though, are pros: Husband-and-wife duo Bessie Afnaim Corral and Oliver Corral previously served as the head designers for Donna Karan's Urban Zen. Bessie was raised in London and cut her teeth at Parsons School of Design, while Oliver trained under the great Madrid-based tailor Señor Anselmo before holding numerous lead design roles, most recently at CH Carolina Herrera.
The clothes themselves don't differ too greatly from the Urban Zen aesthetic. There are lots of billowy, vacation- or rather, "holiday"-ready pieces ranging from creamy, stretch-cotton crochet bikinis and oversize rattan sweaters to Arjé's signature Loro Piana silks and cashmere.
Arjé, which is "see now, buy now," continues to differ from Urban Zen in its delivery: Bessie and Oliver keep their development and production to a four-month window, which is up to a full calendar year faster than some of their more traditional contemporaries. This allows for four collections — or "Chapters" — a year: The brand debuted with Chapter 1, a spring line, in February, followed by Chapter 2, summer, which hit stores in May. Chapter 3, fall, is due out in mid-September, and Chapter 4, for holiday, will be released mid-November.
"Obviously, the fashion industry is an amazing [one] and full of great things and opportunities, but also we saw so many bumps in the road," Oliver tells me over the phone a few weeks after my initial trip to the pop-up. "I think we saw value in the industry to adapt a little bit to these modern times in terms of being more economic."
The pair are quite vocal about how much they both enjoyed and appreciated their time at Urban Zen, waxing poetic about the 360-degree crash course the role provided them. According to Bessie, their biggest lesson was learning how to best execute an idea, as well as to sell it.
Their experience shows. Take their airtight branding, which (as is the case with most labels) starts with the name. "Arjé," a term used by ancient Greek philosophers to describe the "essence of everything," came as a suggestion from a friend.
"Before we even had started designing the collection, we really wanted to transmit and translate this idea that there's no start and no end to anything we do," says Bessie. "So between men to women's clothing, from clothing going into lifestyle, we wanted to really create a sense that everything is connected in what we do."
Bessie tells me that this concept of "arjé" is a personal philosophy of theirs, as well — that we all existed in some way, shape or form before our actual existence. There's a lot of that — "that" being New Age notions and iconography — incorporated into the brand at every level, most conspicuously with the evil eye, which is even embroidered into certain pieces.
"The evil eye is something for both of us that's a symbol of protection, and it creates a sense of, I don't know, of beauty in the world, that people still believe in this," says Bessie. "And it's something that puts a smile on people's face. Before we had the brand, we always used to gift everybody evil eyes. It was our thing."
Which brings us right back to Arjé's storefront. The evil-eye imagery is supremely subtle throughout the space, but it's there alongside other symbols like wishbones and bowls of limes placed underneath clothing racks. For Bessie, those emblems have done more than cater to her and Oliver's own interests — they've also allowed for them to link up with their consumers on a deeper, spiritual plane. The Corrals have even brought some of their own furniture from their home into the store.
"Ultimately, the idea of the Arjé world is building a tribe of like-minded people and connecting with them," she says. "And I think when you connect some things that aren't related to the clothing, that's when a real connection happens."
This has resulted in some conversations with consumers that are far from the surface-level chit-chat in which we so often engage in retail settings. Often, Bessie says, a shopper will wander in, see one of Arjé's protective symbols and open up about a charm that means something to them. Perhaps that's why I, the daughter of two supremely superstitious people, felt so oddly at home there. Growing up, I was surrounded by no shortage of cosmic trinkets my parents had picked up during their adventures — my brother and I would often devolve into physical blows when fighting over who got to break the wishbone after a chicken dinner — and you know what, Bessie was right: I did tell them about that within minutes.
"Honestly, I think having this store has been the most rewarding experience because we've really had that direct connection with the consumer that we've been dreaming of," says Bessie. "Often when you start a business, you have to have a very clear idea of who you're talking to. And I think the one thing that we were very genuine about was that we're talking to ourselves. We are our consumer. We're living the lifestyle that we're preaching to people."
The Arjé consumer is a city dweller, but takes weekends in locales like St. Barts, Saint-Tropez, Santorini, Bodrum and Puglia. And as soon as their doors opened, Bessie says that those people found themselves attracted to their space. The functionality of their designs became a huge selling point, too. 
"The best is that when our consumer or client goes away, they would send us messages like, 'I am living in this. I'm not taking this off.' I'd literally message them back like, 'You've made our day hearing all of this,'" says Bessie.
When I ask the Corrals about what's next for Arjé, they answer first with broad strokes: "Our world," says Bessie with a laugh. Then, more practically: "Our real mission is to continue growing our own brick-and-mortar, but to create these very strongly personality-driven stores. The idea would be to have stores in London, Paris and New York, and for each one to really have a unique edge to it." 
Bessie suggests that kids clothing and homewares are also part of the end game. Hotel partnerships could also be in the pipeline, creating "Arjé worlds that people can actually experience, have breakfast, lunch and dinner in." Wholesale growth is on the table, as well, but the Corrals want to do it in a way that focuses on shop-in-shops at the brand's top sellers across Europe, Asia and the Americas.
In October, they'll open their second pop-up, which they're calling the Arjé chalet, and it's where their fall collection will live. For as important as retail (read: face-to-face, human-to-human interaction) is for the brand, it won't soon be their last.
"It's become a complete full circle now," starts Bessie, "being in business for two seasons, having this retail opportunity, being direct with our consumer and seeing our consumer really absorb the product in exactly the lifestyle that we imagined it to be in."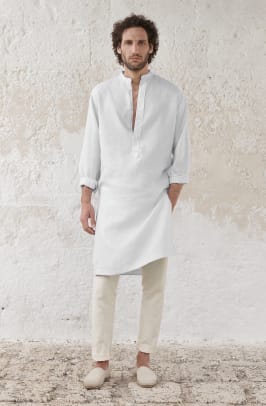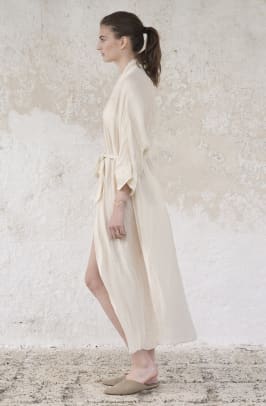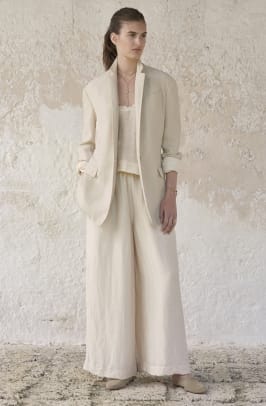 Never miss the latest fashion industry news. Sign up for the Fashionista daily newsletter.