The Cult of Cult Gaia: How the Woman Behind 2017's 'It' Bag Plans to Repeat Its Success
If there's an Instagram style influencer that doesn't own the Ark bag, we must not follow them.
If you're a human with an Instagram account, there's a decent chance you've seen a Cult Gaia "Ark" bag. In the past year, it's become an influencer staple — instantly recognizable for its half-moon shape, graphic design and rigid structure. It's at once minimalist and statement-making and thus oddly versatile: It initially caught my eye in the hands of understated, stylish 'grammers like Haley Boyd and Reese Blutstein, but has also made it onto more mainstream and peacock-y bloggers, as well as straight-up celebrities including Beyoncé and Rihanna. Aesthetically, it lends itself well to summer dressing, which is why it's been especially ubiquitous of late.
But the bag is more than just the result of a celebrity and influencer gifting campaign: With consistent sell-through (on Cult Gaia's site and at several top retailers), waitlists of over 2,500 and sales tripling year over year, it's a certified cult hit, the sort of which founder Jasmin Larian feels confident she can replicate many times over as she expands Cult Gaia into a full-fledged lifestyle brand.
Larian, the Los Angeles-bred offspring of a fashion-designer mom and toymaker dad (he created the Bratz Dolls), has been making clothes for herself for as long as she can remember, using her mom's fabric she would find around the house. "I'd come home from school and I would say 'lebas,' which means 'dresses' in Farsi — basically like, 'Get me in a dress!' So it was kind of always a part of my life," she tells me at her PR's office in West Hollywood. And she knew it always would be: "There was never a question. I was never like, 'What am I going to do?' I always knew that that's what I was going to do."
While at FIT, she interned for Narciso Rodriguez and Jason Wu, but decided against working for another brand full-time. "I knew the minute I started working for someone, I would get stuck in it and wouldn't start my own thing, so I moved home from school and started Cult Gaia." If you're wondering whether Larian in some way willed her cult success into reality by putting the word "cult" in the name, well, yeah, kind of. "I think every amazing brand initially is really a cult and is a force of like-minded, kindred spirits and people who all are into a similar thing, and I hope that we can ignite that," she explains. "Gaia is the goddess of Mother Earth and the daughter of chaos, and for me chaos is the most creative force there is because it mimics nature; the beauty in nature is so perfectly imperfect because of chaos."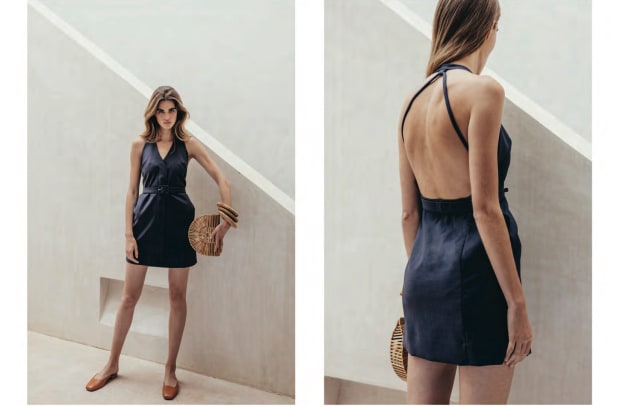 The Ark may be the "It" bag of 2017, but Larian started out in 2012 with another accessory that became a bit of a phenomenon: the flower crown. She began making them, as well as wire turbans, before they "reached critical mass" and watched as the style became a huge, Coachella-fueled trend. Of course, the trend was easy to replicate, and Larian ultimately took a break from the brand for a couple of years, relaunching in 2016 with the Ark. She doesn't discuss the bag's inspiration, but Moda Operandi notes that it comes from a Japanese picnic bag. Initially, it didn't catch on. She then focused on educating people to show that they can pull off the unique style.
This seems to be where the influencer marketing came in, but Larian prefers not to discuss her gifting strategy either, instead pointing out how photogenic the bag is. "Everything we make is something that's instantly recognizable and is like a peacock. It grabs attention immediately and in this social age... I don't think the bag would be so successful if we didn't have people taking pictures of it everywhere," she says. She's not wrong: As she shows me a few of the styles that will be hitting her site soon (including the Ark in beautiful blue "lagoon" and super-sparkly silver shades), I can't help but switch my phone from Voice Memo to Camera and start snapping.
Larian feels her pricing and retail strategy have also helped to make the bag a hit. Prices range from around $130 for the small version of her classic natural bamboo Ark to $280 for the acrylic version. She launched wholesale last year and is selective about her retail partners — all of whom she says have approached her — aligning herself with higher-end stores whose customers she feels will be pleasantly surprised to find a fun, distinctive bag at such an affordable price point. "The key to our brand is the customer feeling like they're finding something so, so special — almost like the stuff you find in a vintage store," she says. As for how she keeps the prices low, she notes that bamboo is a renewable resource that grows like a weed, and that the bags are made in China. "We try our best to keep everything attainable," she says. "We'll never be an over-$1,000-company price point unless we're making something really, really limited-edition and special."
Larian feels all these factors converge to make an "It" item, starting with a unique, identifiable design. Larian even "tests" her bags by wearing them out on the street before they go to market to ensure they inspire the reaction she wants. "You'll never go out with it, you'll never see it without someone being like, 'Oh my god, what is that? Where is that? How can I get it?' or knowing that it's Cult Gaia."
Given the ubiquity of Larian's Ark bags, most of them probably know at this point. But she doesn't seem concerned about overexposure or the bag going out of style. She describes it as "timeless" and notes, "Everyone that's been wearing our bag has been wearing it for, like, two years. It's not a trend, like Haley Boyd I think is still wearing it." Two years does not exactly qualify as "timeless," but in an era when things cycle in and out faster than ever, it's nothing to scoff at. And even if interest does start to wane, she has some other items up her sleeve, including apparel, which is made in LA. Her goal is to create a lifestyle brand of items just as coveted as her Ark bag. "Everything we make is signature and instantly recognizable; it makes it really easy to market," she notes.
She's recently introduced two bag new styles — the pig-shaped, rattan "Babe" and the collapsible bamboo feat of engineering that is the "Lilleth," neither of which she expects to take off right away. That's by design. "When a product is so amazing, it's really hard because the masses don't understand it, but once they do, that's what makes something iconic," she says. "Not everyone's going to run out and get this immediately, but it will snowball because more people will see more people wearing it and think, 'I can pull that off,' and then it will be a no-brainer."
In other words, your Instagram feed has not seen the last of Cult Gaia.
Want the latest fashion industry news first? Sign up for our daily newsletter.