Fashionista's Pop Culture Style Icons: Tyler Wants to Imitate Blair Waldorf's Ladylike Polish
We all know who the real star of "Gossip Girl" was.
This week at Fashionista, we're celebrating all things at the intersection of fashion and pop culture — including the nostalgic sartorial moments that were formative to our style growth. In our series, Fashionista's Pop Culture Style Icons, we obsess over the characters who have influenced our wardrobes the most, even to this day.
Do you ever think about the fact that we have been denied head-to-toe still images of every costume in "Gossip Girl" and what a travesty that is? I do; I have thought about this at least once a week for the past 10 years. That's because, since the show first aired in 2007, I have been absolutely obsessed with Blair Waldorf's style. I was a senior in college, and I couldn't get enough of her perfectly curled hair, her intricately planned outfits and — of course! — those headbands. Forget Serena: Blair was the HBIC, and I wanted to be just like her when I grew up (despite the fact that she was theoretically a 16-year-old and I was of legal drinking age). 
Starting that year, I bought a set of hot rollers and tried to master Blair's signature hairstyle (to various results, the proof of which still lingers on social media). I accumulated a drawer-full of headbands: Thin leather ones from J.Crew, jeweled ones from Target, satin bow-decked ones from Forever 21. I stole some of my mom's cardigans (sorry, Mom!) and wore fancy flats out to the college dive bars I frequented in Gainesville, Florida. 
As the years went by, and it became less "cool" to be dressed up, I gave up my old ways. One by one, the headbands ended up in giveaway piles; the curlers gathered dust. I tried to convince myself that I was the kind of girl who wanted to wear slouchy tees and cool mom jeans with fashion-girl sneakers and undone hair. 
This summer, though, something snapped. I'm not that girl! I like putting bows in my hair! I still love a novelty tight! I want to look prim and proper, and [extremely "High School Musical" voice] I'm breakin' free! Maybe it's because I've been making my boyfriend watch "Gossip Girl" for the first time (while constantly muttering, "That's such a good outfit!"), but I'm inclined to believe that Blair Waldorf has been inside me all along. I just feel more myself when I put a little extra effort into my outfits, and wearing skirts or dresses makes me feel more confident than even the best pair of jeans ever does.
Going into fall shopping, I've been obsessively checking in on The RealReal and eBay for items Blair wore on the first few seasons, like this Marc Jacobs dress from the first Thanksgiving episode or these headbands by Jennifer Behr and Susan Daniels. (Free idea for designers who had clothing that was popular on "Gossip Girl": Re-release that shit for the show's 10th anniversary! To me! I will buy it! Name your price!) But I'm also keeping her in mind when I'm browsing the internet. It seems like ladylike might be making a comeback — fingers crossed!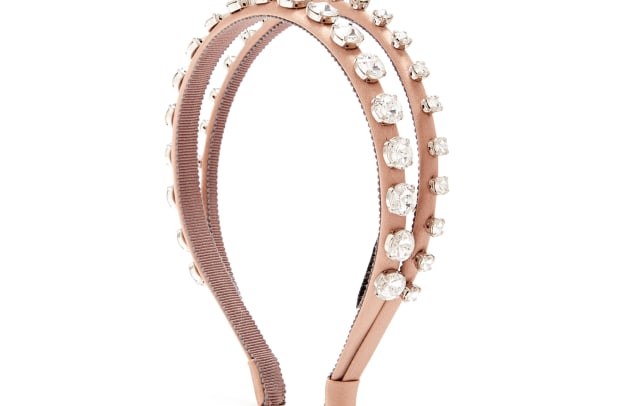 Please note: Occasionally, we use affiliate links on our site. This in no way affects our editorial decision-making.
Want the latest fashion industry news first? Sign up for our daily newsletter.