Fashionista's Pop Culture Style Icons: Fawnia Loves Hilary Banks from 'Fresh Prince of Bel Air' for Always Dressing For the Job She Wants
Even when she had zero idea what that job might be.
This week at Fashionista, we're celebrating all things at the intersection of fashion and pop culture — including the nostalgic sartorial moments that were formative to our style growth. In our series, Fashionista's Pop Culture Style Icons, we obsess over the characters who have influenced our wardrobes the most, even to this day.
Over the years, in various life stages, separate social circles and even different countries, people have said to me "you remind me of... the sister in that Will Smith show?" "Oh, yes," I respond. "You mean, Hilary Banks from "Fresh Prince of Bel Air.'" While I will 110 percent take any passing resemblance to actress Karyn Parsons, I think what people really mean is that my persona reminds them of Hilary, the misunderstood spoiled girl with layers and an avid interest in fashion and shopping. 
Hilary and I do have a bit in common. In my younger years, I probably have uttered the words "dad (and mom) I need $300," I could really benefit from a cooking lesson by Geoffrey (but I do know how to toast my own bread) and I always do my own nails in the kitchen because it has the best lighting. I also have a tendency to fall into a slight Valley Girl lilt, especially after a couple rosés. (My husband, always with an eye roll: "You sound like 'The Hills' right now.") This despite the fact that I grew up in a modest Midwestern suburb in a purple state — not even close to Bel Air — and bought my Chanel or Versace-wannabe blazers at a Contempo Casuals (and in a neighboring town because our mall didn't have one), not at some fancy boutique on Rodeo Drive.
But what I'll always have an appreciation for is Hilary's laser-focused dedication to always being head-to-toe, full-on dressed. Her meticulously matched and sometimes color-blocked power blazer and skirt suits especially stand out in my memory. It's almost like Hilary was perpetually "dressing for the job she wants," as they say, even when she had zero idea what that job might be. Plus, her non-suit wardrobe was almost prescient with very Cushnie et Ochs-foreshadowing cut-out dresses and this very Alexa Chung-in-at a-music-festival look (or, I know, the '90s are just very back). 
Of course, "Fresh Prince of Bel Air," which ran from 1990 to 1996, was about busting stereotypes and I appreciate that Hilary — with her flighty demeanor, notable wardrobe and careful attention to accessorizing — was not about to be underestimated or dismissed just because she looked like (and probably did) spend a lot of time reading print fashion magazines and shopping at the brick-and-mortar mall, because '90s. So, to be honest, when people tell me I remind them of Hilary Banks, I take it as a big fat compliment. 
Although, confession: I do wish I had Hilary's confidence for pulling off all that statement headwear — bowlers, floppy, sailor, chauffeur and oft-floral-embellished hats — which usually meticulously matched the rest of her outfit. (Peak Hilz aesthetic: a tartan trifecta of a boater hat, blazer and freakin' gloves.) I just always feel so self conscious in elaborate structured hats. When I ventured out of my comfort zone, during the wide-brim fedora craze of late 2015, I suffered through a family trip in Italy being mocked by my cousins for my "ten gallon hat." Goals.
I love how the series ended with Hilary moving up from her local weather person gig (and on after fiancé Trevor's unfortunate bungee jump-proposal demise). She moved to New York to work in media (like me!), but in her case finding fame as a Kelly Ripa-like talk show host. I feel like she would have thrown herself into in all the fashion and shopping wonders that the city has to offer (sitting FROW at Fashion Week with the "Housewives," possibly behaving badly at insider-only designer sample sales) and she'd fully embrace the season's tailored pant-suit trend. Although, this whole relaxed beanie and dad hat situation? Not so much.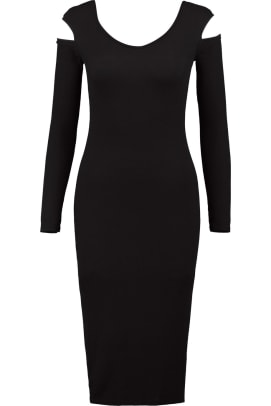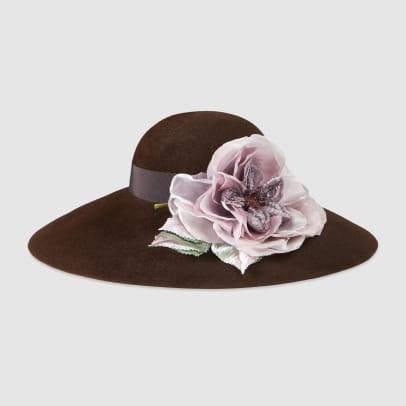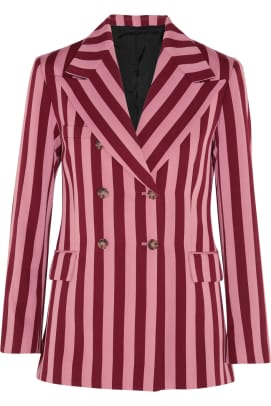 Please note: Occasionally, we use affiliate links on our site. This in no way affects our editorial decision-making.
Never miss the latest fashion industry news. Sign up for the Fashionista daily newsletter.