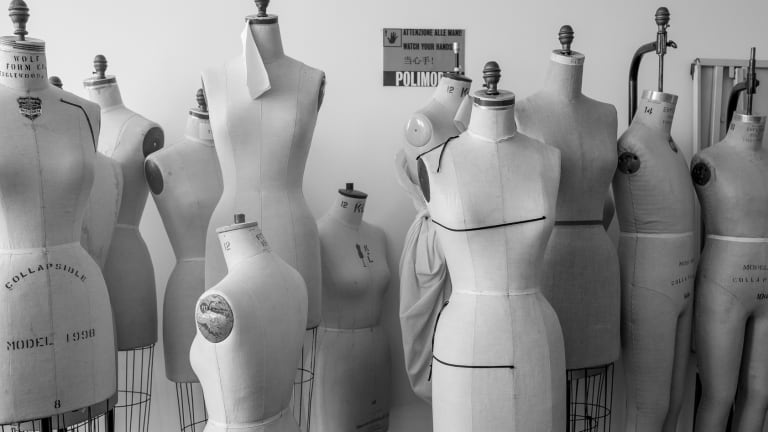 Polimoda's Director Talks Strategic Partnerships and How to Teach a Work-Life Balance
Plus, how to thrive when chaos is the new order in the fashion industry.

Although Danilo Venturi has only been at the helm as Director of Polimoda for a little over a year, he knows the fashion school (and the fashion industry) through and through – in part because he himself is a Polimoda alumni. After working as a writer and lecturer at the school in Florence, he led the business communications department to help with strategic branding – an area that is a key touchpoint in the fashion industry today. He has been using all of that knowledge to help grow Polimoda as an international resource, boasting an 88-percent placement rate for students within six months after graduation. 
While the curriculum at Polimoda spans Fashion Design, Fashion Business, Art Direction and Design Management, the school is project-based, with courses that require students to learn the reality of the working environment. 
Venturi spoke to us about the advancements he's made over the past year to prepare students for life after graduation and how the school continues to forge partnerships with outside brands to further its educational programs. 
While you're based in Florence, many of the courses are taught in English. Why is this?
Well, Polimoda was founded 30 years ago by FIT and Emilio Pucci. Our president is Ferruccio Ferragamo, son of Salvatore, the shoemaker to the stars of Hollywood. Our headquarters are beside the American consulate, and there is a certain legacy that links the school to the USA. Moreover, Florence is the centre of the greatest productions by Kering and the LVMH group. Gucci, Prada and Cavalli are Florentine brands, while Pitti Uomo is the most important trade fair for menswear in the world. Florence is often described as the fifth fashion capital. The city is an international hub of diversity and Polimoda plays its part: 90 percent of courses are taught in English and 70 percent of our students come from 70 different countries outside of Italy. The faculty is made up of teachers, guest lecturers and speakers from around the world. This year we gave the floor to industry guests such as Marco Bizzarri (Gucci), Andreas Konthaler (Vivienne Westwood) and Alexander Vreeland, among others. All these factors promote and impart global exposure, influence and learning, huge benefits for those who decide to study here. Florence is vibrant.
Since you've come on as director, you've looked to create new strategies and partnerships with fashion companies in order to create more opportunities for students. Can you tell us a bit about those partnerships? 
I think a fashion school doesn't have to talk about the industry and say how beautiful the world is, rather it must do something concrete to fill the gap that you always have between study and work, as well as reducing the time and space between life, learning moments and the place where you decide to live in the end. That's the reason for collaborations. Most recently, LVMH and Polimoda partnered, creating a new synergy between industry and education. As of Fall 2017, 12 students will have the opportunity to partake in a Leather-Pro course, allowing them to build their skills and passion for handcrafted leather goods. In addition to this partnership, we have applied projects with companies such as Hugo Boss, Céline and Woolmark, to name a few. Along the same lines, we have partnered with Central Saint-Martins for a dual-city course held half in Florence, half in London. Last but not least, our students have now the great opportunity of participating in the CFDA+ program. Whether it's an internship, an applied project, a start-up program or a contest, Polimoda always give an exclusive opportunity to get close to the industry.
Do you have plans to expand these programs and partnerships with other brands down the line?
Yes, I work towards fashion undergoing a radical change, and the school is the starting point, because it's here that you can create a new mentality and try the unprecedented. Competition is no longer the key to create value. Moreover, we must be aware that fashion is important, both culturally and economically, but it's not something to die for and not something that can make you give up your happiness in life, in order to succeed at work. The industry has reached a certain level of awkwardness that verges on violence; instead what we need is humanity, empathy, fresh ideas and collaboration. So yes, Polimoda will launch other courses together with all institutions, schools and companies that share the same vision. We will continue to maintain existing and long-term partnerships, which we look to uphold and strengthen.
It is a well-known fact that a career in the fashion industry is no easy feat – whether you're going into design or business. How are you making sure Polimoda is setting up students for success, especially as the industry is constantly changing with new forms of technology?
Polimoda focuses on content, so we first give hard skills, then we go to soft skills and we shape the student persona through a real metamorphosis. We don't care about glamour and stardom, we rather go to the essence of things so students can better get to know themselves and others. We want them to understand how the world works and, possibly, to be able to say how the world should be. These will always be core fundamentals. Technology is just the medium for doing something and it changes in time; instead, what you do comes first and stays there. For instance, my parents used to serenade under the windows, while the new generations post YouTube songs on Facebook. Different modern media channels are used to express the same feeling: love. Iris Van Herpen uses 3D printing while Alexander McQueen used to cut fabrics and make garments, without the use of patternmaking, completely different technologies, but both the brands showcase the same mix of highbrow and lowbrow. This is the point: whether it's design or business, you need to have an identity and something to say. If you can add value, you will be recognized. This year we saw Francesco Risso taking over the creative direction of Marni, while Luke and Lucie Meier went to Jil Sander. Many other Polimoda alumni cover relevant positions all over the world. A career in fashion is still possible and we know what we do.
Recently, there has been a lot of talk about "fashion burnout" in high-level positions – is this something that you address at Polimoda? Do you think it's something that the fashion industry as a whole can fix?
Well, the fastness and over-production of the last decades are not sustainable any longer and to change this, designers and managers need to bring order into the chaos of values that characterizes today's fashion. At Polimoda, we had a smooth generational turnover between me and Linda Loppa. I was the one who developed the Business Department during her term, and now she is Advisor Strategy & Vision in my term. This means that we updated our expressive values and added an extra boost of energy, but within the original vision. Fashion brands often do not have the same passion, patience and consistency. From this point of view, I really appreciate the work that Gucci is doing. Marco Bizzarri and Alessandro Michele, who grew up inside the company, have been able to give the brand a new mission. Moreover, they redefined the current spirit of the time. So many have tried to give order to this chaos, with minimalism or well stylized garbage, but no one has been able to say with certainty if there will be order after chaos, because in reality, chaos is the new order. This is not only paying off in the short term, but it gives Gucci the "shadow of the future", the perception to go beyond time and space, a characteristic that only brands with the greatest longevity can embody. This is the way the fashion industry can be fixed: by giving macro answers without any boasting around.