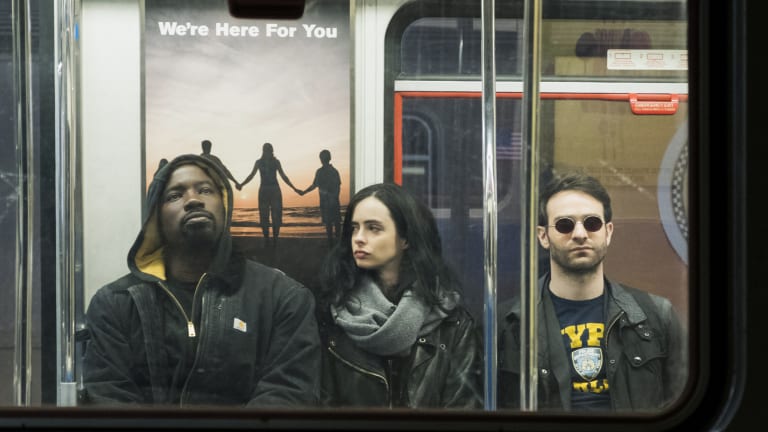 How Stephanie Maslansky Became the Costume Overlord for Netflix's Marvel Universe
She also drops some hints on "The Defenders," including what Sigourney Weaver's outfits tell us about the new super-villain.
"What I love about doing these shows is there are so many genres included," says Stephanie Maslansky, the costume designer for Netflix's Marvel Universe, including the much-anticipated "The Defenders," which premieres on Friday, Aug. 18. "There's fashion; there's period; there's flashbacks; there's fantasy; there's superhero costume. I get to design things and really realize what's in my imagination."
The veteran New York-based costume designer made an impression with comic book-fans and binge-watch junkies alike with her character-building looks for street clothes-outfitted heroes, bespoke suit-wearing super-villains and assorted fan favorite sidekicks (and a ninja here and there) in seasons one of "Daredevil," "Jessica Jones," "Luke Cage" and "Iron Fist." "The Defenders" brings all four "street level" fighters together, via their own circumstances, to combat one big bad in the form of Sigourney Weaver's Alexandra. (More on that in a bit.)
Although, Maslansky, like many in her profession, didn't start out with the ambition to be a television costume designer, much less a superhero-focused one, but she admits to having a knack for sewing and design from a young age. "I killed it with my A-line skirts in home ec class in the seventh grade," laughs Maslansky, over the phone, during a break shooting season two of "Luke Cage." 
A history lover, she studied Italian literature and South American history at University of Wisconsin, Madison and returned to her hometown of Minneapolis after graduation. After experiencing a "eureka moment" upon seeing a few costumes on display at a local boutique, she took on a costume shop internship at the renowned Guthrie Theater. "I used to walk down the halls of the Guthrie just practically pinching myself," she says. "I couldn't believe my great good luck to have landed there."
Maslansky might modestly credit good fortune, but she essentially worked her ass off her entire career. After the internship concluded, she moved to New York to share a "rat- and roach-infested" loft with two friends (ah, New York). Instead of going to grad school at NYU as intended, she dove head first into the theater costume world with a stitching gig at Juilliard and working as as shopper in a series of theater costume shops, including for the legendary Barbara Matera. "I interpreted needs of designers and swatched fabrics," she says. "Very low-level positions, but you get to know New York City, fabric, trim and people in the industry." She simultaneously took classes at the New School and Art Students League, while assisting costume designers at the Brooklyn Academy of Music (BAM) and "off-off-Broadway" shows. 
With rent to pay, Maslansky took on a full-time job styling commercials, which led to her first costume design opportunity for a movie, a low-budget indie called "The Wizard of Loneliness," which led to more indie film work. After a stint in Los Angeles, she returned to New York for her big television break: a pilot for executive producers Tom Fontana and Barry Levinson ("Homicide: Life on the Street"), which scored her a regular gig costume designing the third season of HBO's groundbreaking (and terrifying) series, "Oz," set in a fictional New York prison. A look at her IMDB credits reads like a laundry list of stylistically diverse, but very New York TV shows, including, the first responders-chronicling "Third Watch," "White Collar," featuring Matt Bomer, "Veronica Mars"-creator Rob Thomas's "Cupid" and the under-appreciated "Law & Order: Criminal Intent."
"I pride myself on being a New York City costume designer," says Maslansky. "I'm glad that my resume is peppered with stuff that is distinctly New York-flavored." Her work put her on the map for television producers seeking talent that understands and captures the city's pragmatic realism, but heightened aesthetic. "This edginess. This danger. These elements that New York offered in the '70s, the '80s and the '90s," she says, about her love for creating looks exemplifying the city. "It's changed a lot, as we all know, but also just the way people carry themselves [in New York] and what people wear and the universal interest in clothing and fashion."
Maslansky does emphasize that her portfolio isn't just about dark suiting, detective trench coats, leather moto-jackets and utilitarian hoodies. A look at her Instagram shows an avid interest in referencing runway trends and glossy editorials for her characters. (Fun fact: Proto-influencer Olivia Palermo was an inspiration for Trish's polished looks on "Jessica Jones.") "Out on a date or being the D.A. or having an affair... Let's have fun with this!" she laughs, about seizing upon fashion-forward character-building moments. "I always try to find the opportunity to impose my personal brand of style, or a level of style, so that I stay interested and I hope that the audience remains interested from that point of view for that particular scene or character."
But Maslansky's precise eye for capturing New York via costume ultimately led her to Netflix's Marvel Universe, which stars (mostly) non-supersuited heroes who aren't interested in saving the world or universe (call "Thor" or "Captain America" for that), but just New York, or maybe even a specific swath of the island from about 34th to 155th Streets, west of Fifth). With her experience and solid reputation, she happened to be "on [the producers'] radar." After signing an NDA, Marvel gave her the script to start preparing a presentation for "Daredevil." 
"It was the first time I had ever worked with Marvel, so the level of security was quite high. It felt as though I had to prick my finger and give blood. Open a vein," she laughs.
With her New Yorker knowledge, Maslansky's presentation clinched the gig. "I included pictures of Hell's Kitchen — and particularly old Hell's Kitchen — and I think that the producers really like that," says Maslansky. Through bespoke-suiting, cargo pants and Victoria Beckham and Prada dresses, she evoked the grittier, grounded and darkly glamorous aesthetic that embodied the fictional crime-ridden, post-Avengers v. Loki version of Hell's Kitchen on the show. (The "Daredevil" supersuit, which only makes an appearance in the last episode of the first season, was created by Marvel.) 
"I had to prove myself with 'Daredevil,' and everybody was extremely happy," she says. Then she was offered the first season of "Jessica Jones" (Jenn Rogien designed the pilot and Elisabeth Vastola, who just designed the '90s costumes in Jenny Slate's "Landline," is handling season two), "Luke Cage," "Iron Fist" and ultimately "The Defenders." In the ensemble series, to distinguish each hero (and assorted supporting players), while also visually integrating the characters into cohesive scenes, Maslansky played with signature and subtle color clues. A quick primer: blues for Jessica Jones, golds for Luke Cage, reds for Matt Murdock and greens for Danny Rand and the rest of the "Iron Fist" world. 
"The very important sidekick-y characters — Karen Paige, Foggy Nelson, Trish, Malcolm, Misty, all those folks — they would sometimes take on the colors of whoever's lives they entered," Maslansky explains. For instance, in an interrogation scene (above), "Luke Cage" fan favorite and NYPD detective Misty (Simone Missick) in a sky blue sweater correlates with Jessica Jones (Krysten Ritter) and her plaid shirt — while Murdock stays true to his "Daredevil" reds on his tie and sunglasses. "Keep your eye open for that sort of thing," she adds.
Along with shopping from brands from Opening Ceremony to Paul Smith, Maslansky also custom-builds pieces for characters in the Marvel Universe, especially the females, including new villain Alexandra, played by Sigourney Weaver. Aside from confirmation that she's "an utter badass," not much else is known about The Defenders nemesis. (She could be a brand-new, non-comic-book villain or the re-imagination of an existing one — theories abound.) But images of Alexandra in regal embellishments and rich textures have trickled out, so costumes do offer a hint.
"We know that she's our resident very evil, very bad person," says Maslansky. "Because of the mystery — and we don't know where she's from or who she is — I just wanted to imbue her costumes and her look with history and a sense of the past. There's a lot of metallic-looking elements to her clothing, and I just love the idea that that connects us to maybe armor or an ancient sense of protection. I really can't say much more than that, but, you know, history and mystery and enigma and complexity."
As for our four New York saviors who don't wear traditional superhero outfits — even Murdock (Charlie Cox) looks to be back in what Maslansky calls his "vigilante" evil-fighting civilian duds — their wardrobe tweaks will be subtle, but there. 
"You'll see a little bit of change," she says. "You'll see something special. There will be a little bit of evolution and just change, as the show wraps up in the eighth episode. I can't really tell you what, obviously, but I think it'll be a pleasant surprise."
Follow Stephanie Maslansky on Instagram @StephanieMaslansky and Twitter @spmaslansky. "The Defenders" premieres on Netflix on Friday, Aug. 18.
Never miss the latest fashion industry news. Sign up for the Fashionista daily newsletter.