Tictail Launches 'Not Faceless' Campaign to Support Its Small Businesses and Slow Fashion
The idea stemmed from its New York City store's popular "bio card wall."
If you've visited online retailer Tictail's brick-and-mortar on the Lower East Side, chances are your attention was immediately drawn towards its "bio card wall." Along an entire portion of the store's back are small business cards highlighting the independent businesses and brands from around the world that are currently stocked at its New York City flagship. According to co-founder and CEO Carl Waldekranz, it's one of the most popular features at Tictail, and with the company's newest campaign and lookbook, the team is now taking this in-store concept online, as well.
Titled "Not Faceless," the campaign is currently live on Tictail's homepage. Users can browse through the website's list of participating brands, acting as a digitized version of the shop's "bio card wall." Each "Not Faceless" brands has been handpicked by Tictail, as well as included in its third lookbook for Fall 2017. Waldekranz says that additional businesses from the site can happily apply to be added to the mix. After all, that's what's Tictail is all about: boosting small businesses and the people behind them through an online creative platform.
"What's always been the biggest driver for us is learning about the people behind these brands that use and grow on our platform," says Waldekranz. "The foundation of 'Not Faceless' is the foundation of Tictail. We share the stories of these small business and the reasons why we support them. The mission is to empower the self-made entrepreneur to build a global brand."
Tictail's new lookbook aims to provide the same type of spotlight as the "Not Faceless" campaign. Product Merchandiser Anna Decilveo curated a group of up to 42 brands from 12 different countries to feature a process that involved turning to the Tictail community to find out about concepts and ideas for the upcoming season. This time around, the lookbook focuses on mindful, slow-fashion brands with inspiring stories and deeply personal garments, which Decilveo made sure to put stronger emphasis on in the photographs. A pair of Lax booties are pictured for its textured leather; a Dolores Haze skirt has a unique zipper toggle; and Wray's lurex shirt shines perfectly in the Swedish sunlight, where the lookbook was shot.
"We wanted the lookbook to generate the feeling that you can create a wardrobe where you know every designer's story, and care about the pieces they've created," says Decilveo. "The amazing part is that the perspectives from brand to brand on Tictail are so vast and different, it made the end-product completely unique. Emerging brands don't follow the latest runway trends or try to copy the latest 'It' designer. Each is something truly special."
A few of Decilveo's favorite lookbook brands include Ida Klamborn ("Everything she does makes me giddy."), Arethe ("Alina, the founder and designer, pushes boundaries of 'everyday wear' in all the right ways."), and footwear from Freakloset ("The minute I saw them, I knew they'd be the perfect addition to the collection.").
But don't expect "Not Faceless" to wrap up once spring rolls around. Waldekranz has plans to turn the new campaign into a bigger movement, whether it's through showing your support on social media or purchasing one of the limited-edition "Not Faceless" T-shirts designed by menswear Phil & Anth and artist Joe Cruz, in addition to the many emerging brands that Tictail has to offer. "It's really the beginning of something we hope to push for years to come, if not forever," says Waldekranz.
See the entire "Not Faceless" lookbook from Tictail in the gallery below.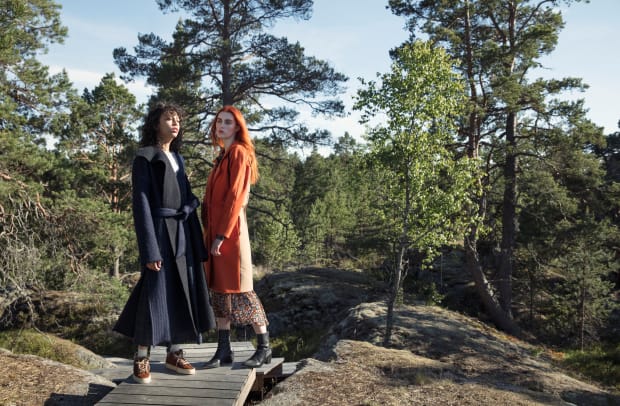 Want more Fashionista? Sign up for our daily newsletter and get us directly in your inbox.