The #WangSquad Traversed Boroughs for Alexander Wang's Guerrilla-Style Spring 2018 Shows
Complete with party buses, stops in Manhattan and Brooklyn and Kaia Gerber's Wang debut.
It's Saturday night of New York Fashion Week and over the years that's come to only mean one thing: Alexander Wang. This was especially the case this season because Wang and his #WangSquad (starter pack meme here for those who aren't familiar) really decided to make a whole night of it. Rather than stage one runway show and follow it up with a blowout party, Wang and his crew started early by filling up a fleet of branded #WangFest buses and staging two guerilla-style shows on the streets of New York. It was quite an intro for Wang virgin (sorry) Kaia Gerber, who just made her runway debut on Thursday.
As chronicled in a livestream with a hazy, black-and-white, surveillance-style camera filter that gave the whole thing "Blair Witch" vibes, the night began in the party buses filled with all the usual suspects — Kendall Jenner, Bella Hadid, Joan Smalls, newly pink-haired Stella Lucia, Suki Waterhouse, Anna Ewers, Cat McNeil, Gerber, etc. — dancing and hanging out with their favorite designer/party buddy. The first show hit Lafayette & Kenmare in downtown Manhattan as the public looked on from behind barricades. After piling back into the party buses, it was time for a very long (Saturday night traffic in NYC!) bus ride to Brooklyn. Things on the livestream looked pretty rowdy for a moment, but towards the end, we sensed a very understandable, tired, "get-me-off-this-bus" vibe. 
Later that evening, the squad finally made it to the makeshift block party in Bushwick, where invited guests had been standing and waiting. (Like last season, there was no seating.) As with the earlier show, newbie Gerber opened and the rest of the crew followed in quintessential Alexander Wang cool-girl looks that would easily transition for the planned on-site #WangFest party afterward. For many of them, the whole evening was likely not dramatically different from a typical Saturday night, just with a tad more runway walking and onlookers.
As for the clothes, Wang didn't diverge too much from his signature aesthetic. The largely colorless collection comprised slinky, party-ready satin dresses and outfits that looked a bit like the product of a cool-girl-type feeling bored with her wardrobe who attempts to create something new with what she already has. A khaki jacket tied artfully around a leather skirt paired with a chainmail top; a dress that looked like a cut-up white tank over an LBD; leather pants that looked like denim cutoffs had been pulled up over them and an oversize sweater worn as a dress with fishnets were all looks that evoked that vibe. Various iterations of jackets tied around the waist and leather bustiers paired with unlikely pieces also added to the sexy-disheveled feel of the collection. Many looks were accessorized with headpieces that recall those New Year's Eve year crowns, but instead read, "Party Animal" and "Wangover," confirming that these girls were headed to a party and nowhere else.
As you await Alyssa's party review, see every single runway look from the designer's Spring 2018 collection in the gallery below.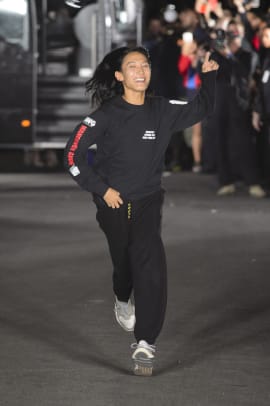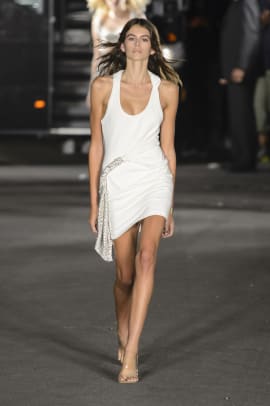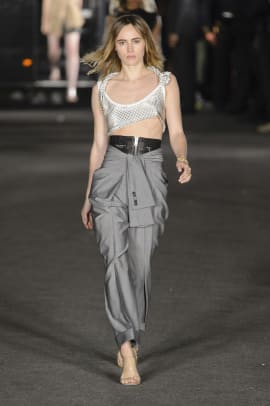 Never miss the latest fashion industry news. Sign up for the Fashionista daily newsletter.