Copenhagen-Based Astrid Andersen's New Women's Line Is a Label to Watch
You may already be familiar with the designer's industry-applauded menswear.
With streetwear and sportswear-inspired apparel rapidly on the rise within the fashion industry — from new labels launching every season to high-end houses like Valentino sending tracksuits down the Resort 2018 runway — it takes a lot of creative wit and business know-how to stand out and thrive in the category. But Danish designer Astrid Andersen has been doing just that with her industry-applauded menswear line. Since its launch in 2010, Andersen's namesake line has garnered the support of a number of industry bigwigs, including the British Fashion Council, Fashion East, Topman, Vogue Italia, Brioni and River Island. In 2016, she was shortlisted for the LVMH Prize for the second time.
It was Andersen's graduate collection from the Royal College of Art in London that really solidified her decision to start her own label straight away. "It was just very clear that there was a direction in the work that felt new to people," says Andersen over the phone from Copenhagen. Though Andersen was traveling to Paris to interview for post-graduate jobs at major brands, she couldn't resist the opportunities that were right in front of her.
"I knew that I wanted to do my own thing at some point," says Andersen. "So it was just kind of like, if you don't do it, someone else is going to do it, and then two years later, you can't go back and ask for the same opportunities." Retailers, especially from Tokyo, immediately picked up her collection, and she was offered a slew of platforms in London geared for up-and-coming talent.
Andersen says she wouldn't be where she is today if it weren't for such a strong support system from the very start. "They truly made it possible for us to grow [the brand] really slowly and not compromise," she recalls from her time with Topman, Fashion East and the British Fashion Council's NewGen program. "We could be very strong-minded and directional from the beginning. I didn't have to worry about financing the next show because people were helping me out with that." And although Andersen leads a small team of full-time staffers at her studio in Copenhagen, she very much aligns her brand's foundation to the U.K., which is why she continues to show her men's collections at London Fashion Week Men's.
After noticing a crossover customer from the very beginning, Andersen decided to expand into women's wear. "For me, it was always more relevant in the menswear setting to push boundaries with lace and fabric that was a bit unexpected for the aesthetic, but then as it developed, it seems like now that kind of story is just as relevant for women," says Andersen.
She debuted her first collection during Copenhagen Fashion Week in February, and in August, Andersen returned to her hometown to showcase its Spring 2018 collection, an extension of her men's line and an original take on "safari," a common source of inspiration among the fashion industry. Andersen considers her women's line still in its "soft launch" phase, but sees future collections traveling to other cities when the time is right.
Andersen's flagship boutique in Copenhagen's Nørrebro, which opened three years ago, is also another way for the designer to grow her brand. Open only on Saturdays and currently stocked with the designer's new collaboration with M.I.A., the store helps Andersen and her team see how they can approach retail and merchandising. "It's kind of a love project for us," she says. "It's a good exercise to have that experience and to grow some confidence. When we talk to retailers and partners, we know how we want it to look because we've done it ourselves and we know what works."
After launching e-commerce this year, Andersen also has her eyes set on the U.S. market, which brings strong online traffic to her web shop. "A lot of what I do is so inspired and influenced by the fact that American culture has such a strong reference within my generation in Europe," she says. "The U.S. is such an unexplored, massive market for us."
Until then, Andersen will continue to evolve her sportswear-influenced designs, even if more designers are picking up on the popular aesthetic. Backstage at her Spring 2018 women's show, she told Fashionista that she's experimented with more tailored silhouettes, proving that her designs are not just a trend: "It's an underlayer to my generation and how I see things."
After all, that's what captured Andersen's loyal supporters in the first place, and it's something that she says she'll never forget even 20 years from now. "I don't have any outside investments. I own everything in the company, every single piece of garment, every single piece of paper in the workshop, I've bought everything," says Andersen. "Obviously at some point, to grow we have to let go of that fairy tale and become a bigger machine, nut for now, that's really something that I really cherish."
See Astrid Andersen's Spring 2018 women's collection in the gallery below.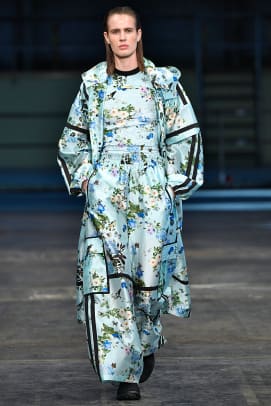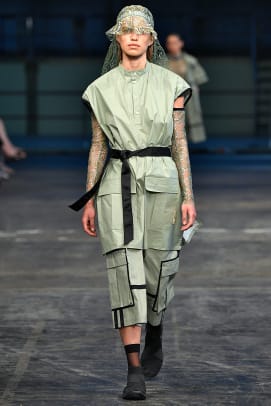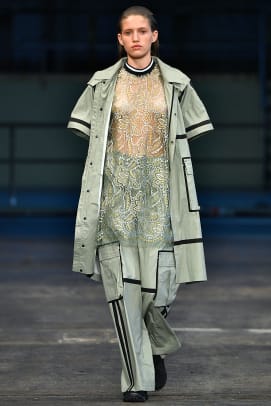 Homepage image: Astrid Andersen Spring 2018 runway show finale. Photo: Helle Moos
Want more Fashionista? Sign up for our daily newsletter and get us directly in your inbox.