Olivier Rousteing Does His Version of Refinement for Balmain Spring 2018
Things may have been a little less wild than in seasons past (and there wasn't a Kardashian, Jenner or Hadid in sight), but they were still pretty over the top.
Our last two Balmain collection reviews made prominent mention of the word "jungle," but for Spring 2018 Olivier Rousteing took his Balmain army firmly in a different direction. At the baroque Opera Garnier on Thursday, he showed an 82-look collection that was as opulent and Parisian as the venue itself.
The show notes, meanwhile, gave the collection a personal slant. In lieu of a generic inspiration statement, Rousteing wrote a letter to his 22-year-old self, describing a life that, at the time, he may not have been able to fathom — designing ballet costumes for and staging a show at the Opera Garnier, working with supermodels and musicians, and so on.
Also of note this season: There wasn't a single Kardashian, Jenner or Hadid in the room; that may not have been intentional, but it served as a reminder that Rousteing's Balmain had a strong identity even before those Instagirls and reality stars became such an integral part of the brand. Of course, the model lineup was still chock full of supers and recognizable Victoria's Secret models: Natalia Vodianova (who opened the show), Natasha Poly, Alessandra Ambrosio, Joan Smalls and Karolina Kurkova among them; Claudia Schiffer sat front row.
Rousteing did Balmain signatures with a cool-girl spin, almost entirely in black and white, which helped the looks feel a little more refined than they have in seasons past — albeit in a very '80s, very excessive and very Balmain sort of way. Shiny, plastic-y surfaces were big, from the opening black chain-strap overalls to a completely see-through pair of pants, coat and top with an almost newsprint-like "Balmain" logo print. Plastic boots also offered a welcome respite from the typical open-toe booties Rousteing does (but were almost uncomfortably Chanel-esque with their cap toe).The house's signature short, body-con, long-sleeve dresses were done with all manner of beads, baubles and fringe hanging off of them, while a wide range of longer, equally body-hugging skirts and dresses also tended to have an excessive number of design elements — including but not limited to: cutouts, feathers, chain mail, tutus, zippers, bra cups and sequins.
Offering kind of a nice balance to all those constricting pieces, however, were a number of looser, more relaxed silhouettes for the Parisian woman who's going for that effortless-cool vibe but still wants some glamour and sparkle: logo T-shirts, oversize tops, loose trousers and overalls were among the more "casual" options, though they all still had plenty of sparkle.
Is this collection for everyone? Definitely not, but it had a few more wearable elements than we're used to seeing from Balmain. And yes, we could see many of these pieces making their way onto a Kardashian in the near future; but it felt like this season Rousteing was more inspired by himself.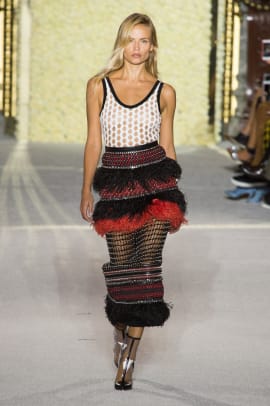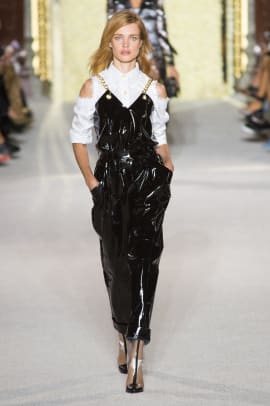 Want the latest fashion industry news first? Sign up for our daily newsletter.