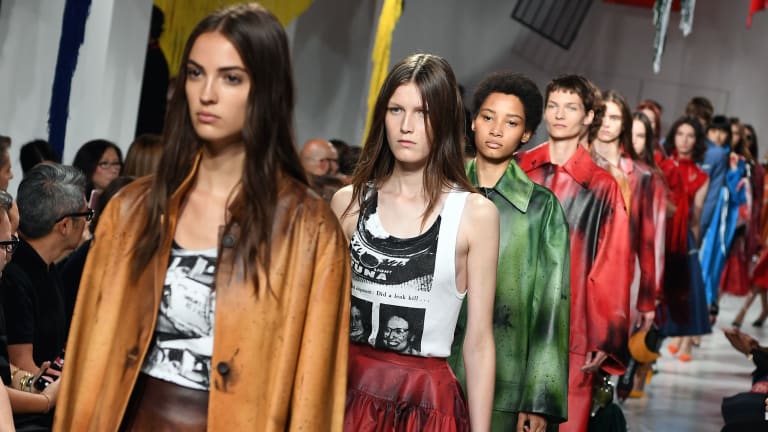 At Calvin Klein, Raf Simons Showed A Pretty Damn Dark Vision of America for Spring
American Dream, meet American Nightmare.
Calvin Klein's dynamic creative duo Raf Simons and Pieter Mulier moved to America just about a year ago, and in the time since, the country's quickly devolved into — for lack of a better term — a fucking horror show. This didn't stop Simons from latching on to classic Americana as inspiration for his second season running at the brand, though this time around, his view on the subject took a decidedly dark turn. 
"It's about American horror and American beauty," Simons said of the Spring 2018 range in the show notes. "Fashion tries to hide the horror and embrace only beauty. But they are both a part of life. This collection is a celebration of that: a celebration of American life." Many of the elements he introduced during his Calvin Klein debut in February were reprised for spring — cowboy boots and shirting, traditional quilts, head-to-toe denim, collegiate details like varsity stripes and cheerleader pom-poms — but it gradually became clear as the 81 looks came down the runway that Simons was working with some ominous undertones.        
Accompanied by a soundtrack partly comprised of horror-flick themes cut together and set against a Sterling Ruby-designed backdrop with axes (à la "The Shining") and buckets (à la "Carrie") hanging from the ceiling, many looks prominently featured screen-printed images from Andy Warhol's "Death and Disaster" series, which depicts car crashes, electric chairs, riots, suicides and general catastrophe. A trio of airy dresses eerily recalled the sort of nightgowns that a female victim in a thrasher movie might wear to meet her demise — or come back to haunt you. 
A spray-paint motif came in several color combinations, but in red and white, it could easily bring to mind a blood-spattered crime scene. There was a coldness to the sporty rubber and nylon separates, derived from both the clinical nature of those fabrics and the fact that they conjure up images of body bags. But the pretty evening gowns done up in those materials were a highlight, accomplishing Simons's goal of presenting beauty alongside horror.
The finale dresses — netted bodices adorned with fringed pom-poms in cheerful colors and metallics — perhaps embodied this juxtaposition most successfully, harkening back to a time of football games and school spirit that felt both nostalgic and, in some cases, traumatic. There's a reason so many horror movies are set in high school, after all.
See every look from the Calvin Klein Spring 2018 collection below.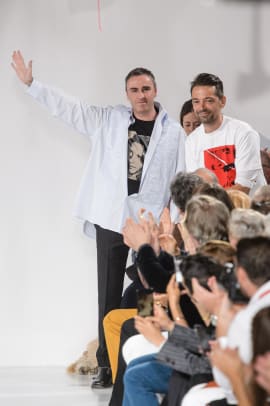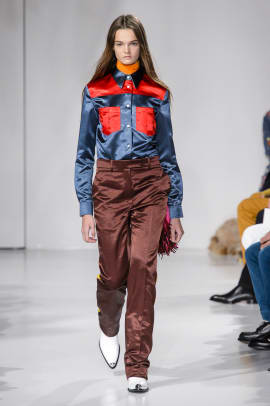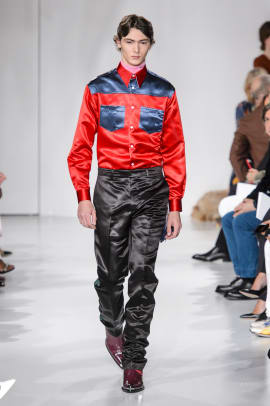 Want the latest fashion industry news first? Sign up for our daily newsletter.