Cool Shoulder Details Ruled the Red Carpet (and Front Row) This Week
From Paris Fashion Week to the New York City Ballet fall gala, Emily Ratajkowski to Hari Nef, this week was all about romantic dresses with sassy shoulder reveals.
There's nothing like finding that perfect dress that makes you feel confident, poised, a little flirty and destined to have fun. And over the past week, it appears that a lot of celebrities found that dress.
In lieu of the cumbersome gowns or generic cocktail dresses we often see on red carpets, celebrities this week sported frocks that, while elegant, didn't wear them. Better yet, they were interesting and a little sassy — thanks in part to noteworthy details at the shoulder area. There was Jasmine Sanders in her Kenzo dress with one full shoulder peeking out, Keri Russell's ruffled Johanna Ortiz one-shoulder number, Emily Ratajkowski's Brock Collection dress with both spaghetti straps and sleeves at the shoulders (it makes sense when you see it), Mandy Moore's three-dimensional floral embellishment on one shoulder. and Michelle Monaghan's stunning cold-shoulder Prabal Gurung dress. Meanwhile, Sarah Jessica Parker went full off-the-shoulder in Monse with a sort of unfinished, fringe-y neckline. Fellow Monse-wearer Hari Nef's dress sported an oblong cutout near the left shoulder. On a more subtle (and easy-to-copy-at-home) level, Alexa Chung simply adjusted her Dior sweater to reveal part of one shoulder and create a little asymmetry.
So while basic off-the-shoulder dresses may be passing their peak in the trend cycle, there's still plenty of fun to be had around the lapel area. Click through the gallery below to see all of this week's best-dressed ladies.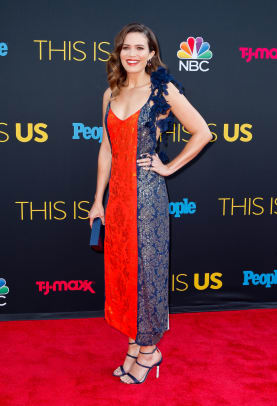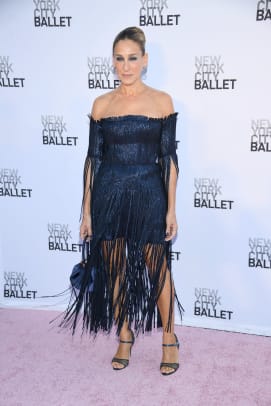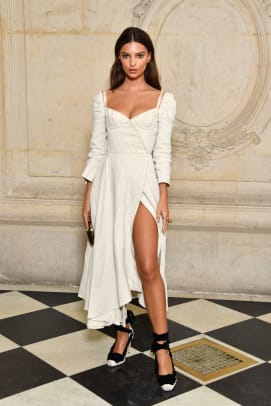 Want the latest fashion industry news first? Sign up for our daily newsletter.