Please Invite Leslie Jones to Every Fashion Show Ever
Even the 'SNL' star can't get enough of Christian Siriano's designs.
Christian Siriano always hosts one of the best front rows of New York Fashion Week, but this season, he truly upped the ante by having "Saturday Night Live" star and erstwhile client Leslie Jones at his Spring 2018 show — and trust me when I say it was the Best. Thing. Ever.
Fashion shows can be notoriously stuffy affairs that end in polite clapping at best, but no one gave Jones that memo. She hooted, hollered, clapped and snapped her way through the entire Siriano runway, from the moment Coco Rocha opened the show to Siriano's final bow. "You work, girl!" she called after one model. "Take off my dress!" she cried after another wearing a look Jones wanted for herself. "Everybody should be snapping after that!" she exclaimed after one particularly stunning evening gown.
Jones also managed to rope in her fellow FROW stars, pointing out a dress that would look good on Patricia Clarkson and grabbing at Gina Gershon when she was particularly overcome by joy. And when one of the models towards the end came out and did a supermodel twirl, Jones lost her damn mind and nearly fell backwards off the bench in delight.
By the end of the show, the entire audience was smiling ear-to-ear — and while they were surely heartened by Jones's enthusiasm, the clothes themselves were pretty ebullient as well. Siriano presented a collection packed with neon-brights (Jones was a fan of the yellow — "That's my color!" she told musician Brad Walsh), tropical florals and some truly stunning eveningwear. And as per usual, the casting was incredible: Siriano knows how to put on a diverse runway, even throwing a few male models in the mix, and bringing back pal Rocha to serve up some old-school runway drama. (Is the Coco Rocha comeback in effect? Stay tuned.)
It's very possible that there hasn't been a runway show this fun in years. This is a call for designers to sit Leslie Jones front row at every fashion show going forward — and if you can put her next to Céline Dion, we bet the whole damn industry would explode.
See the full Christian Siriano Spring 2018 collection below: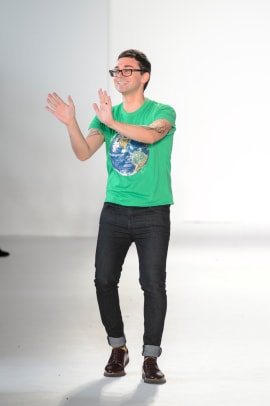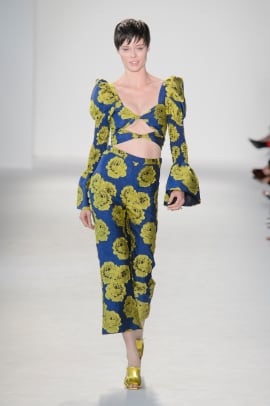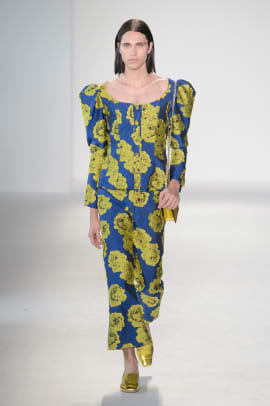 Want the latest fashion industry news first? Sign up for our daily newsletter.