A Teenage Fantasy of Fashion Comes Alive at Comme des Garçons Spring 2018
Once again, Rei Kawakubo forces us to question what clothes can be.
While "multi dimensional graffitti" was the official explanation for the Comme des Garçons show held inside the ballroom of the Russian Embassy in Paris, there was a bit more to it. The explosion of colorful and wild facial and floral mixed prints on garments of various shapes, fabrics and dimensions in collaborations with 10 different artists is open to interpretation.
Here's what it means to me: The fantastical representation of a young teenage girl becoming conscious of the power of fashion and how it will impact her life going forward, starting with the anime and cartoon drawings she may already be familiar with in her youth. The shapes of a few looks at the start of the show — an extra-large, face-printed dress with kimono sleeves; a short, silver dress with amorphous, giant asymmetrical sleeves; or a multicolored face-printed cape over a short dress — seemed to reference Japanese action heroes on Saturday morning cartoons that used clothes to transform themselves from weaklings to armored defenders of the people.
Then came the massive, white, double-breasted short jacket dress with the lapels layered one on top of the other until they formed a small mountain-size pile; paired with heeled black Nike trainer boots, this was said teenage girl's menswear-inspired moment, or acknowledgement of the opposite sex. 
At the end, the 15th outfit was a giant, red, vinyl 'skirt' with a matching sleeved top decorated with flowers around the model's neck, a symbol for the teenage girl's wedding dream. (In most of Asia, brides wear red for weddings, while white is for funerals.) There, in 15 outfits, is the summary of a teenage girl's fantasy life displayed in garments as supernatural as they would be in a dream world.
But there is something else going on: Each garment inspires closer examination of how we look at clothes — in particular, what is the front and what is the back. The floral-print cape dress has part of a vinyl double-breasted jacket attached to the back, while a large hourglass dress viewed from the front becomes a simple sleeveless sheath dress when viewed from the back side, as if the front part was a mere decoration that can be peeled off and casted away. 
At Comme des Garçons, there has always been an existential questioning of what clothes are or can be. What was shown in the Spring 2018 collection are surely clothes, but they are not clothes in the ordinary sense of the word: These are garments dreamt by someone at a juncture of her life when she realizes she and the environment around her is changing. 
See the complete Comme des Garçons Spring 2018 collection: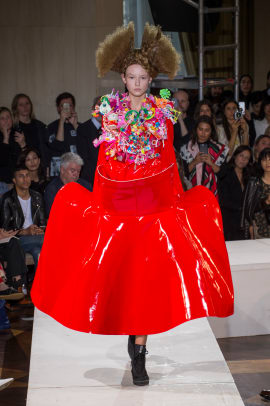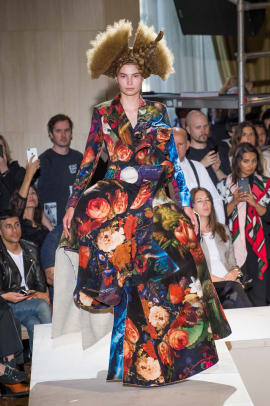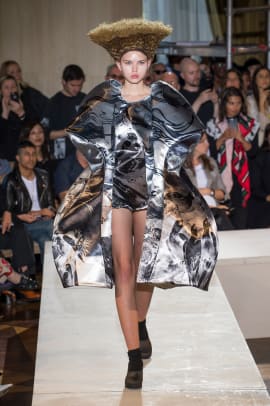 Want the latest fashion industry news first? Sign up for our daily newsletter.
Long Nguyen is the co-founder and style director of Flaunt.