Dolce & Gabbana's Queens of Hearts Were a Sparkly Feast for the Eyes
Never have playing cards seen so much glitter.
If there's one trend that's dominated the Spring 2018 runways so far, it'd be glitter — which bodes well for all of us hoping to leave a trail of sparkles in our midst next season. (Which, to be fair, who doesn't?) The stuff has cropped up all over the place: on skirts and leggings, under hems and atop shoes. And as Milan Fashion Week comes to a close, Dolce & Gabbana got in on the fun with an especially glittery spring collection that's sure to make many of its #DGMillennials — the brand's target demographic as of late — quite happy.
On Saturday evening, just 14 hours ahead of D&G's regularly scheduled runway show, the Italian house put on a "secret" show for its favorite Generation X and Y influencers, kicking off what we expected to be an equally Millennial-heavy extravaganza on Sunday. While the front row at the actual presentation on Sunday was crawling with Vine stars celebrity spawn, it wasn't the Celebration of the Young, Rich and Justin Bieber that we saw last season. The closest thing to a Millennial Moment during the show, perhaps, was the soundtrack, which was heavy on the Katy Perry (and which Cameron Dallas, toast of the front row, appeared to have enjoy heavily). In a way, this let the clothes speak for themselves, and for a collection so rich and full of detailing, this was appreciated. 
The invitation promised a Queen of Hearts-themed affair, and that's exactly what we got, starting with the carpeted runway, which fed into a stage set beneath a number of giant, mechanical cards hanging from the ceiling. The clothing and accessories catered to this theme, too. A series of playing card dresses, jumpsuits and gowns were scattered throughout the show; some came beautifully printed on silk, while others were embossed in sequins. Sunglasses had lenses in the shape of cards, and models debuted a number of new crowns that you will likely see all over Instagram in the months ahead.
What the show (surely purposely) lacked in blatant Instabait, it made up for in its eye-popping physical collection. That's not to say showgoers didn't raise their phones in unison to capture certain moments, like when Hailey Baldwin or an assortment of Victoria's Secret Angels (Sara Sampaio, Elsa Hosk) came down the runway. But this time around, the clothes were loud and shiny in a wonderful way, and they deserved the spotlight — far more than any $700 Bieber tee ever will.
See the full Dolce & Gabbana Spring 2018 collection in the gallery below.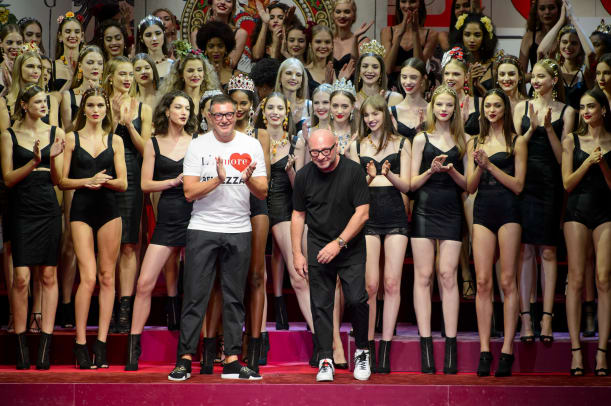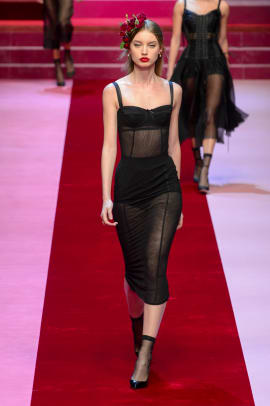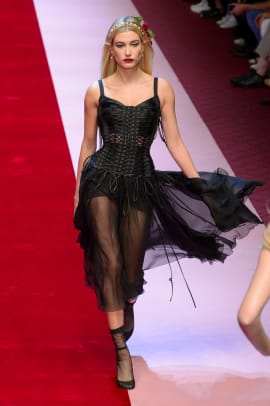 Never miss the latest fashion industry news. Sign up for the Fashionista daily newsletter.