Gucci Went on a Glittery, High-Glam '80s Kick for Spring 2018
Or: Alessandro Michele gets ready for Saturday night at Tunnel.
In all our years writing about Gucci — specifically, Alessandro Michele's Gucci, effective January 2015 — we've come to associate a stable of adjectives with the house's airtight aesthetic. (Vintage-tinged, eccentric and bookish are three that most immediately come to mind.) But has Michele's Gucci yet been described as something more along the lines of ultra-glam, positioning itself to be compared to, say, a modern-day Saint Laurent? Not until the Spring 2018 collection it hasn't — or at least, to the degree that we saw at the Italian house's latest runway show in Milan on Wednesday.
This being the first "big" to-do during Milan Fashion Week, the show space was already packed to the gills when I arrived nearly 20 minutes early. I quickly realized everyone had the same idea I did — to stake out the scene, which was sure to be a scene — but it worked to our benefit to show up ahead of time. The set had quite a bit to take in, complete with to-scale replicas of tombs, statues and artifacts from classical Rome, Greece, Egypt and more ancient civilizations. You turned one corner, there was a giant, functional archway; you turned another, there was a convincing rendition of the Venus de Milo.
Michele is often influenced by antiquity, but perhaps, none more so than this season. In a way, the show notes reference antiquity, too, but going a bit farther back — like, to the beginning of time back — discussing the "act of creation" and the corresponding "act of resistance."
It's the latter reference that explains why Michele's clothes have resonated so well, and so quickly. Before Gucci's latest revamp, nothing looked like it; now, everything does. This Gucciness was very much present this season: A slew of covetable accessories (fanny packs, plastic-looking waist belts, layered necklaces) are sure to create the same shopping frenzy they always do; Harry Styles-friendly suits came down the runway in numbers, including one deep purple set with neon green snake embroidery; floaty, ruffled gowns interspersed actually wearable pieces, like a bedazzled Snow White sweater and a cheeky "Never Marry a Mitford" intarsia knit that's probably all over your Instagram feed already.
But there was a high-wattage, '80s-glam element to this collection that hadn't been so apparent previously. The hair was teased, the shoulder pads were large and the sequins — the sequins! — were plentiful. If the head-to-toe bedazzling on jumpsuits, panty hose, gloves and blazers didn't scream "Evelyn in 'American Psycho,'" surely the show's rainbow strobe lights (dramatically accompanied by a remixed version of the "Requiem for a Dream" theme) did.
In theory, the whole thing — '80s-glamazon-heading-to-Saturday-night-at-Tunnel paired with Barb-pre-Upside Down-in-"Stranger Things" — shouldn't work, especially when you throw in the backdrop of classical statues and a Darren Aronofsky soundtrack. But it did, and we're not questioning it. We won't until the clothes stop holding up, and Kering likely won't, either, until the clothes stop selling. Though when Michele keeps doing when he does best, who knows when that will be?
Click through the gallery below to see every look from Gucci's Spring 2018 collection.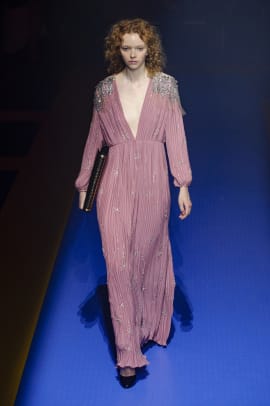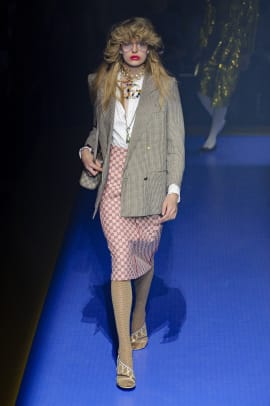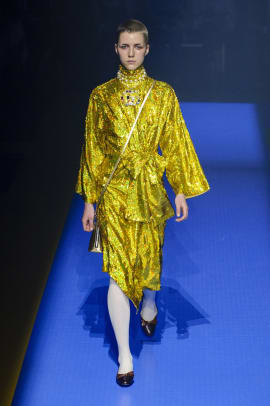 Want more Fashionista? Sign up for our daily newsletter and get us directly in your inbox.