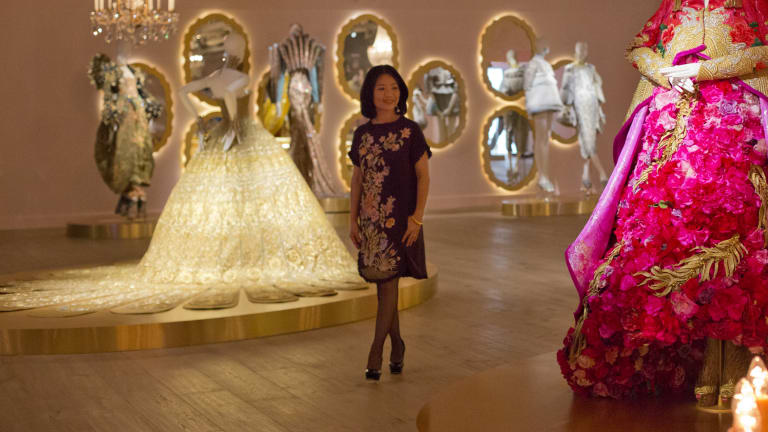 Chinese Couturier Guo Pei's Jaw-Dropping Gowns Have Earned their First Museum Exhibit
The designer of Rihanna's famous Met Gala imperial cape is holding her first U.S. solo exhibition at the SCAD FASH Museum of Fashion + Film in Atlanta.
"As designers, it's not about the fame that you can gain. It's more about the responsibility you have as a designer to carry on the culture and cultural inheritance," says Chinese couturier Guo Pei, through an interpreter, at the official opening of her first solo U.S. museum exhibition at the SCAD FASH Museum of Fashion + Film — part of the Savannah College of Art and Design (SCAD) Atlanta campus. 
The Beijing-based designer, renowned for her ornate, precious metal-detailed and stone-embellished gowns that bridge Western fashion with traditional Chinese emblems and artistry, built a successful couture business — against all odds — in Beijing with her Rose Studio atelier. While she's been designing for nearly 20 years, she garnered international fame when Rihanna wore her gold-embroidered, yellow imperial cape to the Chinese-themed Met Gala in 2015. (The designer admitted she wasn't even familiar with Riri at the time.) In 2016, Pei became the first Chinese designer invited by the The Chambre Syndicale de la Haute Couture to present at Paris Couture Week, which was quite the honor. 
The impressive exhibit at SCAD FASH features 30-plus pieces from her archives, including, of course, the world-renowned Rihanna cape (above) and the Ming Dynasty empress-inspired, jewel-encrusted and fur-trimmed confection worn by Carmen Dell'Orefice (with two men pushing the majestic train) on the Beijing runway for her "One Thousand and Two Nights" collection in 2010 (below). The elaborate, sculptural and ultimately weighty pieces required SCAD to commission custom-made mannequins, which were not just fit to the dresses, but also molded into artful poses to complete the story of each piece. 
The scope of the exhibit will surely appeal to audiences at all levels of fashion interest, from obsessives to newbies. Case in point: A group of adorable fourth graders were also touring the space and excitedly reaching their arms up to take iPad pics. A series of fantastical garden and cosmos-inspired dresses sculpted out of elaborate wire-work, complete with carvings, embellishments and crystals lining the insides of the skirting, inspired the most awe. "In 2015, Guo Pei collaborated with a cosmetics line called MAC ..." patiently explained a docent to the wide-eyed boys and girls, while pointing to the glimmering eight dresses, designed in support of the line, which were slowly spinning on a dais (below). 
And, yes, the famous gilded yellow imperial cape is even more magnificent in person — especially when displayed with the towering and ornately carved platform heels that went with it. Funny story: Director of SCAD Fashion Exhibitions Rafael Gomes told us that, in 2010, the runway model who first wore the 55-pound cape — while also teetering in the aforementioned platforms — could only complete half of her full walk. She stopped at the end of the runway and burst into tears. So down came the house lights and the show abruptly ended. When Rihanna requested the piece five years later, the designer was hesitant to reveal how much the cape actually weighed in case the star decided not to wear it. But Rihanna was up for the challenge — and in stilettos, no less.
Since Pei's hand-crafted haute couture process, which often takes years, essentially resurrects and re-introduces a traditional Chinese art nearly lost in the Cultural Revolution, holding her first solo U.S. exhibit at a teaching institution made perfect sense. "My first contact with SCAD was two years ago, and I didn't know a lot about the [college] at the time," she explained, in a plush sitting area off to the side of the exhibit. "When I came, I was deeply moved by the [college]. The atmosphere here is all about love; it's all about educating and nurturing young artists. You can find a lot of the beauty in every corner here, and I really fell in love with this place." Further cementing her relationship with the college, her daughter enrolled at SCAD for the fall.
"Guo Pei: Couture Beyond," which runs through March 4, 2018, is also a chance for American audiences to familiarize themselves with the designer's masterful work in person and, in turn, learn about Chinese history, culture and tradition through fashion. For example, a spectacular blue and white porcelain sculptured gown was hand-painted in cobalt, then embroidered for a 3D effect, mimicking the Chinese porcelain design technique. An actual vase was broken and reworked into the headdress and jewelry accompanying the piece. Or, the majestic train of gilded cylindrical shapes, cascading off an gold-embroidered and jewel-ornamented gown, references terra cotta roof tiles on Chinese pagodas (below).
In a way, the exhibition can also be a soft diplomatic effort to communicate China's rich culture and history through haute couture, which could prove a useful tool the current geopolitical climate.
"Fashion is very, very important for a country; I think it's a truly soft power because fashion combines so many different areas, like culture, and it's an authentic expression of people's lives," she said. "I think it covers not only how we are today, but it also covers the past and maybe even looks into the future. It's a really great way to express our country's status."
At the private reception celebrating the exhibit opening, the couturier's soft diplomacy efforts proved to be a success. She received a Kardashian-level welcome, as museum donors, SCAD supporters, students and otherwise well-heeled Atlanta society types — some dressed in Chinese-inspired clothing in homage to the designer — swarmed around her clutching iPhones for selfies and offers of congratulations.
While Pei is celebrated for connecting both East and West through her couture gowns, oftentimes Western designers incorporating Chinese or Asian elements into their pieces aren't as well-received. But the Beijing-based couturier doesn't have an issue with that.
"I think that's wonderful because that shows China is getting more powerful and that our culture is getting attention and [being] accepted by the Westerners," she later said, before sitting down for an intimate VIP dinner on the rooftop of the museum. And she doesn't consider it cultural appropriation. 
"No, no, no," she emphatically responded. "Because I think culture belongs to all humans. Art is what breaks barriers between us; art itself speaks for all languages and all nations and all countries and all backgrounds, so it should be for the world and everybody."
"Guo Pei: Couture Beyond" exhibit runs through March 4, 2018 at SCAD FASH Museum of Fashion + Film. An accompanying book published by SCAD and Skira Rizzoli is scheduled for a December 2017 release.
Disclosure: SCAD provided my travel and accommodations to review the new exhibition.
Homepage/top photo: Courtesy of SCAD
Want the latest fashion industry news first? Sign up for our daily newsletter.