Shayne Oliver Gave Helmut Lang Its Street Cred Back For Spring 2018
Oliver's debut was crazy, sexy and cool, but we'll still miss Hood By Air.
The fashion insiders and downtown creatives who regularly roam around Soho found themselves gathered together outside of an empty storefront (formerly Pearl River Mart) on Monday night — okay, not so much "gathered," but more like crowded and cramped into a chaotic swarm. Many editors would have like left after seeing the front door fiasco, but the anticipated show's stakes were much too high: It was Shayne Oliver's debut collection for Helmut Lang at New York Fashion Week.
So we powered through, shuffling our way through security guards, frazzled publicists and gatecrashers to our designated seats — or something close to it. As soon as showgoers made it past the entrance, they were greeted by Lil Yachty, Ian Conner and A$AP Ferg in the front row; further inside the venue sat Barneys menswear guru Thomas Kalenderian and Fear of God's Jerry Lorenzo. Diplo showed up, too, as well as Cardi B, Offset and 21 Savage followed by a cloud of weed smoke.
The energy was palpable inside the gutted space and only Oliver would be able to attract such a high-powered audience of celebrity and cool. When Andrew Rosen, CEO of Helmut Lang's parent company Link Theory Holdings, hired Dazed Editor-in-Chief Isabella Burley as the brand's editor-in-residence, her revamp of Helmut Lang involved a number of collaborators. Ethan James Green photographed a new campaign and  12 visual artists were tapped for a year-long "Seen by: The Artist Series" of monthly product releases. Oliver was hired as the label's first designer-in-residence, and a month after the announcement, he immediately put his beloved Hood By Air brand on hiatus to focus solely on his capsule collection, aptly titled Helmut Lang Seen By Shayne Oliver.
Did his decision pay off? Absolutely. The result of his six-month residency brought back a sense of grit, originality and provocative design that was missing from the New York Fashion Week scene over the past few seasons. It was, after all, Hood By Air that first blended streetwear, sex appeal and high fashion before any sports-inspired aesthetic took over so many designers' collections. Signatures of Helmut Lang, the man who exited his namesake label in 2005, were apparent in Oliver's collection. Though, it was more so Lang's love for fetish design than the perfect staple pieces that Oliver chose to highlight.
A hugely diverse cast of models, including Slick Woods, "Prison Bae" Mekhi Alante Lucky, nightlife queen Sophia Lamar and Helmut Lang OG Kristen Owen, showcased plenty of BDSM-inspired pieces made up of bondage details and loads of leather on leather (on leather). This isn't all too surprising, as Hood By Air's Spring 2017 collection was literally inspired by sex, along with hair and makeup made up of er, viscous textures, and a collaboration with Pornhub. Oliver also proved he has a knack for accessories, as some models wore oversize bras that could zip into satchels, duffels attached to body harnesses, Perspex briefcases, as well as newspaper-like totes rolled up and held to their faces to shield their eyes from the bright runway lights.
Towards the end of the show, the music's industrial techno turned into a melodic interlude of Whitney Houston's "I Have Nothing", which introduced more evening-ready (read: shimmery and translucent) ensembles. As the show wrapped, the crowd and chaos proved well worth it: Oliver's capsule collection and runway show recovered what captivated the fashion industry about him in the first place
For those who miss the old Helmut Lang, there's the brand's reissued heritage pieces, "Helmut Lang Re-Edition," to choose from. And for those who can't afford the runway collection's high price tags (a leather trench coat goes for $2,450), there's plenty of Helmut Lang Seen By Shayne Oliver merch up for grabs, dropping on Tuesday. While Helmut Lang successfully got its street cred back, Oliver's debut made us long for the return of Hood By Air, too.
See the full Helmut Lang Seen By Shayne Oliver Spring 2018 collection in the gallery below.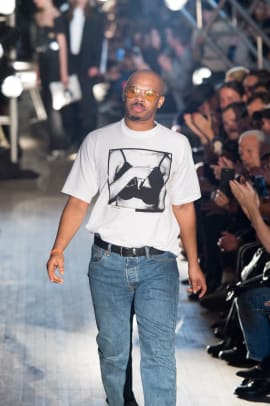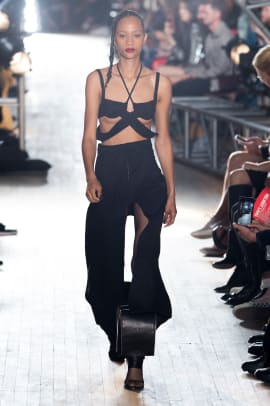 Want more Fashionista? Sign up for our daily newsletter and get us directly in your inbox.