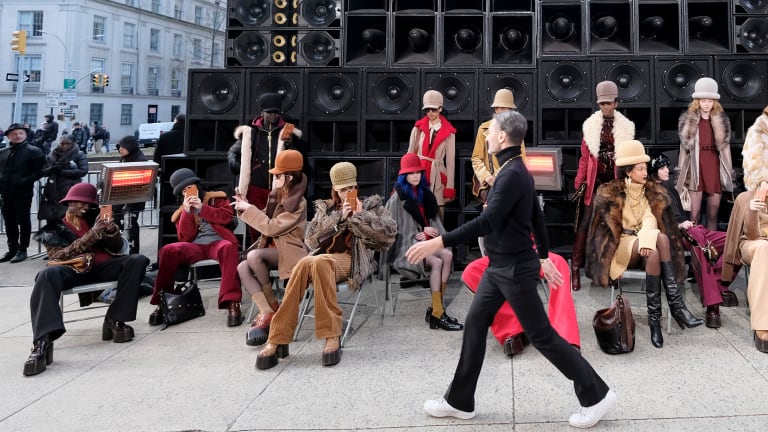 Is Fashion Relying Too Much on Hip-Hop to Stay Relevant?
Many luxury brands' attempts to "do it for the culture" can seem disingenuous — or can go terribly awry.
Mayhem. That's really the only way people were able to accurately describe the party for Fendi's launch of their millennial-focused digital platform "F...is for Fendi" back in February. For a night that was supposed to be a fun-filled fashion event at a secret New York City location fueled by the sounds of Metro Boomin, 21 Savage and Migos, it ended in moshpits, bloodshed, fist-fights and (allegedly) with weapons being pulled. Mix an old-school industry that has become known for its ignorance of racial issues and lack of diversity with a youth culture that thrives on those very same issues, and you're likely going to run into a few snafus on how to handle settings such as said Fendi party, with rap artists that have tons of young fans ready to wild out. Hip-hop, as much as it has tried to, has never been the perfect fit for fashion, but now the issue is being forced — and it's not turning out as promising as both sides had hoped.
Hip-hop is one of those cultural movements that isn't simply a movement. It can literally build communities or, as some people have generalized, cause bloodshed. In the right hands, it can become something that unifies and symbolizes hope, happiness and ebullience. But, in others, it can be made a mockery of. There's a very thin line, and it isn't black or white. Many times, it's green.
Seemingly every label on the market has profited off of hip-hop over the past few seasons. Louis Vuitton went from sending cease and desist letters in 2000 for illegal use of their famous monogram print to Supreme — the same brand that hip-hop heads who want to look like skaters (and skaters who want to look like hip-hop heads) love — to collaborating on the most anticipated collection in years. In early 2016, Vetements dropped a $900 T-shirt featuring Snoop Dogg that was almost an exact replica of one that Death Row released for his "Beware of the Dogg" tour merch. One can't help but wonder: How many people who bought that reinterpreted shirt, one that sold out everywhere despite the high cost, know any songs off of "Doggystyle" outside "Who Am I?" and "Gin and Juice?"
Related Articles
However, no one did quite as well as Gucci. The Italian house had a banner year in 2016, monetarily and popularity-speaking, and much of that can be attributed to Alessandro Michele's wholehearted embrace of hip-hop and bootleg culture. Gucci was already a hip-hop favorite, but the intersection between what rappers and their entourages were wearing and how luxury brands were interpreting it was coming to an apex. The hip-hop style landscape was changing so much, it allowed for more tailored clothing with bombastic designs to really overtake some of the more generalized "rapper fashion" of yore. 
This is why Michele took a page out of hip-hop fashion knockoff pioneer Daniel "Dapper Dan" Day's book with a Cruise 2018 collection runway look, featuring a puffy-sleeved mink jacket with double-G monograms a la Day's famous counterfeit (yet fabulous) piece from the '80s. Appropriation or homage, people asked? That's no matter: As of September, Dapper Dan is now a bonafide Gucci collaborator, as well as the face of the label's men's tailoring campaign, shot at the Apollo Theater in Harlem. Together, they will re-open his famous studio that was shut down in 1992, and Gucci will supply him with the real thing to create some new masterpieces.
Until recently, hip-hop's love for luxury fashion has been somewhat unrequited. Brands like Louis Vuitton, Gucci, Versace, Chanel and the like have stood for opulence (and have served as a marker of success) since rap's inception. But, unfortunately, the number of times a fashion house recognized their hip-hop counterparts or outwardly awarded credit where it was due is disappointingly small. During the after-party for known culture vulture Philipp Plein's NYFW runway show last week, performer Nicki Minaj made a point to call out this fact: "Thank you, Philipp Plein, for including our culture. Designers get really big and really rich off of our culture, and then you don't see a motherfucker that look anything like us in the front row half the time."
Today, fashion insiders are all but accustomed to luxury brands using a hip-hop soundtrack to accompany their runway collections (a piano version of a Travis Scott song played at the Valentino Resort 2018 show in New York) or commissioning "It" rappers to play a medley of their most popular tracks at an after-party — many of whom proceed to complain about "the racket." (The most recent examples from fashion week include Future's performance at Plein and Cardi B's after-party appearance at Alexander Wang.) What's more is that designers are creating entire collections inspired by hip-hop culture with no merit. As much as those who grew up living and breathing that culture beg and plead for diversity in fashion, the forced nature of the inclusion of hip-hop for the sake of it comes off as disingenuous.
In the spring, Tory Burch's "An American Road Trip" video campaign featured white models performing the viral dance set to the song "Juju On That Beat." The brand retracted the video after widespread criticism, and not only was the gaffe chills- (and laugh)-inducing, it was just another prime example of when culturally appropriating hip-hop for financial gain goes wrong. We understand it was just an innocent video trying to play to the youth by using a popular song and dance, but, at the very least, why not find a model of color — or someone who can actually dance?
Over the summer, Kendall and Kylie Jenner thought that it would be a good idea to release a line of vintage band T-shirts — including ones featuring slain hip-hop legends Notorious B.I.G. and Tupac Shakur — with the famous sisters' faces superimposed on them. This just goes to show that there definitely weren't enough people around during the decision-making process who could confidently call this out as a very bad idea (the same goes for Kendall Jenner's infamous Pepsi commercial). In addition, it's safe to assume that the top-level people making these decisions aren't clued in to urban culture (or simply dismissed it), but are trying to capitalize on hip-hop's proven selling power.
Cultural appropriation also seems to run particularly rampant in the beauty space: Valentino drew ire for the cornrows its models wore during the Spring 2016 show and in the accompanying campaign; Kylie Jenner wore a du-rag front row at New York Fashion Week in February; several designers adopted the '90s-era pierced nail trend for spring and Marc Jacobs's Spring 2017 show was marred in controversy because he featured a predominantly white cast wearing faux-dreadlocks. Less than six months later, his Fall 2017 collection was titled "Respect" and was inspired by casual urban dress, complete with chains, tracksuits, puffer jackets and Kangol-style hats. After the show, Jacobs said he watched a hip-hop documentary that "gave way to a whole new language of style," but the damage had already been done.
Hip-hop is often correlated with coolness and trendiness, but what many people don't realize is that it truly symbolizes a culture — not just that of black people — whose odds are constantly against them. The fashion industry has played a large role in the stereotyping of hip-hop, often slighting it as "too ghetto" for inclusion. This is particularly apparent when it comes to the lack of diversity on the runways. (Shoutout to Mekhi Lucky for landing a modeling contract after being discovered through a mugshot, but young black men shouldn't have to be declared "prison bae" in order to be given a chance at a career in fashion.)
There are some fashion brands who immediately recognize the importance of hip-hop while also being smart about how they show their appreciation for it. For example, Nautica appointed Grammy-nominated rapper and cool kid Lil Yachty as creative designer after the two were mutually feeling each other and were ready to take things to the next level. Yachty's love for the brand is only matched by his connection to youth culture, which Nautica realized was paramount to the success to their resurgence in this space. Guess has always been in tune with hip-hop culture, too, so when they tapped A$AP Rocky to help pay homage to the '90s with a collaboration, they worked hard to ensure the line's authenticity. (Rocky is also a face of Dior Homme, and frequently name-drops designer Kris Van Assche in his lyrics.) And, of course, what Kanye West has been able to establish through his Yeezy partnership with Adidas has transcended the divide between hip-hop and fashion more than arguably any other designer, despite a few missteps and poor critical reviews along the way.
At the end of the day, all of these brands understand one thing and one thing alone: hip-hop culture matters more than it ever has, and there's never been a better time to cash in on it. It is a constant driver of what people do on a daily basis and it's difficult to stay relevant if you aren't in touch with (or in front of) the culture it permeates. The true drivers of the culture today are extremely embedded in hip-hop — or, at the very least, have a keen knowledge of it — and their voices need to be heard on the ground floor to help nip inauthentic collaborations and appropriation in the bud.
This is precisely why Virgil Abloh is directing videos and creating album covers for Lil Uzi Vert while at the same time collaborating with Nike, doing seasonal collections for Off-White and is rumored to be in consideration for every vacant creative director role — including Versace and Givenchy, two of the leaders in understanding the importance of hip-hop in the luxury fashion world. Why do you think Migos have recently decided to re-try their hand at creating their own fashion line? Because they're on every red carpet (including that of the all-important Met Gala) and performing at any fashion after-party they're available for. These guys aren't waiting for brands to bring them in at the end of the discussion anymore.
It's time for these big-time corporations and conglomerates to wake up to the fact that the commoditization of hip-hop culture is being recognized early and often, so they need to bring in younger, in-tune voices — the Luka Sabbat's, Virgil Abloh's and ASAP Rocky's of the world — to help them integrate hip-hop culture in an authentic, organic way. Because, guess what? If something feels appropriative or not quite right to them, they're going to say so, straight up. Striking the right balance between luxury fashion and the culture these creatives embody is no easy task, but if streetwear, sneakers, rapper-designed merch or collaborations and continual "borrowing" from hip-hop's legacy continue to drive major profit within the industry, there are only more and more opportunities for ideas to turn terribly sour. 
Want the latest fashion industry news first? Sign up for our daily newsletter.
Homepage photo: Marc Jacobs Fall 2017/Getty Images