The First H&M Studio Collection Designed in Collaboration with Ludivine Poiblanc Is Here
The Swedish retailer's Fall 2017 range takes inspiration from New York City, streetwear and men's tailoring.
Paris Fashion Week is obviously known for its biannual runway presentations from the luxury big guns like Chanel, Louis Vuitton, Christian Dior and Saint Laurent, but every so often, Swedish mass retailer H&M will swoop in and stage a show for its higher end Studio collection that blows many of the power players out of the water. From their set designs (for Fall 2015 they replicated the moon landing), to their size- and age- inclusive castings to musical performances by the likes of The Weeknd, they're a pleasant break from the norm — especially since the collection is not only affordable, it's easily shoppable around the world.
H&M Studio introduced its first "see now, buy now" runway collection in Paris for Spring 2017 back in March, but opted to sit out PFW this month, inviting a group of international editors to their headquarters in Stockholm, Sweden for an intimate presentation of the tightly edited Fall 2017 range instead. Studio designer Angelica Grimberg, who's worked at H&M for over 10 years, told us that the brand has never been intimidated to share the PFW calendar with legacy fashion houses, but producing a large-scale show each year, while an enjoyable exercise, isn't always a top priority. "We're extremely happy to be able to do it; it's so positive for us [as a brand]," she said. "We always want to surprise people and have fun. It makes it a feel-good thing — we don't really have future plans or a set season when [we'll do it next]. It's just what feels natural or right for the time."
For Fall 2017, super-stylist and consultant Ludivine Poiblanc — who frequently collaborates with H&M on their seasonal ad campaigns and editorials — had a hand in conceptualizing and designing the collection for the first time. Poiblanc has been an industry fixture for decades, working with brands like Jason Wu, Mugler, Furla, Calvin Klein and Public School, as well as publications including Interview, i-D, WSJ and several international editions of Vogue. Her new hands-on partnership with H&M Studio began a year ago, and she worked with the Studio designers on everything from sourcing fabrics to creating silhouettes. "The Studio collection is meant to be 'high fashion'; they want it to have a true point of view and so there weren't many limitations," she said inside H&M's cozy reference library. "They never said 'no' to me — the team and I share the same taste, so it was easy to work together."
This season's story started from the streets of New York City, where women embrace menswear-inspired suiting, statement-making outerwear, moody colors and graffiti prints, while mixing them with sweeter elements like pearl-adorned knits, pleated skirts and satin dresses. "The collection is all about tailoring, enhancing the female silhouette. While there are ultra-feminine details, we've combined them with [urban] or punk influences for a hard-edged yet sophisticated result," H&M Head of Design and Creative Director Pernilla Wohlfahrt said in the Fall 2017 notes. 
"I think H&M does a lot of 'trendy' things, but I had the idea of 'what is high fashion?' Maybe it's to have the 'perfect' wardrobe," Poiblanc explained of the initial discussions about the collection. "That's the other woman as a customer; that's what I am always looking for and can never find. Something basic but luxurious; I always love a mix of masculine and feminine." In the spirit of the ever-popular streetwear trend, there's a wool anorak, a wide-cut, cropped puffer coat and mesh lingerie on offer, but for those looking for more classic pieces — the kind Poiblanc would likely include in her aforementioned "perfect wardrobe" — the wool blazers, wide-leg trousers and long, double-breasted overcoat should do the trick.
Another aspect that drew Poiblanc to the collaborative opportunity was H&M's global accessibility, particularly in terms of pricing and size inclusion. "It was exciting to reach more people — I feel like the idea of the 'perfect wardrobe' can extend to every woman," she said. "I found out [during the process] that the pieces come in sizes 34 to 46, and we could still be 'high fashion' while talking to all of H&M's customers." The H&M Studio collection tops out at $299 for heavy winter outerwear, with most ready-to-wear separates retailing for under $200.
Browse the full H&M Studio Fall 2017 lookbook starring Grace Elizabeth in the gallery below, and the pieces are available worldwide now in stores and on the retailer's website.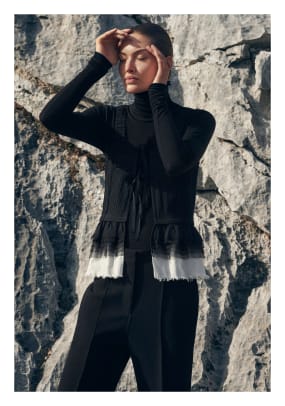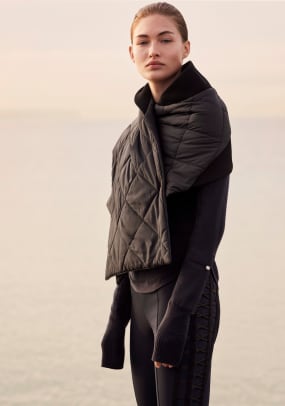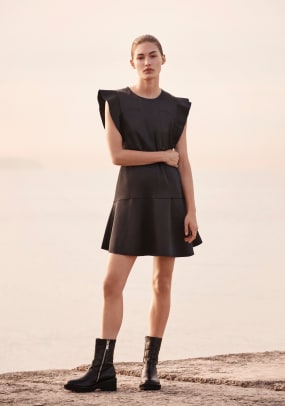 Disclosure: H&M provided my travel and accommodations to Stockholm to visit their headquarters and view the collection.
Never miss the latest fashion industry news. Sign up for the Fashionista daily newsletter.