Isabel Marant Shows How to Do the Cali Girl Like a French Girl for Spring
Two excessively used fashion tropes meet in one breezy collection.
If there are two excessively used tropes in fashion, one is that of the inimitable (and non-existent) French girl, she of the perfectly disheveled hair and the artfully undone outfits; the other is the effortlessly cool Cali girl with her sunny beauty, bohemian sensibility and casual kicks. In terms of geography, they're half a world apart, but in terms of fashion, they're two sides of the same imaginary coin: Women shell out hundreds of thousands of dollars a year in the pursuit of each look.
Leave it to Isabel Marant to meld them both into one breezy collection. For Spring 2018, Marant looked to the low-slung track pants and comfortable sandals of California's beaches, but then pumped up the glam by rendering them in high-shine materials and pairing them with tight, one-shouldered bodysuits. During daylight hours, the Marant girl goes for flirty pieces in white eyelet. Finishing touches include grommets, rhinestones and voluminous balloon sleeves.
Marant also debuted her long-awaited take on menswear, which is likely to be a hit with her existing female customer, too. It's just about what you'd expect from a Marant Man: relaxed knits, athletic track pants and low-cut tees in soft cottons, topped off with slick anoraks in retro surf brights.
It may be surprising that it's taken so long to combine these two ubiquitous fashion muses, but Marant more than pulled it off.
See the full Isabel Marant Spring 2018 collection in the gallery below.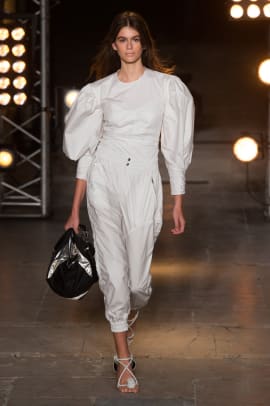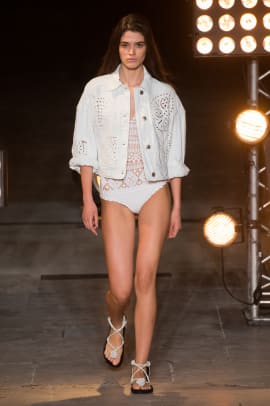 Never miss the latest fashion industry news. Sign up for the Fashionista daily newsletter.