Lanvin's New Artistic Director Olivier Lapidus Leaned In to Logomania for Spring 2018
With plans to turn the French label into a full-on lifestyle brand, he hopped right on the booming bandwagon.
Walking into the Grand Palais for the Spring 2018 Lanvin show on Wednesday afternoon in Paris, industry insiders were not-so-subtly whispering amongst themselves about what they were about to see. "This should be interesting," mused one American magazine editor, surely referring to the French house's new Artistic Director Olivier Lapidus, who was hired in July to replace Bouchra Jarrar after her 16 month stint in the role. According to Business of Fashion, Lapidus has grand plans to transform the ailing label into "a French Michael Kors," meaning that he envisions Lanvin as a full-fledged lifestyle brand — comparable to Kors's all-encompassing world that caters to the affluent jet setters and high-end sportswear enthusiasts of the world. 
While Lanvin was an editorial and red carpet favorite during the 14-year tenure of designer Elber Albaz — known for his stunning evening wear, innovative silhouettes, bold use of color, his understanding about how to dress women and, of course, his lovable personality — he was unceremoniously fired in October 2015, a blow that sent shockwaves through the industry. His collections were initially a commercial success, but the independent luxury brand's sales have been steadily on the decline, a fact that likely led to Elbaz's dismissal. In his emotional farewell statement, he declared his hope that Lanvin "finds the business vision it needs to engage in the right way forward" — insinuating that the company lacked the direction and strategy it needed to thrive.
Jarrar didn't have much time to put her stamp on Lanvin — though her collections weren't exactly praised critically or commercially — but right out of the gate, Lapidus seemed to have money on his mind. The proof? A collection filled with bland black dresses, simple suiting that could be a retail staple during any season and, most notably, lots and lots of logos. Much like Dior, Dolce & Gabbana, Fendi and Gucci, Lapidus likely made a play for the all-important millennial shoppers by covering some slinky, short dresses in a print reading "Lanvin," as well as slapping the brand name on a series of handbags. There was a nod to Albaz's artistry a few times throughout the collection — specifically in some dramatically proportioned coats, evening dresses with poofy shoulder details and the mixing of bright hues, like neon pink and red. However, the show lacked the spark, timeless femininity and expensive quality that Lanvin became famous for, and if Lapidus wants to establish a lasting lifestyle brand, some logos and basic tailored trousers or blazers probably isn't going to cut it.
See the full Lanvin Spring 2018 collection in the gallery below.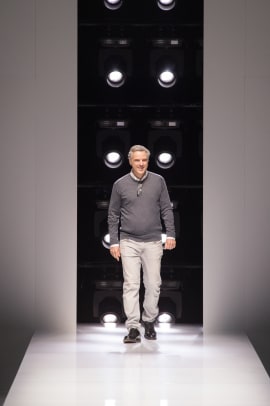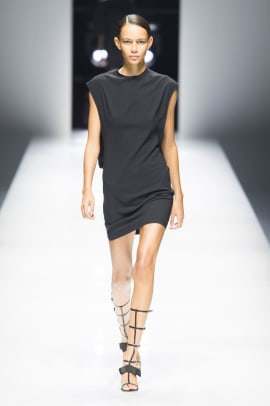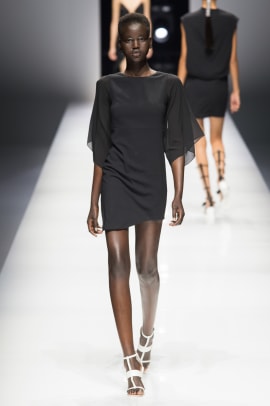 Want more Fashionista? Sign up for our daily newsletter and get us directly in your inbox.