Be Prepared to Have Your Hipbones Peek Out From Low-Rise Pants This Spring
We probably have the Instagirls to thank for this one.
Of all of the late-'90s and early-'00s trends that could possibly reemerge on the runways for Spring 2018, here's one we didn't quite expect: The very low-rise pants favored by pop and R&B stars, often worn far enough below the hips to expose a hint of underwear (whether the straps of a thong or the branded elastic waistband of briefs), are back with a vengeance, baby. From streetwear-leaning labels like Kith Sport, Baja East and Fenty Puma by Rihanna, to cool-kid favorites Chromat, Barragán and Linder, to the ultimate purveyor of luxury, Tom Ford, this sexy style was all over the place. 
If you've recently thought, "Hey! I'd love to be able to dress like that Aaliyah/TLC/Britney Spears/Christina Aguilera/Eden's Crush/Destiny's Child poster I had hanging in my bedroom as a teen," you're in luck. Although, this isn't an easy style to pull off for most body types — or for most appropriate, real-life situations — so perfecting the look might take some experimentation to get it to work for you.
As for many of the most popular trends of late, we likely have the Instagirls — with their affinity for high-cut bodysuits, one-pieces and oversize sweatpants — to thank for this one.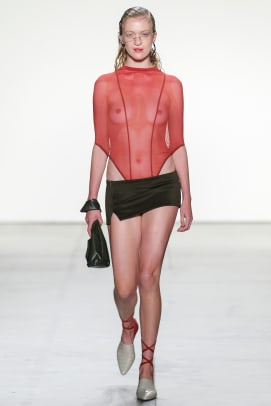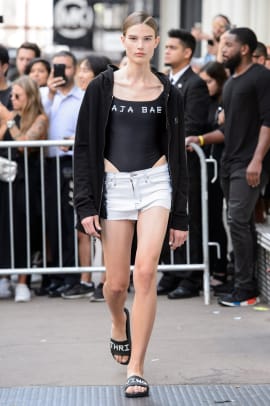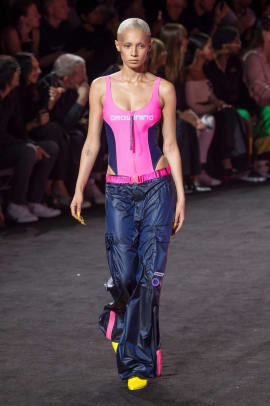 Want the latest fashion industry news first? Sign up for our daily newsletter.