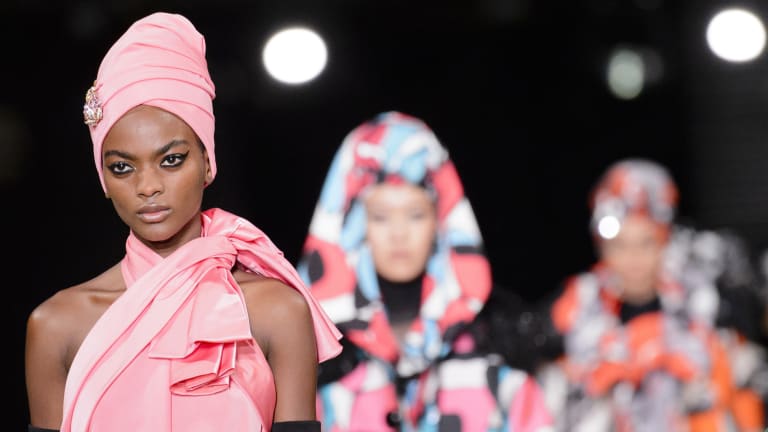 Marc Jacobs Wants to Take Us All on a Fantasy Vacation for Spring 2018
Because let's be real, we could all use one.
It's been an undeniably difficult year, both for our country as a whole and for Marc Jacobs's eponymous brand, which has faced some very public troubles on the business side. Back in January, LVMH's CEO Bernard Arnault told investors that he was "more concerned about Marc Jacobs [the label] than the U.S. president," and in May, the company's CEO Sebastian Suhl stepped down from his post, though he was quickly replaced by former Kenzo CEO Eric Marechalle. Despite the brand's retail struggles, Jacobs has not lost steam on the creative and cultural relevancy fronts: His Fall 2017 silent, hip-hop-inspired show debuted to critical acclaim, and he cast breakout model Kaia Gerber as both the face of Marc Jacobs Beauty and the Daisy fragrance for its 10th anniversary this spring.
Despite being faced with some heavier business matters, Jacobs is clearly optimistic — at least if his high-shine, brightly colored, boldly patterned and heavily adorned Spring 2018 collection is any indication. According to the designer's show notes, he imagined a wardrobe fit for a dream vacation far outside the confines of New York City, "twisting fantasy into reality through exaggerated, decadent and exotic sportswear silhouettes." The show's 56 looks — and a diverse cast that included all-stars like Jamie Bochert, Slick Woods, Winnie Harlow, Kendall Jenner, Binx Walton and both Hadid sisters — were expertly layered mash-ups of print, color and texture, ranging from utilitarian, weatherproof outerwear (fit for those who seek out wilderness adventures) to billowy caftans and beaded tops or evening gowns that are ideal for a beach resort. Each model's look was styled with a head scarf, and many walked with eye-popping accessories like tinsel scarves, chunky necklaces, dangling earrings or beaded waist belts.
Though the theme was fanciful, there were plenty of sporty, urban pieces on offer to help customers make a statement in their everyday wardrobes. Practical flip-flops, boots and flat sandals were far from ordinary thanks to gemstone, tassel and pom-pom accents; oversize coats, blazers, sweaters and ponchos came in both loud colors and menswear-inspired pinstripes or plaids; handbags were super-durable and travel ready, ranging from fanny packs to cross-bodies to large duffles; and for streetwear enthusiasts, baggy coveralls, racing stripe pants and a series of striped tops could easily become transitional staples.
The collection was a dramatic feast for the eyes — and a beautiful close to New York Fashion Week — with so much detail that, even with a front row seat, it was nearly impossible to take it all in. It's certainly a show worth fantasizing about, and while it may not provide quite the same escape as a far-flung holiday, the sunny, decadent looks offered their fair share of pure joy.
See the full Marc Jacobs Spring 2018 collection in the gallery below.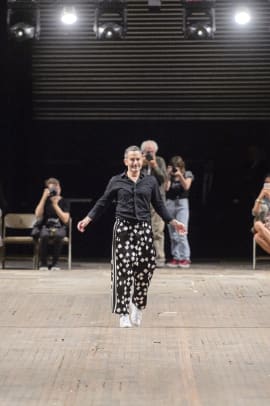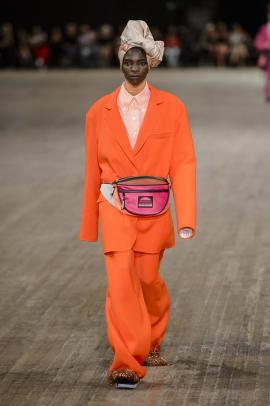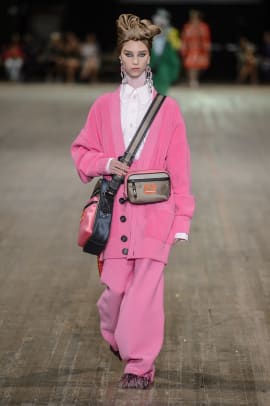 Want more Fashionista? Sign up for our daily newsletter and get us directly in your inbox.