Michael Kors Chills Way Out for Spring 2018
Did you ever think you'd see the King of American Glamour do tie-dye?
If you were the betting kind, you'd be safe putting your money on Michael Kors showing a collection inspired by a certain fresh-faced, All-American woman. Season after season, the legendary American designer finds a new way to create a collection around a classic muse. 
His Spring 2018 collection was no exception, but what was slightly surprising was the un-doneness of it all. It's no secret that Kors loves glamour — a gold mirrored aviator, a super-stacked high heel, a finely tailored blazer over a slinky dress — but this season, Kors turned his eye towards the coast. Many of the models wore flip-flops, even with some of the more evening-minded looks, and a tie-dye print was splashed across pieces for both men and women alike. Then again, it's hard to feel uptight when Sara Bareilles is performing, as she did at Wednesday's presentation.
Of course, Kors hasn't abandoned glitz entirely: Some of the best looks were towards the end, with silver sequins adding shine to a relaxed pant or a strappy sundress and a black sequined sarong-style skirt giving laid-back edge to a sheer, long-sleeved shirt. The fancy leis may not translate come spring, but Kors's jet-setting customer will certainly be reaching for his take on poolside chic come her next vacation.
See the full Michael Kors Spring 2018 collection in the gallery below.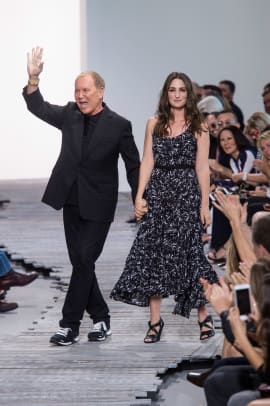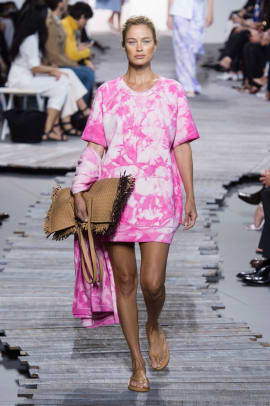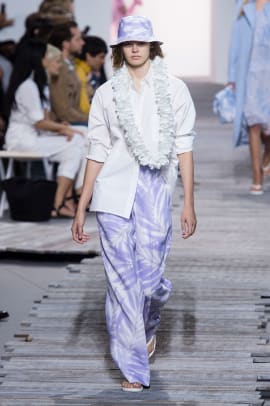 Sign up for our daily newsletter and get the latest industry news in your inbox every day.