All the Pretty Young Things Are Going to Want to Join Monse's Team for Spring
Laura Kim and Fernando Garcia are paying tribute to their version of Americana.
If Nicki Minaj nearly stole the show front of house at Monse by showing up 45 minutes late, it was Louise — Laura Kim and Fernando Garcia's adorable dog — who was the real star backstage. Perhaps it's because she knew that she was the starting point of inspiration for the Spring 2018 collection. Kim and Garcia found a plaid colored just like the pup, dubbed Louise plaid, and used it for the first four looks in the show, which was a tribute to all things Americana that the design duo both love. 
"When we started researching our fabrics, it made sense to start with deconstructing what, to us, is Americana — varsity jackets and vintage football uniforms, the decay of all those pieces inspired the embroidery — and in a way, how we as foreigners view what America is to us," Garcia says.
"What we love here, why we moved here," Kim adds.
"Why we love showing here," Garcia says, finishing Kim's sentence. "It's a time to celebrate the city that allowed our baby brand, which was born less than two years ago, do whatever we wanted and approach people as intensely as we wanted, and it all snowballed from that."
To really drive the theme home, Monse showed at a basketball court in a not-yet completed apartment building, adorned with their own decal in the center and a soundtrack with cheerleaders spelling out their name. It was a killer collection from the buzzy brand, full of their signature touches — deconstructed workwear like blazers and shirting — mixed with a new, sporty touch. There were tearaway track pants and a loose, shoulder-baring take on a warm-up top; a chic version of vintage football pants and plenty of shredded, leggy carwash skirts. The sequined navy-and-white star-print looks that closed the show are sure to be hits with Monse's celebrity clientele, many of whom packed the home-team bench. 
For a brand less than two years old, Monse has certainly seen incredible success, and the duo aren't taking it for granted. "It's extremely humbling to see all you need is experience, a couple of friends to come to your first show, and the rest is hard work," says Garcia. 
"It's been growing so fast that we haven't really caught up to how we feel about it," Kim says. "Every day, it's new."
Kim and Garcia are both quick to credit their teams at both Monse and Oscar de la Renta, where they are now on their third season and feeling settled. Unlike last season, where they presented both brands together, they decided to separate the two for Spring 2018 for logistical purposes; their collection for Oscar de la Renta will be presented on Monday afternoon. It turns out that being able to juggle two completely different brands has presented itself more as a benefit than a challenge.
"It's fun to turn off one character and turn on another," Garcia says. "The ideas stay as simple and naive as we first imagined them without being overcooked — which can happen sometimes. It happened to us at the beginning of Monse when we were only doing Monse."
"For me, I get a ton of free clothes from both companies," Kim adds with a big laugh. "I'm covered from downtown to uptown on outfits."
See the complete Monse Spring 2018 collection: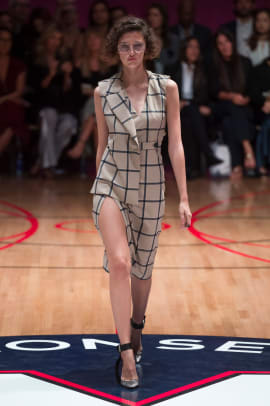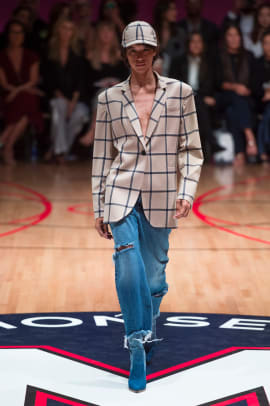 Want the latest fashion industry news first? Sign up for our daily newsletter.