Moschino's Spring 2018 Show Had Everything: 'My Little Pony,' Tutus and Models Galore
Not to mention some particularly impassioned One Direction fans.
When I arrived at Moschino's Spring 2018 show (accidentally) very early, I was corralled against a barricade, on the other side of which were hoards of fans. I noticed one of them right across from me — a young woman, no older than 17, maybe — wearing a necklace that read "Zayn." For reasons that should be obvious if you're at all familiar with my interests (read: One Direction), I started talking to her and her teen friends.
They said they were mostly there to see Gigi and Bella Hadid, whom they began following more recently than they have Zayn. I'm no expert, but I figure they weren't the only ones to post up at the Moschino gates in hopes of catching a glimpse of the Hadid sisters.
Moschino never fails to book great models; this season, the cast included Kaia Gerber (who opened), Joan Smalls, Taylor Hill and Adwoa Aboah. For model buffs, the lineup alone makes Moschino shows exhilarating, but that's just one small piece of the Moschino pie.
Certainly, Creative Director Jeremy Scott knows how to stick to a theme that resonates with consumers and put on an show with a high level of Instagram-ability. This season revolved around a) punk-rock ballerinas and b) "My Little Pony," the powder-pink emblem of which adorned tanks and were transformed into bags. Scott's use of studs (on dog collars and thigh-high patent boots) immediately recalled Prada's, which we saw earlier in the evening, and added to the collection's overall '80s feel.
The show closed with more big models: Moschino favorite Anna Cleveland ushered in the collection's eveningwear section, which were neither ballet- nor equine-themed, but floral. Florals for spring! Groundbreaking! But these kind of were: The blooms were giant, my personal favorite being the enormous flower basket and matching boots that seemed to swallow Gigi Hadid whole as she took the finale walk.
It was a lot. But it was fun. I hope my young pals who waited outside the show felt the same.
See the full Moschino Spring 2018 collection in the gallery below.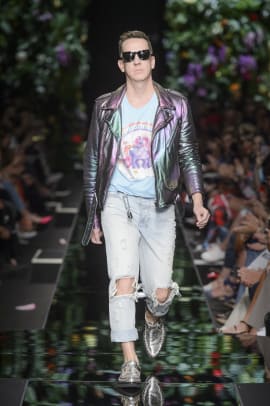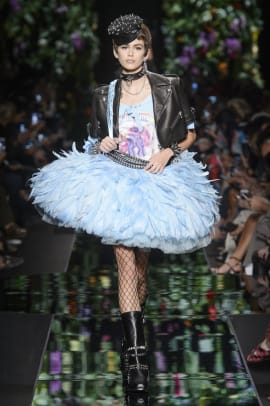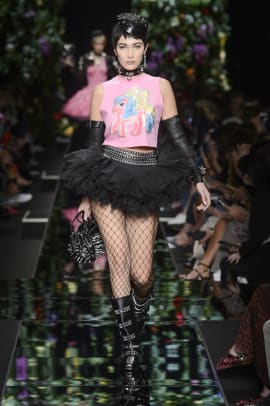 Want more Fashionista? Sign up for our daily newsletter and get us directly in your inbox.