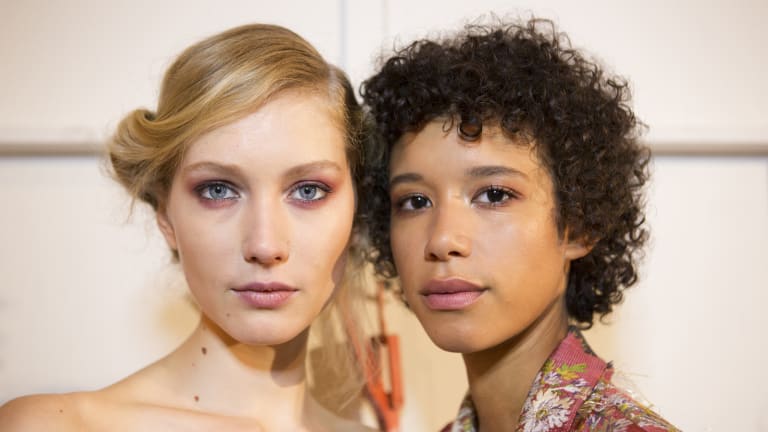 We're Going to Be Putting Lipstick All Over Our Faces For Spring 2018, Apparently
It's the makeup trend we've seen backstage all throughout the New York shows.
You may want to start stocking up on lipstick right about now, because if the New York shows are any indication, we're all going to be using a lot of it come Spring 2018. Sure, lip color is often integral to the makeup looks we see backstage and on the runways — but this season, that's proving even more true. That's because makeup artists seem to be experiencing a kind of lipstick epiphany. Rather than confining the age-old beauty product to its traditional area — the lips — they're now using it with abandon on the entire face. And the results are super pretty.
This form of experimentation is certainly nothing new for makeup artists — they are artists, after all, with the creativity to show for it. But the specific innovation happening with all different lip formulas (ranging from sticks to glosses) seems to be reaching a fever pitch for the Spring 2018 shows. 
At Brock Collection, makeup artist Gucci Westman created a reddish-bronze smoky eye using, in part, traditional eye makeup formulas (shadow palettes, black liner, mascara — the usual suspects). But to bring in a pink flush, she then dusted blush over top, and followed that up with a layer of chocolate-hued metallic lipstick (Maybelline Color Sensational Matte Metallics in Molten Bronze), which she and her team were pressing into models' eyelids with their fingertips.
"We wanted to add a little bit of an edge with the makeup," said Westman in an interview backstage. "I'm having [the models] smudge their eyes together so it looks more lived in... I much prefer when the makeup looks like it's worn." The lipstick, in this case, created just the right finish for Westman — or, as she described it, "luminosity" — a slight sheen, but nothing too slick or glossy. "I was considering doing a wet eye, [but] it's a total nightmare," she said. "[This look] is kind of interesting because it's not wet. I haven't really seen this before; it's kind of in between. It's like a satin type finish, which I like. It looks pretty but not boring."
Lipstick was key to the look for Mansur Gavriel's Spring 2018 show, as well. "The look really centers around this beautifully stained lip that looks like she had lipstick on and it kind of wore off a little bit," said Uzo, Nars Director of Global Artistry and the makeup pro behind the faint popsicle tint she and her team crafted. But after painting the lip color on (and tissuing it off for the aforementioned popsicle-ness), Uzo then pressed more color into the lips with her fingers before patting any remaining pigment still on her fingers into the apples of the models' cheeks for what she described as "a nice flush."
"I think it's so pretty," said Uzo of the effect. But she also noted that though "the Audacious Lipstick from Nars is perfect for this," she wouldn't exactly recommend it to the average person trying this at home. "Obviously we would recommend a cream blush that gives a little bit easier blending, like the Nars Multiple," she said.
"So why are you not using the Nars Multiple?" I asked. "Because it's New York Fashion Week, and we're trying to be artsy," Uzo replied, with a laugh. "The designers actually loved the color of the lips and they wanted that same effect on the cheeks."
But that wasn't the only lip product she used in an unconventional location on the face. She and her team also used a clear lip gloss — Nars Triple X Lip Gloss, to be specific — on the models' brows to tame them while also creating shine. This, Uzo explained, was because some brow gels can create a flat, matte effect, and the goal for the Mansur look was to keep everything dewy and sheen-y.
Topanga Lawrence was onto something way back when. That kid always was far ahead of the times.

Please note: Occasionally, we use affiliate links on our site. This in no way affects our editorial decision-making.
Sign up for our daily newsletter and get the latest industry news in your inbox every day.