Off-White Nailed the 'Princess Diana Off-Duty' Aesthetic for Spring 2018
Designer Virgil Abloh looked to his muse quite literally, but it made for a stellar collection.
A fun, sartorially educational thing to do in your free time is to Google image search '80s and '90s-era style photos of the late Princess Diana. Her looks — which hold up shockingly well today — range from oversized college sweatshirts paired with bike shorts, athletic socks and simple sneakers to high-waisted denim with button-down shirts, blazers and boots to more "royalty appropriate" skirt suits, graphic silk blouses and glamorous dresses. Princess Di was a well-loved humanitarian and bravely outspoken about her struggles with both bulimia and depression, earning her the unofficial title of the "People's Princess." Of course, there was a dark side to all of that: She was the target of intense media and scrutiny, the latter of which led to her tragic death in a car accident in August, 1997 — almost exactly 20 years ago.
One designer surely familiar with the perils of fame is Off-White's Virgil Abloh, who is a longtime member of the Kanye West creative camp. Abloh's also one of the closest things the industry has to the "People's Designer," as he's constantly conceptualizing and collaborating with brands (Warby Parker, Nike, Ikea, etc.) on accessibly priced projects so that more young people can either buy his work or, at the very least, attempt to recreate it themselves. Despite his penchant for streetwear, Abloh's ready-to-wear collections for Off-White celebrate the modern, multi-faceted woman, and looked to Princess Diana very closely for inspiration this season.
The Spring 2018 collection was a mix of literal recreations of her most famous outfits — a black-and-white patterned blouse, a baby pink skirt suit, a fuchsia polka-dot shirt dress and the aforementioned bike shorts, worn by Naomi Campbell — and cool updates on them. For example, a sexy black off-the-shoulder dress Diana wore in 1994 and a classic, crisp white button down were reimagined as crop tops, and tailored coats and trousers were made from black leather. 
Nods to her "weekend" looks came in the form of sunglasses hung from Off-White branded straps, denim styled with pearls or trench coats and flat Nike-like Jimmy Choo trainers (customized for the show) with preppy striped socks. A few models carried their pointed-toe heels, a collaboration with Jimmy Choo, that were a tongue-in-cheek reference to a princess's glass slipper — although they appeared to be wrapped in clear, shiny plastic. Nothing is really what it seems in the world of celebrity, after all, and this fact was only magnified by the "Life" and "Time" magazine clutches (two publications that obsessively chronicled Diana's every move), that will likely become street style hits come spring. The irony is not lost on us, there.
See every look from the Off-White Spring 2018 collection in the gallery below.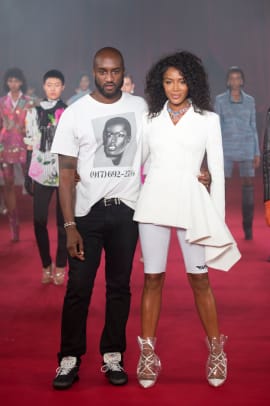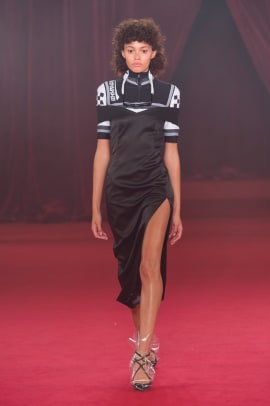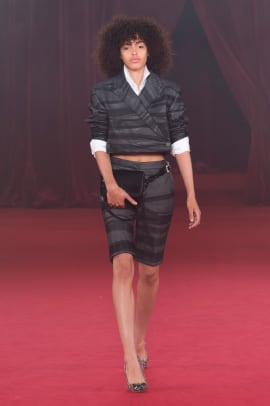 Never miss the latest fashion industry news. Sign up for the Fashionista daily newsletter.