Versace's Spring 2018 Show Was A Supermodel-Studded Tribute to Gianni
We're talking the OGs, here.
"This is a celebration of a genius. This is a celebration of an icon. This is a celebration of my brother." 
So began the soundtrack to Versace's Spring 2018 show, which was dedicated to chief designer Donatella's late brother Gianni Versace. While the story of how Donatella came to take over the brand after her brother's murder in 1997 is well-known — and about to be further memorialized in the newest season of "American Crime Story" — it's not every season that showgoers are confronted with it.
But it was inescapable on the Spring 2018 runway, with a statement reading "Tribute to Gianni Versace: Celebration of His Life and Works" posted on the wall and a voiceover that repeatedly thanked Gianni for his legacy using what were assumedly Donatella's words (though not her actual voice). The clothing itself was full of the lush, busy prints the label is known for, in addition to a bedazzled print meant to look a collage of Vogue covers and a print mimicking Andy Warhol's famous Marilyn Monroe portraits, all signatures of Gianni's work. 
The casting, however, was perhaps one of the most impactful parts of the show. Sure, the all-stars of today's modeling generation where there, including both Hadid sisters, Kendall Jenner and this season's breakout star Kaia Gerber, but it was the finale that really clinched things. At the climax of the show, a curtain pulled back to reveal five of the OG supermodels — Cindy Crawford, Naomi Campbell, Claudia Schiffer, Helena Christensen and Carla Bruni — wearing gold dresses on a podium before walking down the runway behind Donatella herself while George Michael's "Freedom '90" played. The moment was a clear reference to a Gianni show in 1991, when four supers walked arm-in-arm down the catwalk while George Michael sat front row.
"Imagine a world without his risk-taking, his innovative genius..." said the voiceover. "Gianni, we love you."
From the standing ovation the show received, it seems Donatella was speaking for the whole room.
See the full Versace Spring 2018 collection in the gallery below.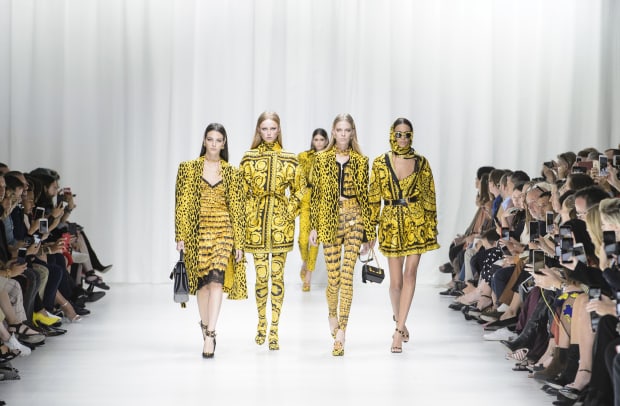 Want the latest fashion industry news first? Sign up for our daily newsletter.