Oscar de la Renta Gets a Youthful New Look for Spring 2018
Fernando Garcia and Laura Kim channeled the late Mr. de la Renta for a fantastic collection with a fresh new spirit.
Having an established customer base is certainly a great thing, but in fashion, you can never rest on your laurels. To ensure that your customer base stays established, it's important to attract new ones with each season. 
That's certainly a pressure Laura Kim and Fernando Garcia must be feeling at Oscar de la Renta, one of America's best-known and loved luxury brands. While the designs have always been stunning, the name brings to mind a certain kind of buttoned-up Upper East Side dame, and from their first runway collection for Fall 2017, it was clear that Garcia and Kim were trying to put a little fun back in the brand. While a great start, it wasn't all a success; the duo acknowledged the collection was a little rushed. Now they're more settled, and Spring 2018's streamlined vision reflected that change.
"We had to think, we actually had time to build our team properly and to get to know each other too, because for Fall, I didn't actually know who I was working with," Kim says with a laugh. "I found out who's really talented at something, who's really good at something else."
"I have seen my work, when it's overworked, not jump out of the page as much as I want it to, and it takes away from the purity of the design," Garcia says.
"Sometimes, you just keep fixing and fixing," Kim adds. "You have to go back to the original idea."
The original idea for Spring 2018 was Mr. de la Renta's own signature — "Oscar's true logo," as Garcia calls it. Garcia and Kim mined their own personal correspondence with the legendary designer and copied his signature onto a print, even embroidering it across a fur coat. They also used thank-you notes from starlets like Emma Watson and Elle Fanning as prints on button-down shirts and plain white tees. From there, they explored Mr. de la Renta's love of art, putting paint splatters across early looks and adding a quirky touch to glittery and canvas pumps via a sculpted paint-brush heel.
"We had a lot more fun and we kept it a lot more relaxed than we did for the first few seasons we were here," Garcia says. That inspired the duo to add in denim, tailoring and evening separates to the line — materials and silhouettes not previously associated with Oscar de la Renta. These still aren't clothes for the Downtown Girl — they have Monse for that — but they're definitely giving the Uptown Girl newer, cooler and even sexier options. And those loyal clients need not worry: All of the beautiful prints and painterly details will be available in those classic Oscar de la Renta shapes, too.
"We have a lot of other silhouettes for the showroom for the existing clientele," Garcia says.
"We're not abandoning them," Kim added.
See the full Oscar de la Renta Spring 2018 collection below: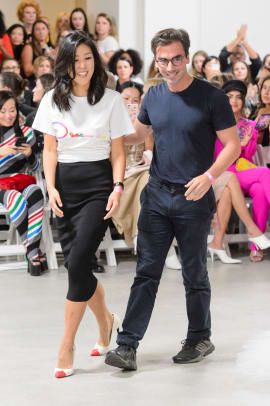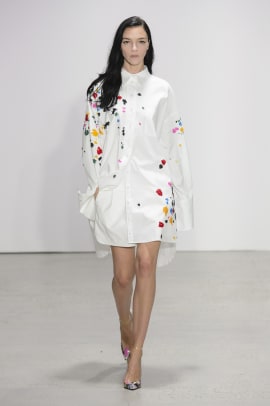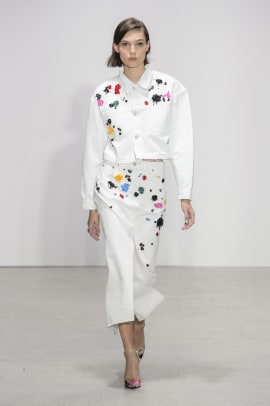 Want the latest fashion industry news first? Sign up for our daily newsletter.