Only Prabal Gurung Could Get Gloria Steinem to Attend Her First Fashion Show
The designer proves fashion and politics make excellent bedfellows.
It's become an industry standard that the hotter the designer, the more pretty young things cram themselves on the front row. While Prabal Gurung's Spring 2018 show certainly had its fair share of PYTs — Jamie King, Olivia Palermo and Sabrina Carpenter were in attendance — it was feminist icon Gloria Steinem who was the real star of the FROW set. 
It was especially impressive, considering that Steinem herself posted to Instagram that Gurung's show was her very first New York Fashion Week event ever. But when you consider Gurung's body of work, it makes total sense that Steinem would come see his runway: Whether through his collaboration with Lane Bryant, his commitment speaking out on issues both in America and in his home country Nepal, or through his beautiful and diverse runways, Gurung has proved that fashion and politics make excellent bedfellows. 
Gurung was so grateful for her attendance that he came out before the show to tell her hello, nearly in tears he was so happy. And Steinem was just the tip of New York Fashion Week's most powerful front row; she rubbed elbows with activist Deray McKesson, poet Cleo Wade, politico Huma Abedin and Teen Vogue editor-in-chief Elaine Welteroth. 
While he is amongst the many designers with pricey statement tees, Gurung doesn't just talk the talk — he walks the walk. Following his moving Fall 2017 runway, he packed his show with a diverse group of models crossing boundaries of size, race and gender. It made his already-powerful collection even moreso. Coming into the venue, staffers wore shirts that read "Stronger in Colour," the thread through the Spring 2018 collection of bright, optimistic shades on bold, sexy silhouettes. 
There was no statement-making finale moment this season, but this time, Gurung has proved that actions speak louder than words.
See the complete Prabal Gurung Spring 2018 collection: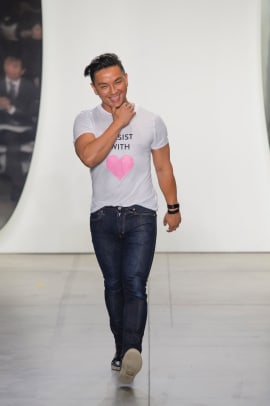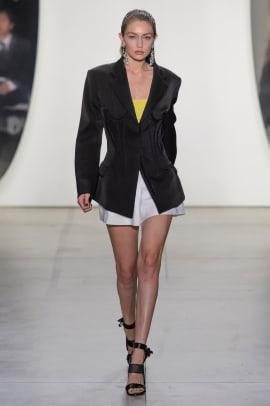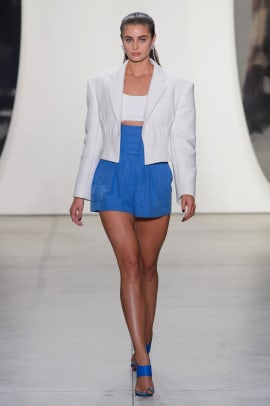 Want the latest fashion industry news first? Sign up for our daily newsletter.