Prada Sent a Punky Band of Rockstars Down Its Spring 2018 Runway
It's time to break those studded belts (and jackets and bags) back out.
Like so many of fashion's most iconic creatives, Miuccia Prada works well in dichotomies: mature and juvenile, retro and contemporary, simple and maximal. This quality also, apparently, pertains to her musical tastes, at least according to the genres she (or her producers) chose to include on the soundtrack for Prada's Spring 2018 show; ear drum-shattering Nirvana and dreamy Lana Del Rey played back-to-back, followed by a splice of Nina Simone.
If the music was meant to complement the collection, Prada did so literally this season, though Nirvana may have provided the most explicit inspiration. The punk elements of the '60s and '70s came into play, with no shortage of heavy studs (that even Jess Mariano would've loved) adorning just about everything, from the shoes (kitten heels galore) to belts (stacked one on top of another) to jackets. In the case of the latter, metal studs were joined by other embellishments you might find in a very chic toolbox, like pearly buttons and sparkly crystals.
To be sure, this collection comes with a bite, but it's not without the feminine glamour that defines so much of Prada's aesthetic. If a look had a paint-splattered trench coat, it came in a crisp linen; if it had an oversize work shirt, it was layered beneath a silk tea dress. This season's ubiquitous Hawaiian prints mixed with several others, like leopard and the same illustrations that covered the walls of the show space.
The set was wallpapered by pop art, all from female artists, including (as the Hollywood Reporter's Booth Moore pointed out) Los Angeles's Joelle Jones. It was loud and powerful, and rightfully encapsulated the punch of the collection. It all seemed to represent the woman for whom Prada herself loves to design: strong, independent and drawing inspiration from wherever they damn well please — including Nirvana.
See the full Prada Spring 2018 collection in the gallery below.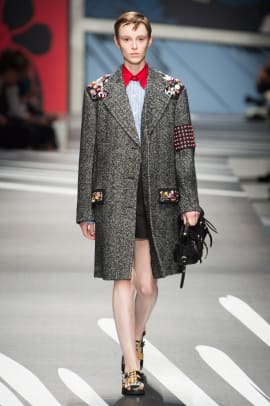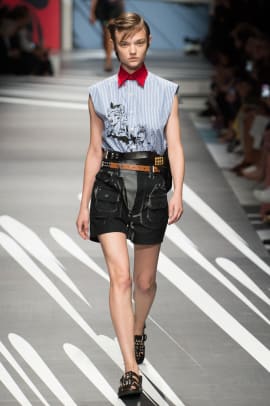 Want more Fashionista? Sign up for our daily newsletter and get us directly in your inbox.