Saint Laurent Staged a Party-Ready Spring Show at the Eiffel Tower
This might put the rest of Paris Fashion Week's venues to shame.
The invitation for Tuesday evening's Saint Laurent show came with very explicit instructions warning guests to arrive 15 minutes before the 8:00 p.m. show time, stating that stragglers would not be allowed inside the venue. Being that said venue was the famed fountain of Trocadero, a popular tourist destination below the palace of Chaillot — with a stunning view of the Eiffel Tower — the instructions made perfect sense upon entry. Bystanders busy with their selfie sticks who happened to be at the right place at the right time watched in awe as invited audience members filed in; many took a seat in the public space overlooking the runway to see the French house's Spring 2018 collection debut in real time.
As promised, the presentation began less than five minutes after the designated start time (Lenny Kravitz, wearing a bedazzled blazer, sprinted in just after the house lights dimmed), and the Eiffel Tower's traditional sparkling light show illuminated the outdoor set. A card placed on each seat was printed with a quote from late Yves Saint Laurent co-founder Pierre Bergé, taken from a letter he wrote to the designer in 2009, a year and a half after his death: "Maybe this is crazy love. The love of two madmen." Bergé passed away earlier in September, and whether or not the collection was meant to pay tribute to his legacy at the luxury label, the magnificent backdrop was a more than worthy memorial.
Designer Anthony Vaccarello did not stray far from his strengths: sexy, party-ready dresses, rocker-chic leather, sparkles galore, treacherously high stilettos (this time with feather accents at the ankles that recalled Hermes wings) and statement boots, some slouchy and others completely covered in feathers. The more casual looks still had a provocative quality, including silky blouses and shirt dresses that were either completely sheer or cut with down-to-there deep-v necklines. Some pieces read slightly bohemian — especially crocheted tops, loose floral separates and lace dresses — but Vaccarello's attitude was there in spades, thanks to corset details, tailored rompers and sharp, slim suiting.
The second half of the show focused on evening wear, with super-short, bubble hemmed mini-dresses among the most popular silhouettes. Volume and texture were key as well, as several looks ballooned with feathers, sequins, leather, tulle and more, either as skirts or tops. Velvet, suede, leopard and zebra prints were plentiful as usual — as were statement belts that accessorized a solid portion of the looks — and one of the closing jackets was embroidered with an Eiffel Tower motif. Sure, the house of Saint Laurent has endured quite the evolution in the past several years, it still is (and likely always will be) one of Paris's proudest and most beloved industry names.
See the full Saint Laurent Spring 2018 collection in the gallery below.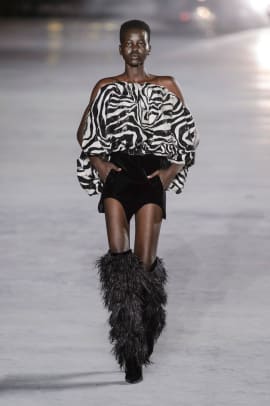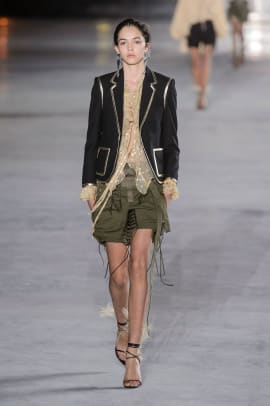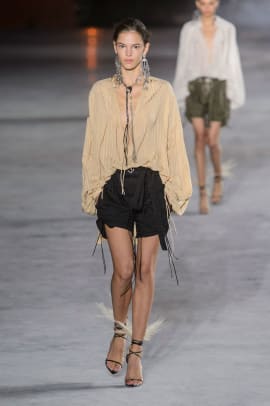 Want more Fashionista? Sign up for our daily newsletter and get us directly in your inbox.