Make Way For Punk-y Tutus This Spring
Better go ahead and prep your tulle kit now.
Ballerinas aren't too far off from models — much-critiqued Kendall Jenner shoot notwithstanding — both sashay down some iteration of a stage as an audience watches, critiques and relishes in the live artistic moment. In the past, fashion houses have outfitted some of the finest classical ballet companies in the world, so it comes as no surprise that when creating costumes for Spring 2018, designers pulled inspiration from the quintessential ballet uniform — the tutu. But before you go digging through your dance recital archives, know this: The tulle skirts making a comeback this spring are of the '80s Madonna variety — they're dark and best styled with fishnets and combat boots. 
We first spotted spring tutus and tulle at Molly Goddard's presentation during London Fashion Week. The designer reveled in her unabashed girlishness and garnished her many party frocks with a superfluous use of the fabric. Over in Milan, we saw a fair share of biker ballerinas at Moschino. Jeremy Scott paired the tufted mini skirts with "My Little Pony" tees for a mild throwback to our seven year-old selves. Meanwhile, Fausto Puglisi's take on tulle read as a bit more mature, having topped the princess bottom with a simple scallop lace edged shirt. And as we made our way to Paris, designers continued to champion the tutu. Balmain and Saint Laurent reworked the "Black Swan," giving the iconic ballet figure a punkier edge in texturized, cool-girl evening wear looks. 
See what designers have in their spring tulle kits in the gallery below.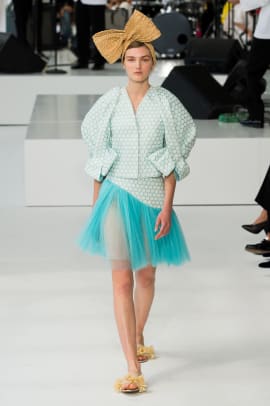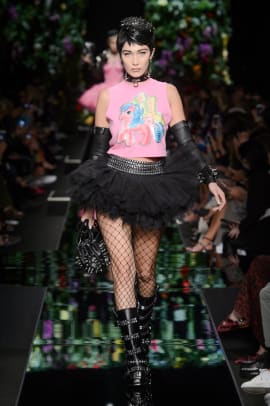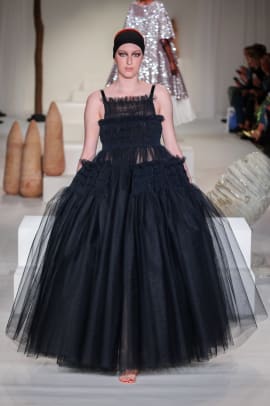 Never miss the latest fashion industry news. Sign up for the Fashionista daily newsletter.