Tom Ford Kicked Off New York Fashion Week With One Hell of a Sexy, Sparkly Show
The glitz and glamour are back, baby.
There's been endless chatter about New York Fashion Week being "over." Designers like Rodarte, Altuzarra, Proenza Schouler and Tommy Hilfiger have decamped to either Paris or Los Angeles in order to escape the super-crowded, hyper-commercial NYFW schedule and to bring more attention to their businesses in new markets; some labels have opted for a "see now, buy now" model that goes against the traditional fashion calendar, and others have chosen to eschew runway shows completely, opting for other mediums like Insta-shows, intimate appointments or digital short films to unveil their collections.
Tom Ford, one of the industry's most legendary and beloved fixtures, has experimented with several of the aforementioned methods for the better part of a decade. For his Spring 2011 ready-to-wear show, allegedly fed up with the immediacy of the internet, he held a VIP-only show during NYFW, with women like Beyoncé and Lauren Hutton walking and Terry Richardson as the only photographer allowed on the premises. Later, he cleverly decided to present his Fall 2015 collection in LA (instead of London) just days before the Oscars in February, basically guaranteeing some high-profile red carpet moments for his brand. For Spring 2016, he traded the runway for a Nick Knight-directed video starring Lady Gaga, and the very next season, he chose to debut a "see now, buy now" Fall 2016 collection with an intimate dinner at the Four Seasons in New York. 
It didn't take long for Ford to ditch the in-season model and return to the long-lead glitz and glam he's famous for, and as it turns out, the shamelessly fancy event he put on at the Park Avenue Armory Wednesday night might be just what the industry needed to put its faith back in NYFW. As the unofficial kickoff to the week, Ford's show was the first to draw a significant list of celebrities and supermodels: A newly platinum Kim Kardashian West, Julianne Moore, Ciara, Cindy Crawford, Doutzen Kroes, Chaka Khan and Liberty Ross were among the well-dressed ladies in the front row, and the diverse runway casting included many of modeling's biggest names, like Joan Smalls, Binx Walton, Gigi Hadid and Kendall Jenner. 
Ford's signature aesthetic — sexy, shiny, bold and expensive — was on full display for spring, with options for both day and night. Sharp-shouldered jackets were a retro staple throughout the collection, done up in everything from shocking pink to leather to casual denim, and layered over chainmail or silk tops, jumpsuits, bralettes and plunging bodysuits. In a particularly '90s styling choice, several of said hip-baring garments were paired with low-slung trousers, which is a look that would certainly take Tom Ford levels of swagger to pull off. Casual pieces like rolled-hem shorts, shirt dresses, wide-legged pants with cargo pockets, utilitarian jackets and classic trench coats were given the ultra-luxe treatment, with metallic fabrications, saturated colors (like safety orange) and rich leather.
For big-spending party girls looking to make a real entrance, there were minidresses aplenty — including a booty-baring pair completely covered in disco-ball sparkle. (Speaking of booty, a set of glittery bikini briefs was shown with an oversize blouse, further proving our theory that butts are the new pants.) About 30 looks in, the soundtrack shifted, and the eveningwear portion of the show began, starting with Gigi Hadid in a blush goddess gown with complementary metal sleeves. The body-con ruched dresses — some topped with cropped jackets — are surefire red carpet contenders in the months ahead, and we can see our favorite tomboyish style stars opting for one of the collection's sleek jumpsuits or immaculately tailored tuxedos instead. 
Immediately after Ford took his bow, the crowd was led straight into the after-party, complete with male servers clad in nothing but athletic short-shorts and tube socks, wielding trays of hamburgers and champagne. Virgil Abloh, fresh off of his Nike "Off Campus" opening earlier in the day, manned the DJ booth, and models — who seemed to change out of their runway looks in a matter of seconds — happily hit the dance floor in their off-duty duds. While it's unwise for industry folks to really rage on the night before NYFW even officially starts, nobody seemed to care. As the name of his just-released fragrance declares, Ford is fucking fabulous, and when he throws a party in New York, you should savor every second — and just deal with the hangover later.
See every look from the Tom Ford Spring 2018 collection in the gallery below.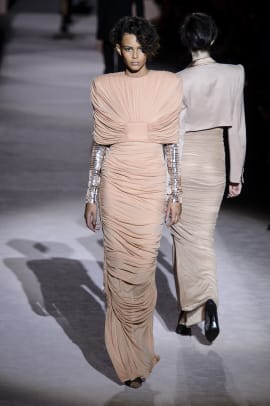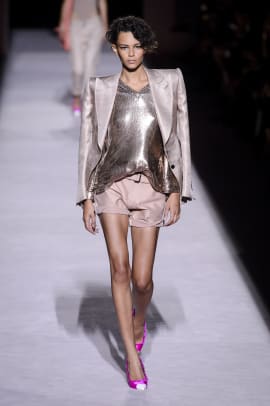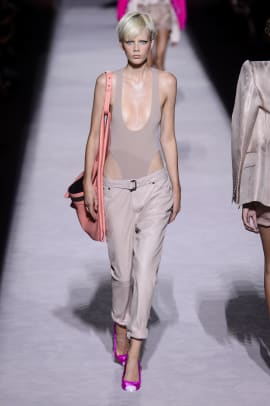 Want the latest fashion industry news first? Sign up for our daily newsletter.