Tommy Hilfiger and Gigi Hadid Bring Their Fall 2017 'Rock Circus' — and the Chainsmokers — to London
The Tommy Now extravaganza hopped across the pond for yet another big-budget, "see now, buy now" runway blowout.
Following the success of their Instagram-friendly spectacles in New York City and Venice, California — the former was a full-on carnival on a West Side pier, while the latter, dubbed "Tommyland," paid homage to Coachella and flew models across the country on a highly branded private plane — Tommy Hilfiger staged the third edition of his "see now, buy now" runway extravaganza for the Fall 2017 Tommy x Gigi collection on Tuesday night in London's Camden neighborhood. For blocks outside the venue, lampposts were decorated with signs announcing Hilfiger's presence in town, along with the coming launch of his latest collaboration with Gigi Hadid, which was made immediately available for purchase after the show.

The fashion crowd, easier to identify on sight by their attire than a group of nuns, congregated by the backstage entrance, smoking one last cigarette before entering the Roundhouse — or, most likely, to pose for street style photographers. Around the corner, non-industry fans lined up behind barricades that snaked around the venue's perimeter. A line of kegs signaled this was going to be a real celebration, as did the "Rock Circus" theme which, according to the show notes, was inspired by Hilfiger's "longtime love of rock-and-roll, with a touch of glamour and nostalgia." Instagram stars like Golden Barbie and celebrity offspring including Gabriel Kane Day Lewis mingled inside, offering even more insight into just what kind of celebration this was going to be. Ain't no party like an #influencer party!
Once the audience made it past security, they found seats arranged in a circle underneath a massive LED screen and a lit sign reading the name of the event (in case they managed to miss it the 14,000 other places it was scrawled, because branding). Not unlike a stadium concert, roaming vendors served white and red wine, beer, some very greasy looking sliders and hot dogs and very British fish and chips in convenient cones. Also like a stadium show, there was a general admission section — relegated to space on steel risers in the round — while VIP guests and press were seated in wooden chairs on the ground floor, also in the round. Pre-show, classic rock jams from the likes of Lenny Kravitz, Red Hot Chili Peppers and Guns 'n' Roses blasted through the speakers, setting the audience up for one hell of a spectacle. 
Unsurprisingly, genetically blessed siblings Gigi, Bella and Anwar Hadid were the first to hit the runway (awww!), wearing a trio of cozy, clashing looks. The cast of Insta-famous models included Presley Gerber, Lucky Blue Smith, Joan Smalls, Grace Elizabeth, Hailey Baldwin and Jourdan Dunn, offering a first look at both the women's and men's collections that would be shoppable within minutes. The collection, like many others before it in recent seasons, took inspiration from '90s American subcultures — grunge, skate, sport and prep in particular — but the injection of tartan plaids, tailored trousers and blazers, ponchos, oversize knits and some retro punk details gave a nod to the show's host city, London.  
As for the experiential elements of the show, acrobats descended from the ceiling as soon as the finale walk wrapped, and The Chainsmokers — the internet's favorite EDM duo and the current ambassadors of Tommy Hilfiger men's — took the stage for a live performance. In addition, guests had the opportunity to shop at one of the many on-site pop-ups, including a vintage fashion booth, band #merch stands and a record store pop-up. Of course, racks of Gigi x Tommy clothing were available for purchase inside, including a baby doll tee with "Gigi Hadid" written across the chest in heavy metal font for £50, a sequin-embellished cropped plaid coat for £320 and a sequined baseball tee for £275. Surely these items were made with selfies and Instagrammability in mind — luckily the official hashtags #TOMMYNOW and #TOMMYXGIGI were in lights at every turn.
See every look from the Fall 2017 Tommy x Gigi collection in the gallery below.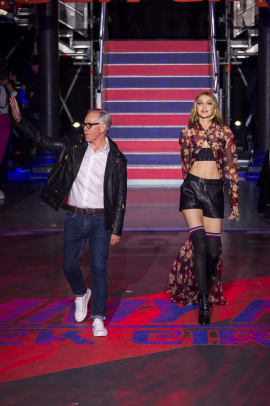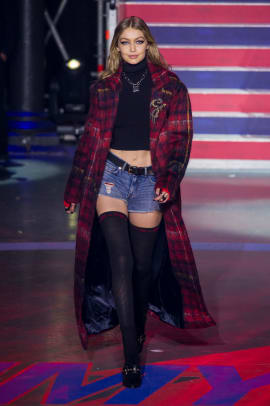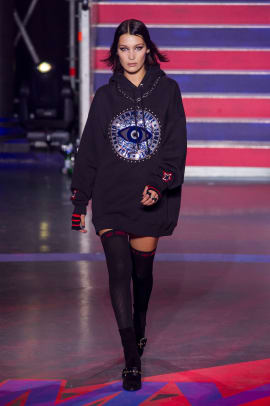 Never miss the latest fashion industry news. Sign up for the Fashionista daily newsletter.