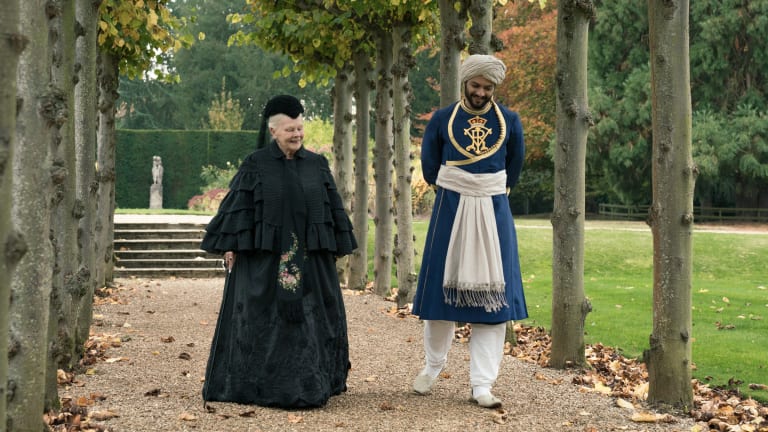 How the Period Costumes in Judi Dench's 'Victoria and Abdul' Help Tell a Story That Was Almost Lost to History
Costume designer Consolata Boyle's turn-of-the-century wardrobe helps portray the unlikely friendship between Queen Victoria and her Indian Muslim teacher Abdul Karim.
Based on the novel "Victoria & Abdul: The True Story of the Queen's Closest Confidant," by Shrabani Basu, the Dame Judi Dench-starring film "Victoria and Abdul" sheds light on the close friendship between Queen Victoria and Indian servant-turned-confidante Abdul Karim. Out of fondness, the Queen (and Empress of India) bestowed privilege, power and land to the Muslim Indian spiritual guide (or "munshi"), which you can imagine did not go over well with the xenophobic court and royal servants during the aggressive late "imperial century" portion of the British colonial empire. 
The true story of the unexpected (and then-controversial) royal friendship also brings the opportunity for a sweeping, prestige period drama by acclaimed director Stephen Frears — and the sumptuous costumes that come with it. Although, I do feel the need to mention: While the movie tries to emphasize cultural, ethnic and religious tolerance, it's hard to ignore Great Britain's cruel colonial history and the icky mystical Asian man portrayal of real person and colonial subject Abdul, played by Ali Fazal. That said, I'll leave the in-depth discussion to the film and culture critics and focus instead on the stunning 19th-century period costumes spanning the two cultures, created by Consolata Boyle. 
The costume design is even more notable considering that much documentation of the Victoria and Abdul's relationship was destroyed and lost to history. Plus, Queen Victoria famously wore black — as many women in the Victorian period did — for her remaining 40 years after the passing of beloved husband Albert in 1861, calling for extreme creativity when designing dresses for a 2D film.
Of course, Boyle is no stranger to monumental period pieces, especially ones depicting British monarchs played by knighted thespians. She received her first Oscar nomination for the Frears-directed "The Queen," starring Dame Helen Mirren as Queen Elizabeth II. (She earned her second nod for dressing American movie royalty Meryl Streep in "Florence Foster Jenkins" in 2016.) A longtime Frears collaborator, Boyle also worked with the director and Dench on the Oscar-nominated "Philomena."
While on a quick visit to sunny Los Angeles to promote the film, Boyle jumped on the phone to chat with me about how Queen Victoria's all black wardrobe did evolve as she found happiness and joy in her friendship, how costume reimagined the royal court tailor's cultural appropriation of Abdul's first outfit in Great Britain and what it's like working with the formidable Dame Judi Dench.
What challenges did you face when working with so much Victorian-era black? How did make Queen Victoria's dresses so dynamic for the big screen?
It is true that she wore black and so did much of her court and many people in the Victorian Era, to which she gave her name. There was so much death around — of children, of relations — and obviously she was in deepest mourning for Albert after he died, then various other relations would die, and then the mourning process would keep on going. But one thing that I was very aware of with all the black is that we could use as much texture as possible, and this really helped the lighting cameraman. 
I had many conversations with mechanical and our lighting cameraman about how to make black have more depth and be less flat and less slightly light absorbing. In keeping with the fashion and facts of the time, there was a lot of heavy embellishment on the gowns and a lot of detail, a lot of embroidery, a lot of lace, a lot of layered on trim. Jet, which sparkles in light, was a very common decoration. Pleating, frilling and masses of ribbon was used in Victorian period to create texture and detail, and Victoria was a great person for adding embellishment and the use of jewelry. 
But also, in order to help us tell her story as [the Queen's] relationship developed with Abdul, I used subtle different sorts of dark tones, like very dark gray or turf brown or purples, which were a mourning color, various purples and lavenders; then, of course, the traditional white, which is a very important later stage mourning color. The lace and actual white fabrics and silks used were part of the process of the mourning, but also helped the telling of our story as things lightened, particularly during their trips to Italy when she starts to rediscover joy, interest and the closeness of her friendship with Abdul. 
How did you research how to design Abdul's costumes, especially since so much of the documentation had been destroyed?
Very, very deliberately, masses of visual reference were lost — particularly of him and of the two of them together — which there had been a lot of. But there was a enough. We did a massive amount of research and we found in various archives images of Abdul as he progressed through the royal household. When he started, that uniform he and [fellow Indian servant] Mohammed [played by Adeel Akhtar] were put in initially [above] is like a concoction of a Western version of what they think an Indian and a servant would wear. In many aways it echoes what the servants in the royal household wore — the gold-embellishment and trim — and it had a very Indian feel (or what the royal tailors perceive to be an Indian feel), which of course was always a made-up look. 
Then, you could see as Abdul became 'munshi' — as she made him her 'munshi' and teacher — he started to wear more flamboyant, more traditional Indian clothing of high ranking [below]; a lot of silks, a lot of rich colors, a lot of surface details. As he progressed, and became more pompous and caused more discord in the royal household, his visual look added also to the disquiet and the racism [from] within the household, which is quite obvious to our story. So it was a progression from the very simple look of when he's in Agra as a lowly clerk and to the royal household where he's first a servant and then moves on to becoming dangerously close to the Queen, to the horror of everybody.
The beginning of the movie shows an aging Queen Victoria being woken and physically dressed by a procession of dressers and ladies-in waiting; how did that whole elaborate scene affect your job as the costume designer?
It was very important, right from when she's hauled out of bed, literally comatose, by her personal servants and her maids of the bed chamber, to when she starts the process, so that the actor feels the constraints of the corset and the feeling of the weight of the clothes of that period and how they would affect how people walked while bringing all this fabric around with them and whipping it around as they turned corners and how it limited what a person could do. All of that was very important to get that feeling. 
But also Victoria's passivity and — through the feeling of sadness about that scene of dressing scene — of her literally being treated like a child and literally sticking her arms, like, her arms out, arms up, in you go, out you go. That kind of strange set up — this mixture from her servants of fear and yet arrogance — that comes with power and obviously, she's at an age and a frail woman at that point. She ends at the state banquet, and that obviously is the [culmination] of her dressing [with the] final look of how she is at her entrance and sitting at the head of the long table at the state banquet.
The state banquet scene in the beginning was spectacular in terms of the number of people in costume and the overall composition. How did you handle that?
I'm very lucky in that I had a brilliant team, and that particular scene was brought forward in the schedule, which obviously is everybody's nightmare working in film. It was a massive rush to get it ready. All of the ladies of the court and the gentlemen of the court and all of the servants and everything had to be completely right and yet have a flexibility, so you felt it was real and that people were not just costumed dummies — that everybody had a life and a background and a history of their own that every single person was unique. We worked very hard.
What was it like working for a second time with Dame Judi Dench, and how did your costumes to help put her in her role?
We worked very closely together. We have a lot of laughs. We worked our way through everything: the weight of the costumes, the amount of changes, how they expressed the woman, how we going to use the different dark colors to express the development of the relationship, that woman's character — and Judi just takes this. She has this wonderful instinctive skill — genius — and it's almost mysterious. It's wonderful, you observe it in some great actors. You cannot pin it down. She has this amazing ability to totally absorb the character and just seamlessly work [in] and it's like something that's intuitive in her. She opens herself up in every way, to life in every character she plays. She's completely fearless and watching that and being part of that was an absolute joy. 
Homepage photo: Peter Mountain / Focus Features
This interview has been edited and condensed for clarity.
'Victoria & Abdul' opens in limited theaters on Friday, Sept. 22.
Want the latest fashion industry news first? Sign up for our daily newsletter.