Kate and Laura Mulleavy and Kirsten Dunst Premiere 'Woodshock' in LA
Once again, the designers-slash-filmmakers turned something dark into something beautiful.
With 2009's "A Single Man," Tom Ford set the bar pretty high for designers-turned-filmmakers, but you get the sense that with their debut film, "Woodshock," Rodarte designers Kate and Laura Mulleavy weren't especially worried about meeting it. At the film's Los Angeles premiere Monday night, they — along with star Kirsten Dunst — seemed giddy, simply over the opportunity to unveil a personal project they'd been working on since 2011 to friends and family in their hometown. As fashion designers, the Mulleavys have always prioritized staying true to their creative vision over appeasing critics or even making money, so why should their approach to film be any different?
The "Woodshock" press tour has presented a rare opportunity for the Mulleavys to wear their own fanciful designs (usually their looks are pretty understated, even at red-carpet events); on Monday, Dunst looked like a third Mulleavy sister in a Spring 2018, light-blue, floral, tulle and glittered Chantilly-lace dress as all three of them (also wearing blinding jewelry by Forevermark, a sponsor of the event) excitedly introduced the film, arm-in-sparkly-arm. They didn't say much, and skipped a planned Q&A afterwards to head straight to the after party at the Chateau Marmont, though Kate did explain that the film was meant to be an internal journey made external (for the viewer).
It was through that lens that we watched Dunst's character Theresa move through her life in a small Humboldt County town after assisting in her mother's suicide by concocting a deadly mixture of marijuana and some sort of mysterious oil. The film devolves into one long, beautifully shot and edited fever dream as Dunst begins micro-dosing on the same potion, and wandering through the nearby Redwoods ...or is she?
While watching "Woodshock," billed as "a hypnotic exploration of isolation, paranoia, and grief that exists in a dream-world all its own," it was hard to forget the Mulleavys' background as aesthetically minded fashion designers. Although the film is set partially in a legal medical marijuana storefront and thus must be set in modern times, it otherwise looks like it's set in the '70s, from the characters' vintage (or vintage-inspired) wardrobes and retro haircuts to the use of landlines instead of cell phones. In her depressed, haunted, hallucinatory state, Theresa also "makes" a number of outfit changes, often choosing a silk negligee or actual Rodarte gown for her dreamy jaunts through the forest — something that would otherwise only happen in a fashion film. Also distracting: her decision to wear lingerie in the bathtub.
The Mulleavy's lack of interest in clarifying what's real and what isn't throughout the film also felt very Fashion. And while the writing might have left something to be desired, and a couple of scenes almost felt comically ridiculous (on purpose?), Dunst proved once again that she plays a fucked-up person very well, and the Mulleavys proved once again that they can turn something dark into something beautiful. 
With themselves and a few celebrity guests (Tessa Thompson, Rowan Blanchard) clad in their designs, the whole event was undeniably peak Rodarte. See more images below and see the film when it comes out Sept. 22.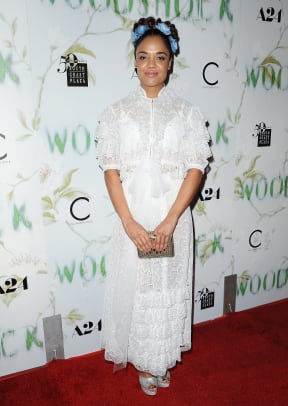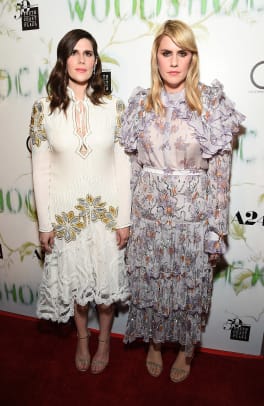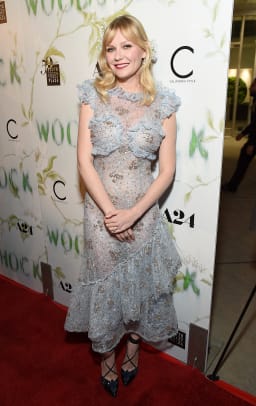 Sign up for our daily newsletter and get the latest industry news in your inbox every day.