Joseph Altuzarra Went Back to His Roots for His First-Ever Show in Paris
The New York-based designer had quite the homecoming for Spring 2018.
New York Fashion Week undoubtedly took a blow when Joseph Altuzarra — one of the city's most well-loved designers whose collections are continuously a highlight  — announced that he would move his seasonal shows to Paris for the forseeable future. While this was a wise decision from a business and international brand-awareness standpoint, it was likely also an emotional one: The designer was raised in Paris, turning his Spring 2018 debut into something of a homecoming. In fact, the invitations were printed with an adorable photo of a young Altuzarra playing in Paris back in 1990, and the runway was set inside a très chic high school in the 16th arrondissement. (Though it would have made for an endearing backstory, it was not the school he actually attended as a teen.)
In keeping with the setting, the show notes read that the collection was, at its core, "about loss of innocence, growing up and embracing fearlessness." For Spring 2018, Altuzarra didn't rely too heavily on Parisian inspiration, although several elements — black fishnet dresses and skirts, white gauze blouses, bandana prints, broderie anglaise and pom-poms aplenty — had a decidedly French sensibility. Altuzarra's signatures, like flawlessly fitted dresses, skirts with sexy, up-to-there slits, sharply tailored jackets and belts that nipped in models' waists were still on prominent display, as was his use of mixed textures and materials: Mongolian fur, leather, calf print, metallics and youthful crochet knits, for example. It was a rich range that represented the best of both of Altuzarra's worlds and beyond.
As per usual, Altuzarra knocked it out of the park (schoolyard?) with his series of embroidered, sequined finale gowns that were almost blindingly sparkly under the runway lights — and in the ample Instagram videos that guests captured of them. Despite their intricate detailing with ties, beading and fringe, the models made them look effortless, with their undone hair and minimal accessories — and isn't that the fabled "French girl" way? In any case, we can see these being a hit on red carpets and on shelves in both of the designer's home bases. 
See the full Altuzarra Spring 2018 collection in the gallery below.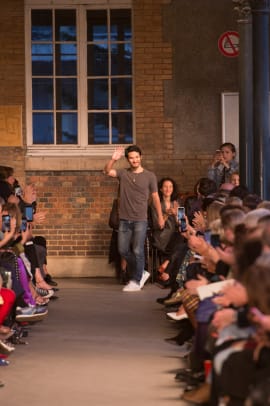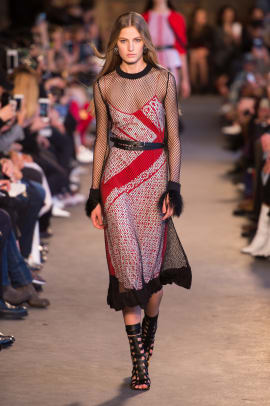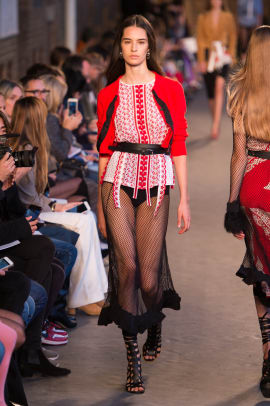 Want the latest fashion industry news first? Sign up for our daily newsletter.