Demna Gvasalia's Spring 2018 Balenciaga Collection Proved, Once Again, That He's King of DIY Chic
This show had everything: platform Crocs, money prints, bootleg Chanel...
Demna Gvasalia debuted his Spring 2018 Balenciaga collection in Paris on Sunday morning, and as per usual, the collection was chock-full of borderline tacky, head-scratching silhouettes in an amalgam of wild prints and materials. As the industry's favored purveyor of mundanity-turned-luxury — think designer bootlegs, "dad fashion," retro mall trends and hoodies — he presented yet another off-kilter range, complete with platform Crocs (a collaboration between Balenciaga and the footwear brand), plaids that could be straight out of Hot Topic or "Clueless," oversize button-downs, coats that draped over models' necks without their arms through the sleeves and cheeky, graphic head-to-toe prints of international currencies.
In addition to branded fanny packs (printed with Balenciaga's newly redesigned logo) worn slung across the shoulder, there were Chanel-inspired chain-strap handbags, tweed skirts and charm belts, as well as some round, hard plastic totes shaped like car tail lights and giant totes with car wash fringe. Some early aughts trends made appearances, too, like cargo pants, baby ringer tees with peplums, pumps with heavy metal spikes, shrunken sweater sets and a Galliano-esque news print. Gvasalia's infamous spandex legging boots are back again for spring, this time with graphics inspired by nature. This motif appeared on high-waisted trousers as well: one printed with a scenic mountain town, another with an ocean sunset. Another of the designer's signatures, chintzy floral dresses, are on offer again for spring, as are logos aplenty, popping up on pieces like plastic, poncho-like shirts, the aforementioned twin sets and metal necklaces attached to flowing scarves.
The most innovative pieces included trousers, shirts and jackets that had were patched together in unconventional ways. In some cases, it appeared as if one jacket had been sewn directly onto the front of another, creating a trompe l'oeil effect. One of said coats was clearly inspired by Burberry's classic check trench coat, once again proving that Gvasalia is the current king of DIY and bootleg culture.
See the full Spring 2018 collection from Balenciaga in the gallery below.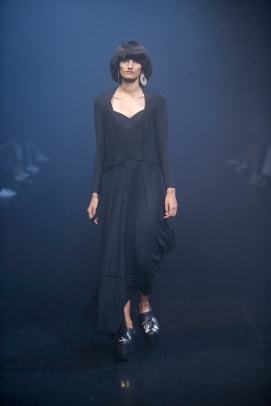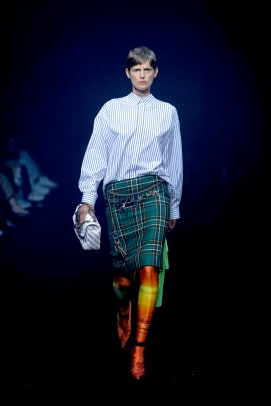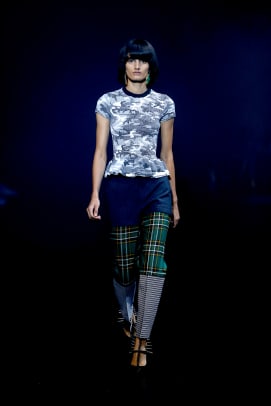 Want more Fashionista? Sign up for our daily newsletter and get us directly in your inbox.