See What Everyone Wore to an Especially Powerful 'Elle' Women in Hollywood Awards
Jennifer Lawrence, Reese Witherspoon, Tessa Thompson, Kristen Stewart and more spoke at the event, where what they wore was less important than what they said.
While I've always known the Elle Women in Hollywood Awards to have a Very Good Red Carpet, this was my first year actually attending it; and while there was certainly some excellent fashion to appreciate at the Four Seasons Beverly Hills on Monday night, the ceremony was also (understandably) political, emotional and inspiring.
It was a welcome opportunity and platform for a group of the coolest, smartest women in Hollywood to convene and speak out against what is not just a current part of the news cycle, but also a systemic problem in many industries. Jennifer Lawrence, Reese Witherspoon, Jessica Chastain and Cicely Tyson all divulged instances of sexual harassment or assault. (Read about Lawrence's here.) Kristen Stewart recalled trying to "save" women on set, like makeup artists and DPs: "When I say 'saved,' I mean momentarily been like, 'Hey, don't, fucker,' and then they're embarrassed for one second, but it keeps going every single day." Witherspoon, who said she's "had multiple experiences of harassment and sexual assault," told the younger actresses in the room that, "Life is going to be better for you because we have your back."
Ava DuVernay and Tessa Thompson stressed the importance of intersectionality when discussing and fighting the powerlessness of women in Hollywood. And producer Kathleen Kennedy — the eight-time Academy Award winner, president of Lucasfilm and member of the Board of Governors and Board of Trustees of the Academy of Motion Pictures Arts and Sciences — announced a detailed proposal calling for the immediate establishment of a commission "charged with the task of developing new, industry-wide protections against sexual harassment and abuse." It should be "composed of specialists in labor and management lawyers, legal scholars, feminists, activists and theorists," she said, and "fully funded by our industry," and include "a secure, reliable, unimpeachable system in which victims of abuse can report what's happened to them with a confident expectation that action will be taken, without placing their employment, reputations and careers at risk."
Film, of course, is not the only industry that could benefit from such a system. Fashion comes to mind as another example. "We must make the film industry exemplar in this regard — a model for self-regulation that other businesses can emulate," added Kennedy. "This sort of abuse is epidemic in every sector of industry and throughout our society and we have to act to change that."
On a lighter note, the event did deliver another Very Good Red Carpet — difficult to avoid when Calvin Klein is a sponsor (alongside "Real is Rare. Real is a Diamond," and L'Oréal). Jessica Chastain, Laura Dern, Margot Robbie, Riley Keough, Tessa Thompson, Reese Witherspoon, Julia Garner, Tavi Gevinson and Lilly Singh all wore Raf Simons' designs. Often, when a bunch of celebrities are obligated to wear a sponsoring designer, a few of them look a little less natural than the others; but in this case, literally all of the above looked awesome. See all their looks and more — like Stewart in Antonio Berardi, Yara Shahidi in Chanel and Cindy Crawford — in the gallery below.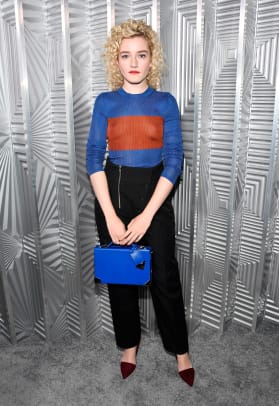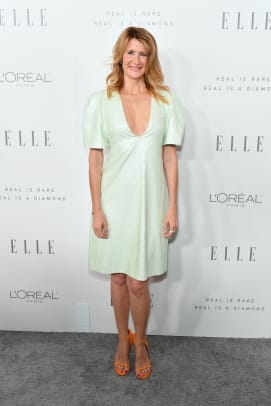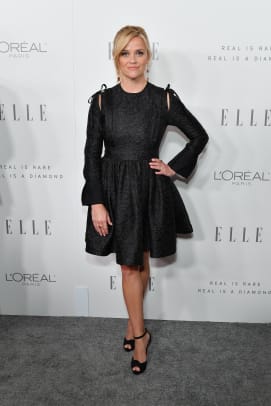 Want more Fashionista? Sign up for our daily newsletter and get us directly in your inbox.