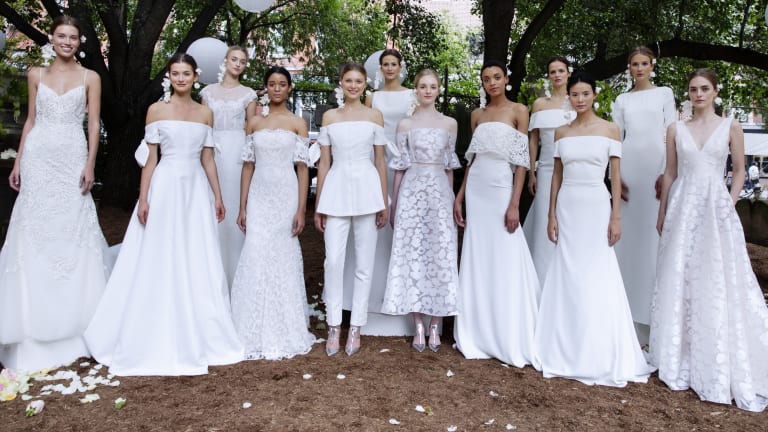 The 11 Best Wedding Looks for Fall 2018
With some help from "Brides" Executive Director of Editorial Lisa Gooder to narrow down the pretty, pretty options.
After five-plus days of all bridal, all the time, you'd think a person would be so over looking at wedding dresses, right? Nah. Especially when Fall 2018 offered such a wide range of styles to appeal to all sartorial tastes and preferences, plus a fresh perspective on wedding-friendly separates, trousers and layers.
That said, distilling the many collections shown down to just 11 dresses can be quite an undertaking. Luckily Brides Magazine's newly minted Executive Director of Editorial Lisa Gooder was more than happy to team up with us for the daunting, but incredibly enjoyable task. Here are the Brides x Fashionista joint picks — we even overlapped with two, go team! — for the top 11 looks for Fall 2018. (And note: We didn't specifically say "dresses" because the bridal trousers are just pure gold this season.) 
Congrats to bridal designer Elizabeth Fillmore for launching her diffusion line EF2, which totally encapsulates her downtown bride aesthetic — carefree, a little rock 'n roll and always so, so dreamy — in luxury fabrics and textures and, as always, made in New York, but at a more accessible price point. I wanted to walk out of the presentation wearing this voluminous trumpet sundress in plush silk dupioni and belted at the waist with a pretty pink velvet sash. —Fawnia Soo Hoo
I usually shy away from super-lavish, ball-gown-y gowns, but this Elie Saab really spoke to my inner nerd with its genius design innovations. If you look closely, the overskirt pleats at the hips are asymmetrical, which offers a totally different image result depending on the photographer's angle (or if captured on an E! GlamCam-esque video — sorry, had to) and those floaty, floor-length split-sleeves create extra dramatic movement begging for your Instagram Stories. No wonder the Elie Saab team nicknamed it "The Boomerang Dress." —Fawnia Soo Hoo
The wedding jumpsuit options this upcoming season are so good, especially this piece from Viktor & Rolf Mariage. The lean, tailored lines, inventive reverse-halter top and sculpturally glorious bow all counter, but complement each other at the same time. —Fawnia Soo Hoo
Paris-based Rime Arodaky essentially sent a "get married like a French (rebel) girl" collection down the runway, but with a rocked out "Runaways"-inspired twist — and backed by a particularly excellent '80s soundtrack. I loved this wrap-dress take on a wedding white blazer, with the lace accents peeking out and the waist-defining belt. It's a cool and modern alternative for a second dress, a civil ceremony or, even better, the after-party. —Fawnia Soo Hoo
I'm a '90s girl at heart, and this Marchesa show-stopper gave me Stephanie Seymour in "November Rain" vibes. It's edgy and classic at the same time. —Lisa Gooder
Nobody does updated classics like Carolina [Herrera]. What you can't see is the best part — the sweet shrug covering up this dress is removable. —Lisa Gooder
Designers took off-the-shoulder up a notch this season with detached sleeves. This gorgeous Monique Lhuillier dress was one of the first I saw to take on this trend. The best part is that you have the off-the-shoulder look, but can dance all night and hug all your guests comfortably. —Lisa Gooder
We still saw quite a bit of blues and pinks on the runways. This sexy Hayley Paige gown has a shot of color while still being a white dress. —Lisa Gooder
Pants were everywhere this season. I loved this retro take on a jumpsuit from Lela Rose. She mixes it up with other trends, like an off-the-shoulder neckline and bow accents, for a modern take on a vintage look. —Lisa Gooder
Talk about a statement bow! Inbal Dror is all about sexy wedding dresses, and this plunging V-neck (another trend that's standing the test of time) gets a statement bow to make it even more amazing. —Lisa Gooder
I'm also into Inbal Dror's sexy bride aesthetic and appreciate how the Israeli designer made an oversize floppy bow anything but twee by countering with a down-to-there deep plunge and and a slinky, body-con silhouette. —Fawnia Soo Hoo
Again, so many colors were still present this season. But, this was one of the first times we saw a peach gown feel so bridal. Naeem Khan delivered a brilliant collection full of his signature details, but this simple peach dress relied only on the pleating, which made it move so beautifully, and an unexpected color to wow as it came down the runway. —Lisa Gooder
I love the simplicity of the silhouette, but the refinement of the delicate pleats. Plus, I really do love pink, even when it's not a fashion trend.  —Fawnia Soo Hoo
Homepage photo: Lela Rose presentation by Taylor Jewell and Nina Westervelt
Want more Fashionista? Sign up for our daily newsletter and get us directly in your inbox.