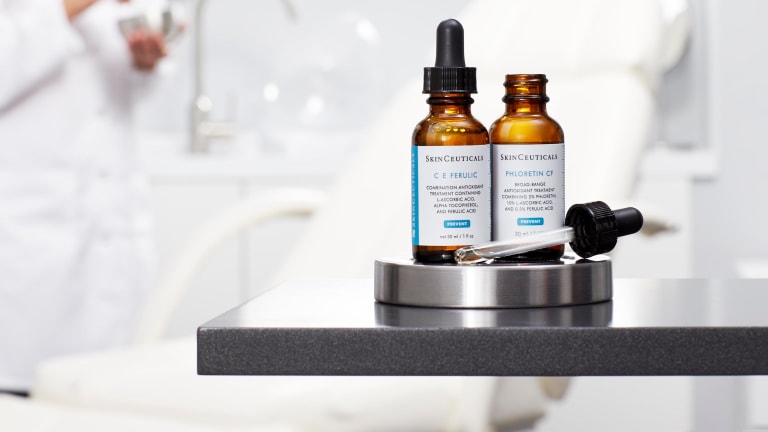 How Fashion and Beauty Industry Veteran Brenda Wu Is Driving Innovation and Growth at SkinCeuticals
And why the brand's beloved C E Ferulic was just the start.

The beauty industry has been a highly competitive one for decades – arguably never more so than right now. We can blame the boom of smartphones and our obsession with a great selfie – making us more aware of how we look in HD – but the fact of the matter is that yes, we all work much harder to make FaceTune a reality, applying serums and night creams by the handful in search of the skin we were born with. 
In such an innovation-driven, competitive market, the pressure is on for beauty brands to drive growth and keep shoppers satisfied. So when a brand is able to not just grow year over year, but also create a loyal fanbase of both physicians and consumers, we take note. SkinCeuticals is one such brand, and it owes much of its consistent success to its head, US General Manager Brenda Wu. Since starting with the company in January of 2012, she's helped to spur growth at a rate 2.5 times faster than competitive brands in the same space. With impressive business credentials — her background includes gigs with brands like Banana Republic, Lancôme and Kiehl's — Wu has been a driving force in both the fashion and beauty industries.  She spoke with us about her extensive experience and how she's bringing all that knowledge to enhance both the physician and consumer sides of SkinCeuticals. 
You have a varied and quite successful background in the tech, fashion and beauty industries. How has working in these different categories helped shape the knowledge you've brought to SkinCeuticals?
I have always been passionate about products, categories and brands that consumers themselves feel passionate about, and, to a certain extent, feel vulnerable to. Whether it's picking out clothes for your first job interview or selecting your first AIM screenname, I have learned how important personal connection to a brand's product is across all the markets I have worked in. The SkinCeuticals customer is largely concerned with maintaining her skin health, vibrancy and beauty. As our customer ages, she adjusts how she approaches skincare. Having empathy for that journey and striving to develop a deep understanding of her feelings, her choices and her actions throughout have been a big part of how we have positioned SkinCeuticals.
You actually have a background at AOL, having worked on the launch of AOL Instant Messenger 2.0 (RIP!), which was the first version to launch emoticons – what is your take on how that launch, and emoticons in general, have changed how we communicate in a business (and personal) setting?
We are able to gather and share information much more spontaneously and quickly now, but I believe it is very important that we make time for in-person communication, dialog and debate. Despite the emoticon's original intent to make things more efficient, I have seen so many instances in both personal and professional settings where digital communication has led to confusion. Waiting to speak in person gives you time to analyze, provide more context, create a greater feeling of inclusiveness, and come to a sometimes better outcome. 
Okay, let's switch gears back to SkinCeuticals – the brand is clearly steeped in science. How have you used that to help increase sales and brand awareness for the company? 
Proof is really the price of entry for physicians to even consider recommending a product. SkinCeuticals's point of difference is not only in our depth of proof, but in our commitment to it. For example, our flagship product introduced in 2005, vitamin C serum C E Ferulic, was well-known for improving the appearance of fine lines and wrinkles due to the clinical studies our founder Dr. Sheldon Pinnell conducted around vitamin C efficacy and we continue to find new benefits for our 'liquid gold' through clinical research to this day. In 2015, we were published in partnership with Miami Dermatologist Jill Waibel in Lasers in Surgery and Medicine showcasing how vitamin C can help provide incremental benefits to medical procedures like laser treatments. For consumers, we take a different approach. We use the clinical data to understand exactly what we can promise. Ultimately, this builds trust. Consumers know that we consistently deliver, oftentimes we over deliver, against our claims.
You have a strong history in re-merchandising in order to boost sales, whether at Kiehl's or Lancôme. When it comes to SkinCeuticals, what plans do you have to continue to shape the brand and accelerate growth?
Taking a phrase from Marie Kondo, who I love so much, the consumer experience needs to spark joy and be uniquely differentiated in a world of sameness. As consumers age, they seek out treatments only physicians can provide. By partnering with SkinCeuticals, consumers are able to round out their in-office treatments with premium, complementary at-home skincare in one trip. Together we provide an interactive experience that is efficacious, enjoyable and distinctive. It is the ultimate combination: a win for the consumer, a win for the physician, and a win for SkinCeuticals. 
Aging is of course on the mind of many twentysomethings when it comes to skin care – how have you targeted this at SkinCeuticals?
I would say twentysomethings today are much savvier about skincare... the importance of a good routine and using preventative products. Our vitamin C serums and sunscreens are a good foundation at any age. Beyond that, we also have products specifically designed for younger customers who are starting to see the first signs of aging. Metacell Renewal B3 specifically targets the early signs of photoaging.  
We also must add here that you're a busy mom of three, on top of being the Head of SkinCeuticals. Do you have any tips for relieving stress so it doesn't show up on your face?
[Laughs] So I will say, every day when I wake up I try to take a few moments to actively practice gratitude; to intentionally recognize how incredibly lucky I am. When it comes to stress I seek out the optimal balance between understanding why, how and what. It is a paradigm you might have heard of from Simon Sinek who popularized it. Why did this happen, how did we get here and what are we going to do about it? Finding the balance is what brings stressful situations back to equilibrium.
Finally, what are your personal skin-care tips? And what are your favorite products to use daily?
I'm obsessed with hydration. I try to drink three liters of water a day, and I definitely see a difference when I do. My other secret is using great products consistently. Twelve weeks seems like a long time, but to really see results it is important to have a consistent regimen.
My favorite products – SkinCeuticals antioxidants, with all of the studies we have on the tremendous benefits I cannot go a day without them. I use C E Ferulic in the winter or when my skin is feeling dry, I use Phloretin CF in the summer, and I use Resveratrol BE at night, every day. I love Hyaluronic Acid serum H.A. Intensifier which gives an immediate plumping effect. I layer on Triple Lipid Restore 2:4:2 to protect my skin barrier and I use Physical Fusion SPF 50 every day.
When I have the luxury of a few extra minutes, I layer the Phyto Corrective Masque under the Biocellulose Restorative Masque. I absolutely love doing that – it leaves my skin moisturized and immediately dewy; it is the ultimate treat. 
Never miss the latest fashion industry news. Sign up for the Fashionista daily newsletter.