Life in Plastic Is Fantastic for Chanel's Spring 2018 Collection
This is definitely an upgrade to your average rain gear.
With Chanel's over-the-top sets, Karl Lagerfeld has taken us to Ancient Greece, the base of the Eiffel Tower, inside cyberspace and even to outer space. For Spring 2018, Uncle Karl was all about stripping things back to nature, with another elaborate set piece inspired by a gorge in the Alps. Walking into the Grand Palais, guests were greeted by the sounds of water gently falling down the side of a giant, mossy cliff. 
When the show kicked off, the flow turned into fully churning waterfalls. If you were worried what that backsplash would mean for the models making their way around the winding dock, don't fret: The Spring 2018 collection is full of plastic, from frilled, hooded capelets to cap-toed PVC boots. (There were also brimmed hats, which gave the models quite a bit of trouble exiting the make-shift grotto; after several girls gingerly stepped around one-such fallen hat, Mariacarla Boscono straight up kicked it into the flowing river, easily one of the chicest moments of fashion month.)
Underneath all that plastic wrap was a chic, youthful collection full of the house's signatures. Kaia Gerber opened the show in a multicolored tweed and white skirt; other vibrant tweeds were mixed with shredded denim or brightly colored PVC pieces. Swimwear, breezy sarongs and some evening options were rendered in blue tie-dye, broken up by crisp, fresh white dresses and suits that are sure to be a hit with loyal Chanel customers.
Towards the end, colors turned into '60s pastels fringed with sparkle and tinsel, and classic black-and-white looks favored by Lagerfeld himself. Was it practical for climbing the French Alps? No — but there are sure to be a lot of women facing next April's showers with just a little extra spring in their step.
See the full Chanel Spring 2018 collection below: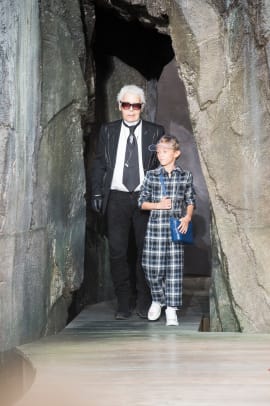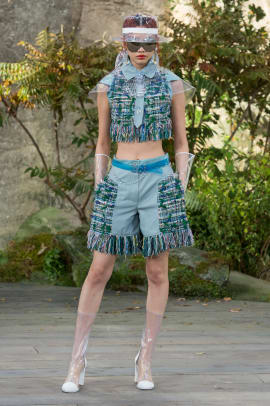 Want the latest fashion industry news first? Sign up for our daily newsletter.
Homepage photo: Pascal Le Segretain/Getty Images