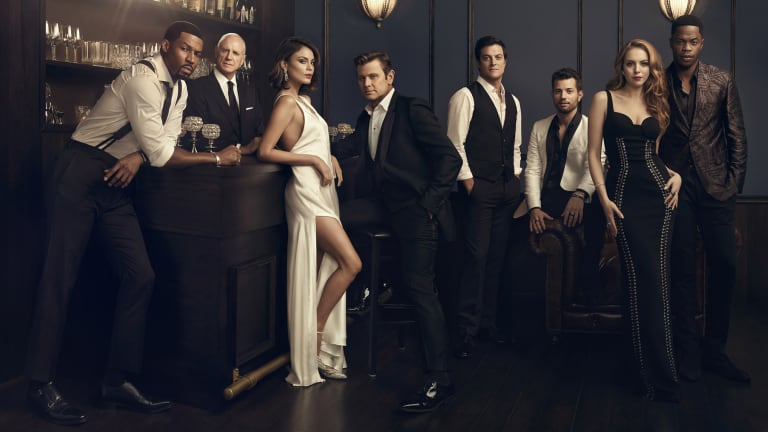 The New 'Dynasty' Costumes Include Gucci Fanny Packs, Burberry Trenches and $600 Margiela Sweatpants
Costume designer Meredith Markworth-Pollack and the show's cast discuss all the fashion on The CW reboot of the '80s soap.
In the age of obsession with reboots, '80s nostalgia and dynasties (from the reportedly proliferating generations of Jenner-Kardashians to the current occupants of the White House), The CW's "Dynasty" update hits all the marks. Plus, let's be honest, we haven't had a deliciously juicy, soapy, cleverly catty and 100-percent fashion-filled drama on TV since "Gossip Girl." 
But, wait. The update on the iconic '80s soap is actually executive produced by "Gossip Girl" creators Josh Schwartz and Stephanie Savage and costume designer Meredith Markworth-Pollack (most recently of period drama "Reign") assisted Eric Daman on the now-iconic show. In other words, "Dynasty" is going to be good. (And I can confidently say that since I've watched the pilot and visited the Atlanta set in August to meet the costume designer and the diverse  — and ridiculously attractive in that The CW sort of way — cast.)
And just because "Dynasty" is a show about the "one percent of the one percent," that doesn't mean that the series has ignored social progress since the '80s. Patriarch Blake Carrington's issue with son Steven isn't his sexuality, but his hippie, environmentally progressive and ultimately anti-Carrington views. Blake's younger second wife Krystle is now Cristal, a PR exec who's proud of her Venezuelan heritage. Cristal's niece Sammy Jo, originally played by '80s goddess Heather Locklear, is now a nephew, played by Rafael de la Fuente (Jamal's ex-boyfriend on "Empire") and the new money nemeses, the Colbys, are African American. Got that? But everyone is still filthy rich and, yes, a signature catfight takes place in the first episode between Fallon (Elizabeth Gillies) and Cristal (Nathalie Kelley), which involved a bit of costume trickery.
See, while the two do compete for Blake's attention, they're also jockeying for a power position at family energy business Carrington-Atlantic — culminating in a physically vicious moment involving damage to Cristal's white one-shoulder gown embellished with an "epaulet-y" ruffle. 
"I was like, why doesn't [Fallon] just rip the whole thing off and [the ruffle is] in her hand?" explained Markworth-Pollack, in her office off the soundstage, which houses a replica of the Carrington mansion — complete with the family dining room and Blake's man-cave library. "We put snaps on there, so then when Fallon pulls it, it just snaps off and we just snapped it back on for each take. There were so many conversations about it, but there's always a solution."
With a female-empowered "Dynasty," Markworth-Pollack also wanted to tackle and refresh the way professional women dress in the workplace. "You don't have to wear a suit to be a boss at work," she said. "You can be femme and you can be sexy at work if you want to be." Of course, due to fashion trends, the office-friendly power pantsuit will be quite prevalent on "Dynasty," like the blush pink Stella McCartney set Kelley wore on the day of the set visit. 
In the pilot, Cristal wears the same frenzy-inducing pink lace Burberry trench coat that Apple's Senior Vice President of Retail, Angela Ahrendts, made headlines in during the annual keynote address. "Well, we did ours in March, so she copied us," quipped Markworth-Pollack.
"Cristal represents the kind of woman that doesn't have to go the traditional route to be considered powerful in the office and in her arena of influence," said Kelley, about her character's softer, traditionally more "feminine" and neutral color palette that infuses her wardrobe, which is also a reference to the original Krystle. Her closet is filled with high-end designer labels like Tom Ford and Giambattista Valli. Plus, the Peruvian-Australian actress worked with Markworth-Pollack to promote Latin American designers, including Juan Carlos Obando — so look out for a sexy, sequin slip dress.
Moneyed and ambitious Fallon, on the other hand, is not afraid to go a little over-the-top. "She dresses for the moment, which is a very modern woman does these days," explained the costume designer. "She can be kind of trashy if she wants to or she can be the brainy academic in a suit." Her bright "gem-tone"-infused and '80s-referential wardrobe includes lots of Balmain, Saint Laurent, Marc Jacobs and Alexandre Vauthier.
"Fallon is just like, so over the top that it's just so intense," said Gillies on set, dressed for a scene in Gucci logo-mania pussy-bow blouse and skirt set, a fuchsia Marc Jacobs coat and Christian Louboutin heart-detailed stilettos (below). "If I saw that walking down the street, I would probably just bow or something. I'm so intimidated." 
As for her signature pantsuit aesthetic, Fallon does it in her own "rainbow of craziness." "I had a really beautiful cobalt blue suit with a Gucci shirt underneath. The whole outfit was red, white and blue," laughed Gillies. "She was just full politics — loving it. Then the other one was a neon purple suit, like Barney purple, with a hot pink shirt and these stunning Christian Louboutin firework shoes. It's all crystals. It was just so extreme."
Needless to say, the "Dynasty" accessories are to die for, too. Markworth-Pollack displayed a sampling of Fallon and Cristal's impressive (and tall) shoe collection, from pearl-encrusted black and white Gucci heels to Jimmy Choo sequin pumps to Malone Souliers embroidered mules. "The girls really take one for the team, especially Liz [Gillies], because these shoes have been beating up her feet and she's like, 'I don't care, I'm wearing them all day.' She's so committed," said Markworth-Pollack. (Whereas Kelley sported a pair of no-name, flat sneaker slip-ons she ordered online to accessorize her suit during an office scene, presumably cropping out the footwear. "Like my shoes?" she joked.)
"I wore a Gucci fanny pack the other day," Gillies added. "It was divine." Her character enjoys the most '80s-throwback references to the original "Dynasty," including a love of caftans, shoulder pads and, of course, turbans, a signature look for original series star Joan Collins, as Fallon and Steven's scheming mother Alexis. The iconic character didn't actually show up in "Dynasty" 1.0 until the Season Two and Alexis hasn't been cast as of yet. (Might I suggest Laura Leighton, Hanna Marin's mom on "Pretty Little Liars," who also starred on the original "Melrose Place" with the new Blake, Grant Show. I mean... )
"What if that actress can't pull off a turban?" said Markworth-Pollack, about not wanting to wait for that headwear moment. "No, we gotta use them now. So, Fallon's the turban girl." In the accessories closet, a row of wig-stands featured head-wraps by Gucci, Jennifer Behr and Julia Clancey. "So 'Ab Fab' meets 'Dynasty.'"
The men on the show enjoy just as much fashion with a capital F as the women, especially scholarship kid-turned-tech gazillionaire Jeff Colby, played by Sam Adegoke, who wears a Harry Styles-level printed Gucci suit in the pilot. "I would say Sam has the second best wardrobe to me," said Gillies. "It's incredible. He comes in sometimes, and I won't remember my lines because he's so fabulous. I'm staring at his suit." 
"Jeff got some bright-ass suits," laughed Adegoke. But the actor admitted to greatly enjoying a recent custom-fitting with the Italian design house. "To the tune of like, $50,000. It was crazy. I don't know if I was supposed to tell you the budget, but that's just Jeff Colby's wardrobe," he shrugged. "That's just what I'm worth."
Adegoke isn't the only actor experiencing elated sticker-shock at the cost of his wardrobe. "I was shooting hoops — like just shooting around in the backyard — in like $500 Balenciaga sneakers!" marveled Robert Christopher Riley, who plays Michael Culhane, the well-compensated Carrington family chauffeur, who takes Fallon for a saucy "detour" in the trailer. Even Culhane's sweatpants are top-notch. "The other day, I was like, 'This tag is bothering me,'" he said, pulling at his waistband. "OH MY GOD. 598 dollars?!" (Margiela, of course.)
Although, de la Fuente, as Sammy Jo, might be having the most fun with his '90s-inspired "George Michael meets Miami Cuban Latin lover and they have a love child" aesthetic. "Coco Chanel said before walking out the door you should look at yourself in the mirror and take something off. What Sammy does is he looks at himself in the mirror and throws five other things on," laughed de la Fuente, who also went method and pierced his ears after the pilot was picked up. 
On the other hand, as Carrington family patriarch, Blake Carrington keeps his style buttoned-up — he has a business to run and kids to piss off, after all — but he is a bit more high-fashion than his predecessor. "Blake is a pretty classic guy, so it's not like I'm going to be wearing any crazy clothes or anything like that, but my cuffs are shorter," explained Show in a DSquared suit. "It's a little bit more modern. Something more than I used to be comfortable with."
But Blake will let loose — and poke a little fun at himself — during a future '80s-themed party, which offered lots of opportunity for costume Easter Eggs harking back to the original "Dynasty," like Nolan Miller-esque custom gowns for party-goers. "Gordon Gekko," Show said with a grin, explaining his look for the bash. "It was the gray suit with the red suspenders and slicked back hair and the whole thing. Greed is good." 
Especially when it comes in the form of high-fashion, "Dynasty-"style.
Follow Meredith Markworth-Pollack on Instagram @meredith_costumes. "Dynasty" premieres at 9 p.m. on Wednesday, Oct. 11 on The CW. 
Disclosure: The CW provided my travel and accommodations to visit the "Dynasty" set in Atlanta.
Homepage photo: Art Streiber/The CW
Sign up for our daily newsletter and get the latest industry news in your inbox every day.