Erdem Debuts Its 'Inclusive,' Anti-Fast Fashion H&M Collection in an English Garden in LA
We spoke with designer Erdem Moralioglu about his inspiration for the collection, why it's a little pricier than most H&M collaborations and his film with Baz Luhrmann.
It's difficult to think of two major locales that are as culturally, aesthetically and topographically different than Southern California and England, but somehow, Canadian, London-based designer Erdem Moralioglu and Swedish retail giant H&M managed to find the most British place in Los Angeles to celebrate their new collaboration. On Wednesday night at The Ebell, a women's club-turned-event space founded in 1894, they erected a dreamy, slightly spooky English Garden — the interior overflowing with plants and flowers — with a runway show taking place in an outdoor courtyard also covered in greenery as guests sat on Victorian-looking vintage furniture.
Ahead of the presentation, shopping party and Grimes performance, Moralioglu said that he initially wanted the launch to be in London, but he also wanted it to take place outdoors, which landed him in LA. The designer is known for his florals, so what better place to create a garden than one that's still 80 degrees in October?
Moralioglu explained that when H&M approached him for a collaboration (we won't take credit for this, but did suggest it six years ago), he initially thought about the Bruce Weber-directed video for "Being Boring" by Pet Shop Boys. "It's about this country house that suddenly gets inhabited by all of these young people — girls wearing bias cut dresses and sneakers and boys wearing tuxedos and T-shirts and this wonderful kind of tension and formality and informality," he explained. "Boys dressed up as girls, girls dressed up as boys, and something that felt really inclusive." 
Moralioglu aimed to bring that exact sense of inclusivity to the collection. The H&M collab marks the first time Erdem has shown menswear, which was mixed and matched with womenswear on both the runway and the red carpet — on both men and women. It illustrated a rejection of gender conformity that felt modern but, also, a little obvious. Kirsten Dunst wore a pajama set "intended" for men; on the runway, women wore men's suiting and men wore purses and women's coats. There was also a general mix of formal and casual options, ranging from sweatshirts to gowns.
What was more notable than that, however, was the quality. As celebrities like Alexa Chung, Kate Bosworth and Rashida Jones made their arrivals, they didn't look like they were trying to make H&M clothes pass as designer; these were legitimately red carpet-worth clothes. It's always interesting to see how different designers approach partnering on a lower-priced, mass-produced collection, and it sounded like Moralioglu didn't have to make too many sacrifices. "There were so many mills that I really worked with H&M to work with," he said. "Lots of small Italian mills that I [have relationships] with that they worked with for the first time, and also small Scottish mills, so it was really wonderful to see how far we could push it."
Despite this collection being produced and sold by mass retailer, he didn't want to make fast fashion. "I wanted to create something that was the opposite of fast fashion; I love the idea of creating pieces people would have forever," he said. "Classic pieces that feel relevant in 10 years, 20 years." As such, this is one of H&M's pricier designer collaborations. Blouses ring in around $130, dresses around $200 and coats around $300. Cheap for Erdem, yes, but it could give some sticker shock to the typical H&M customer.
No expense was spared to promote the collection, either. H&M hired acclaimed filmmaker Baz Luhrmann to create a short film for the collection that features what is essentially a more colorful, higher production-value version of the aforementioned Pet Shop Boys video as its setting. An elegant Miss Havisham-type character lures young, beautiful boys and girls into her decaying estate, filled with flowers because it's "always spring" there, as Luhrmann explained before screening the film on the side of a building following the runway show.
The visually stunning clip, as seen above, illustrated the collection perfectly, from its genderless ethos to its romantic undertones to its overall timelessness. Luhrmann described it as a trailer for a film that will never be made, but this being LA, you never know. "If there are any financiers in the crowd, let's meet afterward," he joked.
The Erdem x H&M collection hits stores Nov. 2. But for now, see every look from the runway show — as well as the event's red carpet and the full collection — in the galleries below.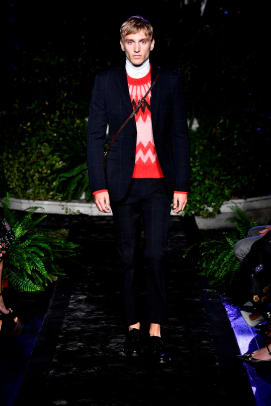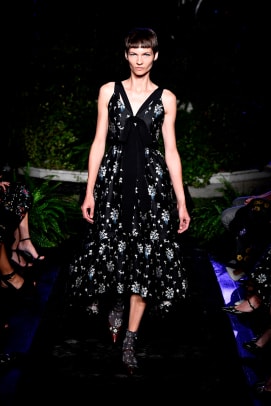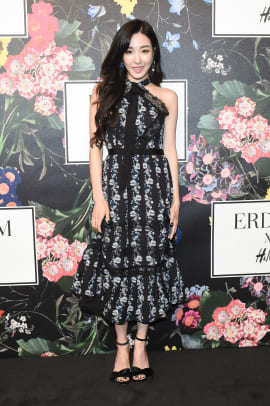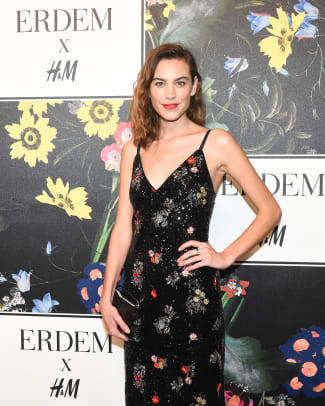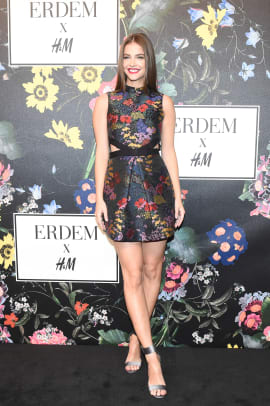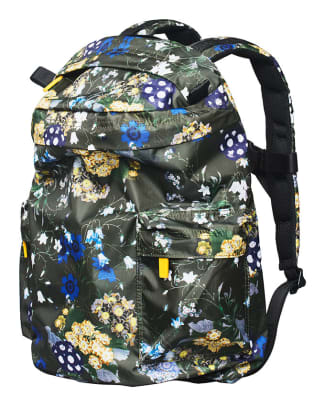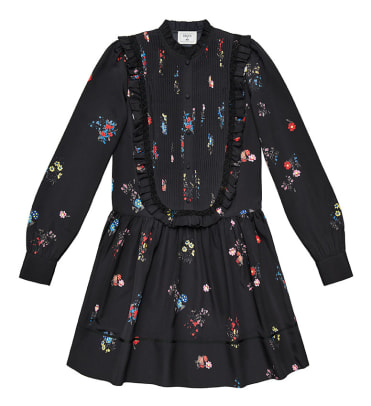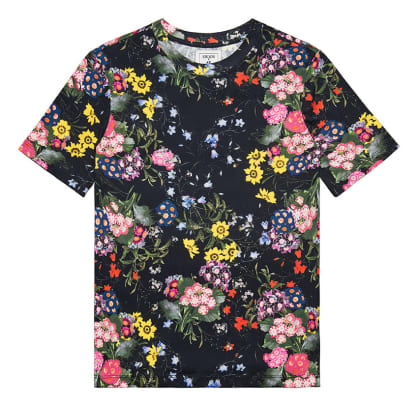 Want the latest fashion industry news first? Sign up for our daily newsletter.